Ed. Note: Important lessons here on the consequences of reckless development in areas such as closed basins.
Leon County residents point to development as reason behind recent flooding
By Julian Pecquet and Bruce Ritchie
Tallahassee Democrat
September 21, 2008
One month after Tropical Storm Fay flooded her Timberlake home and upended her life, Kim Rolfe has yet to shake the memory of that harrowing airboat ride to safety with her husband, two teenagers and 4-year-old twins.
But she's also dealing with an even bigger concern: What happens the next time another soaking storm slams her flood-prone neighborhood? Like many of her neighbors, she's looking to the same Leon County Commission that allowed development in the neighborhood to come up with solutions.
"You can't fight back against nature," she said. "All you can do is hope that those people who can help you will do something — whatever it is."
Over a two-day period starting Aug. 2, Fay dumped 74 billion gallons of rainwater on Leon County — 26 billion within Tallahassee city limits — damaging hundreds of homes, causing millions of dollars in damage and flooding dozens of residents out of their homes.
As much as 17.3 inches of rain was recorded by Tallahassee-area gauges.
Local governments and the Red Cross identified 671 Leon County homes and businesses damaged. The Federal Emergency Management Agency, as of Monday, had received 452 applications and approved $365,520 in assistance to homeowners and businesses.
But the damage hasn't been spread evenly.
Within Tallahassee proper, only 34 flooded structures — 26 of them homes — were reported, sprinkled notably around Frenchtown, Killearn Estates and North Monroe Street.
But outside city limits, flood damage was much greater in certain areas.
The Timberlake subdivision off Apalachee Parkway saw the bulk of the damage. Dozens of homes reported damage, 19 of them major. According to assessment reports from local governments and the Red Cross, other areas of damage included the banks of the Ochlockonee River, the Chaires community in eastern Leon County and the Oak Ridge Road area at the Wakulla County line.
Theresa Heiker, Leon County's stormwater-management coordinator, said those areas can broadly be split into two categories: neighborhoods along river banks and those in closed basins, where water has nowhere to go.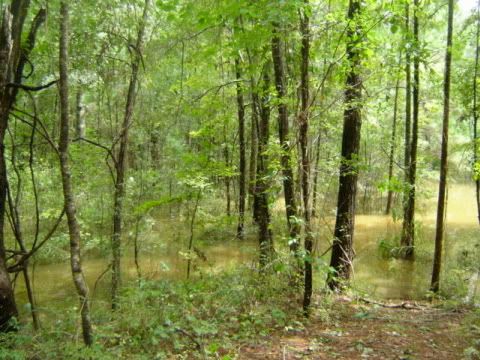 Flooded woodlands in Fred George Basin following Tropical Storm Fay.
The first category encompasses the Houston Road and Crooked Road areas along the Ochlockonee and the Chaires community along the banks of the St. Marks River. Several dozen homeowners reported minor damage in those areas.
"It's just a very broad flood plain there," she said. "When there is an exceptional amount of rain in Georgia, that's when we see it — not for an isolated weather system in Florida."
Heiker said the focus has been on moving residents away from those areas rather than trying to modify the river.
Timberlake and the Oak Ridge Road area, by contrast, flooded because they're in closed basins — where "the water can't get out to flow to a nearby river," Heiker said. "Timberlake currently is our most extreme example."
In closed basins, floodwaters can remain a problem for several days because the water slowly leaves the area only through percolation into the groundwater and by being pulled out by trees and plants. The Oak Ridge Road area also had two sinkholes, but those were overwhelmed by the sheer amount of flooding.
Other isolated areas also flooded, Heiker said, notably an area north of Lake Kanturk in Killearn Estates, where the county is looking at drainage options.
John Buss, Tallahassee's director of stormwater management, attributed the city's good showing to the approximately $50 million the city has spent over the past 15 years on stormwater improvements.
Even at Lake Ella, where several businesses were flooded, the 15-inch drainage pipe was working well after the storm, he said. And building a bigger pipe, he said, isn't a solution because that will just shift the problem to other areas downstream, such as Guyte P. McCord Park.
"You simply can't build the infrastructure to handle a 17-inch storm," he said. "It's a little bit of a buyer-beware issue in that regard."
While Fay hasn't sparked any changes in the city's stormwater plans, Leon County is responding to flooding complaints with money — but also with limits on how it's spent.
The Leon County Commission agreed Sept. 2 to convert $4 million proposed for roads into a $6.1 million fund for transportation and stormwater projects. It reacted largely to concerns from Chaires residents who want to fix drainage problems they believe contributed to flooding near the St. Marks River.
But last week, commissioners cut $1 million from that fund in response to complaints about a proposed property-tax increase. They're set to hold a workshop in January to determine how the money will be spent over the coming year.
Last week, they also voted to create a $2 million Catastrophic Reserve Fund. It will be used to waive permitting and waste-disposal fees for residents who have to remodel or rebuild.
Commission Chairman Jane Sauls warned that the money could not be used for home repairs or to buy flooded property. That left some Chaires residents and Commissioner Bill Proctor critical, saying there seemed to be a changed response since the Sept. 2 meeting.
"This policy," he said, "does not convey the human empathy that was originally on the table."
But Commissioner Bryan Desloge said the county could go bankrupt if it began taking on FEMA's role and paid people for home repairs, especially if the county got hit by a major hurricane. He said the commission is looking for a middle ground.
"The concern," he said, "is if we set a precedent, it could leave us completely exposed in the future."
Flooded meadow in Fred George Basin following Tropical Storm Fay.

Wildwood Preservation Society is a non-profit 501(c)(4) project of the Advocacy Consortium for the Common Good. Click here to learn more.

"it's all connected"