FEATURED STORIES
Environmental fight brewing over rock mining push on former Everglades land
By Andy Reid
South Florida Sun-Sentinel
Palm Beach Aggregates plans to expand its rock mining to 2,300 acres — allowing 25 more years of digging — in an area environmentalists contend threatens Everglades restoration.
Crist restocks water board with backers of his Everglades restoration plan
By Michael C. Bender and Paul Quinlan
Palm Beach Post
Environmentalists who favor Gov. Charlie Crist's monumental Everglades restoration land deal with U.S. Sugar Corp. saw the odds of success improve Wednesday, when Crist named two allies and re-appointed a third to the board of the South Florida Water Management District, in advance of another crucial vote on the half-billion-dollar purchase.
Florida Springs Day Takes Over Capitol Courtyard!
Audubon of Florida
Springs advocates from across Florida converged on the Capitol courtyard last Tuesday to call on the Florida Legislature to pass meaningful springs protection legislation this year.
Take A Hike, Florida
By Alexis Diao
WFSU Public Radio Tallahassee
Some local environmentalists spent their Saturday morning picking up trash in the Fred George Basin, a sources for Tallahassee's drinking wells. The basin's clean-up is one of ten events throughout the state collectively called "Take a Hike, Florida."
Activists request Florida Forever funding statewide and at Sacred Lands
By Sean Kinane
WMNF Community Radio Tampa
In his budget request for the current year, Florida Gov. Charlie Crist has included funding for the purchase of environmentally sensitive lands through a program called Florida Forever.
"Think Before You Throw" Anti-Litter Campaign
By Heather Biance
WCTV CBS News Tallahassee
Americans produce 160-million tons of garbage each year,which is enough to fill 11-million garbage trucks.
Manatees rescued from chilly Fla. waters
The Associated Press
Miami Herald
Wildlife officials are working to rescue distressed manatees across the state.
Corkscrew sanctuary officially designated as a Wetland of International Importance
By Eric Staats
Naples News
Fans of Corkscrew Swamp Sanctuary have always viewed its towering cypress forest and long vistas of wet prairie to be world-class.
A clearing in Corkscrew Swamp Sanctuary.
THE BIG OIL ROUNDUP
The Big Oil roundup: news and information about Big Oil's push to rig Florida's coastline for the week ending 2-26-10:
Palin slimes Florida with oil-drilling push
By Tony Plakas
South Florida Sun-Sentinel
The unctuous Sarah Palin recently surfaced in Florida on a national tour like an unwanted oil spill, spewing her slippery nonsense to thousands of race fans at the Daytona International Speedway.
Experts: 2010 may not be make, break for drilling
By Melissa Nelson
The Associated Press
The Florida House last year voted to allow exploration for oil and natural gas in state waters, but the Senate didn't bring it up for a vote. This year the issue may not come up for a vote at all - but it will still weigh heavy in the upcoming session's background.
Offshore oil drilling not in Florida session
By Lindsay Ubinas
10 Connects News Tampa Bay
Florida legislators agree that offshore oil drilling is an important issue but they still might not tackle it during their upcoming session.
Century Commission report tackles oil drilling
By Bruce Ritchie
FloridaEnvironments.com
A state panel's draft report issued today takes on the major questions and concerns about allowing oil drilling off Florida's coastline.
Hands Across the Sand Spreads Message "Love Tourists, Not Drilling"
By Heidi Lux
Tampa Bay Informer
Hands Across the Sand, a statewide, peaceful protest against offshore drilling, was held throughout Florida's beaches on February 13th.
Local politicians weigh in on drilling
Staff Report
Bradenton Herald
State Rep. Bill Galvano, R-Bradenton: "Offshore drilling? I oppose it. Although there are ebbs and flows from a public perspective, there are better ways to address it than to put at risk our coastline."
Love tourists, not drilling banner flying high over St. Petersburg Beach during Hands Across the Sand event, February 13, 2010.
TAKE ACTION NOW
Write Your State Senator: Big Oil's Promises Are "Empty"
Big Oil and their hired hands in Tallahassee have sworn that drilling Florida's coast would be "invisible" – that there would be no unsightly rigs just a few miles off our coast. We know different – and a recent eye opening story in the
Sarasota Herald-Tribune
has proven Big Oil's promises completely "empty."
Click the picture above – keeping the pressure on by letting our State Senators know people like you are paying attention is how we'll beat Big Oil.

MORE ONLINE ACTIONS
Pass a Resolution To Protect Florida's Beaches Now, via Audubon of Florida.
Urge President Obama's Ocean Policy Task Force to recommend against offshore drilling within any previously protected coastal waters, via Defenders of Wildlife.
Tell Obama: Offshore Drilling is NOT the Answer to Energy Crisis, via Oceana.
Help Drill for Solutions Not for Oil, via Southern Alliance for Clean Energy.
Let us decide! Petition to Governor Charlie Crist, Senate President Jeff Atwater, and House Speaker Larry Cretul, via Civic Concern.
Contact Your Officials About New Drilling Off Florida's Coasts, via Civic Concern.
Ask your state legislators to keep the rigs out, via Save the Manatee Club.
Write a letter to the editor, via Audubon of Florida.
Write your state legislators, via Audubon of Florida.
Urge Senate President Jeff Atwater to oppose offshore oil drilling, via Progress Florida.
Tell Sen. Atwater Not To Allow Oil Drilling In Special Session, via Audubon of Florida.
Sign the petition against oil drilling, via Protect Florida's Beaches.
Tell Salazar: No drilling off Florida's Coast, via Environment Florida.
Tell new Senator LeMieux to Repower America, via Environment Florida.
Related action: Don't go drill crazy in the Everglades, via Center for Biological Diversity.
Related action: Keep oil drilling out of climate change legislation, via Oceana.

ADDITIONAL RESOURCES OF NOTE
Hands Across The Sand website; their Twitter page is here.
Protect Florida's Beaches, recently launched coalition website.
Protect Florida's Beaches on Facebook.
Think, Baby, Think blog via Protect Florida's Beaches.
Don't Drill Florida website.
Don't Drill Florida Facebook page.
Save Our Shores Florida website; their Twitter page is here.
Save Our Shores Florida Facebook page.
Florida Coastal and Ocean Coalition website.
Environment Florida offshore drilling page.
Southern Alliance for Clean Energy offshore drilling page.
Skytruth blog, an excellent source of info.
Not the Answer blog, courtesy Surfrider Foundation.
Eye-opening map of oil and gas leases and infrastructure in Gulf of Mexico, via MMS.
EnergyFLA.com, online hub of drilling proponents; their Twitter page is here.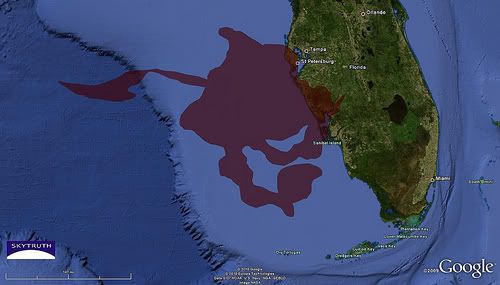 Cumulative oil slick "footprint" resulting from the 10-week Montara oil platform blowout and spill that occurred in the Timor Sea off Western Australia in 2009; superimposed on the Gulf coast of Florida for scale. More info
here
.
MORE GREEN NEWS
Rep. Murzin slams Pelham again, backs off
By Bruce Ritchie
FloridaEnvironments.com
Rep. Dave Murzin on Wednesday told a Florida Chamber of Commerce audience that he still wants Florida Department of Community Affairs Secretary Tom Pelham to leave state government.
Volunteers find more murky water near airport site
By Pat Kelly
Panama City News Herald
Patrice Couch guided her small skiff north up Crooked Creek on Monday with a sure hand, looking for submerged logs.
Boaters warned off whale encounters
By Dinah Voyles Pulver
Daytona Beach News-Journal
Groups of rare North Atlantic right whales have entertained beachgoers and hotel guests along the Volusia County coast since Sunday but proved a too-tempting target for a few boaters who soon found themselves chatting with law enforcement officers.
Run-Ins With Endangered Right Whales Becoming Too Common
Reported by Jason Wheeler
Central Florida News 13
Sightings of North Atlantic right whales are rising off Central Florida's coast, but so are run-ins between the whales and humans.
Fishermen enlist members of Congress to oppose red snapper ban
By Ludmilla Lelis
Orlando Sentinel
Still reeling from a federal ban on fishing for red snapper, Central Florida captains and fishermen joined more than 2,000 people at the United We Fish rally today in Washington, D.C., protesting afederal law that they say is destroying jobs and the fishing industry along Florida's east coast.
Environmental group hopes to extend deadline for Everglades restoration project
By Jim Mayfield
TC Palm
The Rivers Coalition voted unanimously Thursday to urge the South Florida Water Management Board of Governors to extend the closing deadline for the $500 million land purchase from U.S. Sugar Corp. for the district's River of Grass Everglades restoration project.
St. Johns district looks to strengthen water reuse programs
By Fred Hiers
Ocala Star-Banner
The St. Johns River Water Management District board is looking to squeeze the most out of water conservation and will meet next month to develop rules that could require its 16-county members to strengthen water reuse programs.
By Lesley Blackner
Orlando Sentinel
Related editorial:
How to beat Amendment 4
Are Volusia and Brevard county commissioners Stepford wives or Stockholm-syndrome victims?
St. Pete Times alum to lead Hometown Democracy
By Adam C. Smith
Buzz Blog
Julie Hauserman, former reporter for the St. Petersburg Times, Tallahassee Democrat and Stuart News, has been named campaign manager for Florida Hometown Democracy, Constitutional Amendment 4 on the November ballot.
Amendment 4 campaign manager named
By Tom Palmer
Lakeland Ledger
Julie Hauserman has been hired to head the campaign to get voter approval for Amendment 4, the Florida Hometown Democracy measure, the St. Pete Times Political Buzz reports.
Huge number of manatees gather in Lee County
By Kevin Lollar
Ft. Myers News-Press
Almost 900 manatees have turned the Orange River into a cold-water marine-mammal traffic jam.
Scrub Lupine Project Sees Early Progress
By Tom Palmer
Lakeland Ledger
A little more than a year ago, a daring experiment began.
Birds Flock to Restored Wetlands Along Kissimmee River
By Tom Palmer
Lakeland Ledger
The marsh ahead of the boat was a sea of white.
Fishermen taking snapper ban fight to Washington
By Jordan Kahn
Daytona Beach News-Journal
Because of new laws, small businesses are reeling, the federal government is being sued and a legislative fight is entering round two. And this isn't about health care or Wall Street bailouts.
Most Florida Democrats get a thumbs-up from enviros
By Mark Matthews
Orlando Sentinel
Seven Florida Democrats in Congress earned a perfect score from environmentalists in an annual scorecard released this morning that rated lawmakers for 2009 votes that included the American Clean Energy and Security Act and as well as the controversial $787 billion stimulus bill.
Orlando is home for two rules meetings
By Bruce Ritchie
FloridaEnvironments.com
Rules meetings and workshops -- they sound boring.
County pays to preserve Merritt Island waterfront
By Rick Neale
Florida Today
Encroached by towering condominiums, Ms. Apples Crab Shack, Doc's Bait House and future fisheries at Blue Crab Cove are now considerably closer to perpetual preservation.
Local kids take a hike
By Tyler Jett
Independent Alligator
Eric Thompson looked down, his white Nike shoes barely safe from the mud.
Bald Eagles Return To Pembroke Pines
By Joan Murray
CBS 4 News Miami
For the first time in almost 40 years, bald eagles are making their home in a county famous for snowbirds.
Fish and fishermen: sustainable species?
By Kate Spinner
Sarasota Herald-Tribune
Charter captains, bait shops and commercial fishing fleets from Key West to Puget Sound are losing jobs and money as sweeping restrictions on dozens of fish take effect nationwide, based on data that regulators know is inaccurate.
Python-hunting season set for next month
By Susan Cocking
Miami Herald
The Florida Fish and Wildlife Conservation Commission Monday announced a special hunting season targeting Burmese pythons on state lands in South Florida March 8 through April 17.
Nelson wades into fisheries debate
By Bruce Ritchie
FloridaEnvironments.com
In advance of a protest in Washington by recreational and commercial fishermen, U.S. Senator Bill Nelson said today he will file legislation to address red snapper fishing restrictions.
Rare storks visiting our lake are treat
By Sherry Boas
Orlando Sentinel
On a recent morning, two wood storks were trolling for food in the recently submerged shoreline.
Florida must take advantage of biopower
By Charles H. Bronson
Tallahassee Democrat
As Florida's agriculture and consumer services commissioner, one of my proudest achievements is Florida's status as a leader in the biofuel industry.
Fox pens are inhumane and a threat to public health
Editorial
Pensacola News Journal
Imagine the outcry from animal activists if the state decided to regulate dog fighting instead of banning the barbaric practice like it rightly has done for decades.
Before the development, nail down the details
Editorial
St. Petersburg Times
Nailing down the details on planned protections for black bear habitat shouldn't be superseded by private sector interests pitching a high-end resort and residential community in Aripeka.
It's time for Florida to work on water quality
Editorial
Bradenton Herald
Since the state of Florida dawdled for more than a decade over a federal mandate to set limits on farm and urban runoff and water pollution, the U.S. Environmental Protection Agency stepped in with proposed regulations last month.
Clean springs
Editorial
Daytona Beach News-Journal
Once a mermaid, Barbara Wynn became a militant.
It's still a threat
Editorial
Miami Herald
More than two-thirds of the nation's land mass had snow on the ground when the day dawned, and then it snowed ever so slightly in Florida to make it 49 states out of 50.The weather is unsettling this winter.
Manatee Springs State Park

.
Wildwood Preservation Society is a non-profit 501(c)(4) project of the Advocacy Consortium for the Common Good. Click here to learn more.
"it's all connected"