FEATURED STORIES
Group wants wood stork's status upgraded to threatened
Staff Report
Ft. Myers News-Press
A California-based watchdog group wants the status of the wood stork to be upgraded from endangered to threatened so that Florida can benefit from more development.
Florida growth-management bill awaits governor's signature
By Mary Ellen Klas
St. Petersburg Times/Miami Herald Tallahassee Bureau
Related Howard Troxler column:
Governor Crist should veto bad growth bill
Progress Florida action alert:
Tell Gov. Crist: Veto SB 360!
A growth-management bill awaiting Gov. Charlie Crist's signature is being hailed by developers as the coveted key to unlocking hundreds of delayed construction projects across the state.
28 Organizations Call for a Veto on SB 2080
Action Alert
Audubon of Florida
We wrote below on Audubon of Florida calling on Gov. Crist to veto SB 2080 and keep the public's right to comment on and help influence water resource decisions.
Florida's renewable energy efforts have gone nowhere
By John Dorschner
Miami Herald
For a year, while the green movement was at its height, Florida environmentalists, new solar companies, utility lobbyists and state regulators spent thousands of hours trying to determine how much of the state's power supply should come from renewable energy sources like solar and wind.
Conservationist running for state agriculture commissioner
By Steve Bousquet
Miami Herald/St. Petersburg Times Tallahassee Bureau
Eric Draper, a conservationist and lobbyist for Audubon of Florida, joined the 2010 race for state agriculture commissioner Thursday, saying he wants to be Florida's ''top environmental steward'' in the Cabinet post.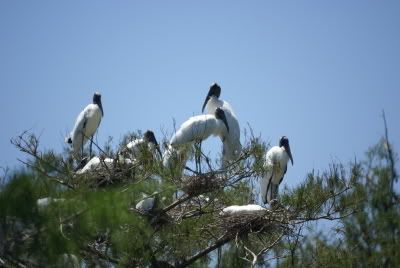 Endangered wood storks nesting in Fred George Basin, Leon County, Florida

MORE GREEN NEWS
Lawsuit filed to reclassify Florida's loggerhead sea turtles as "endangered"
By Ludi Lelis
Orlando Sentinel
Three environmental groups filed a lawsuit today against the federal government, pressing the question of whether Florida's loggerhead sea turtles should be reclassified as endangered.
Interior secretary promises to revitalize Everglades
By Curtis Morgan
Miami Herald
Related:
State wants bounty hunters to control pythons in Everglades
Saying the federal government had ''not kept its end of the bargain,'' the Obama administration on Thursday promised to pay its fair share of an Everglades restoration effort now estimated to reach $22.5 billion and to make long-stalled projects a top priority.
Feds Won't Intervene in Three-State Water Battle
Staff Report
Lakeland Ledger
Interior Secretary Ken Salazar said Wednesday the federal government won't try to broker a solution to a bitter three-state battle over water rights, but he urged Georgia, Alabama and Florida to seek a compromise outside of the courtroom.
Corps may release more water to Florida's Apalachicola River
By Bruce Ritchie
FloridaEnvironments.com
The U.S. Army Corps of Engineers says the agency probably will begin releasing more water in June from its dams upstream from Florida along the Chattahoochee River.
Why does Florida Fish and Wildlife refuse to protect eagles and tortoises?
By Chris Hrabovsky
Creative Loafing
Perhaps FFWCC has become another permit dispensing agency, the same way Army Corps of Engineers and Southwest Florida Water Management District have.
Fee increases for parks, fishing in new state budget
By Bruce Ritchie
FloridaEnvironments.com
Some anglers and state park visitors are among those who will pay more to enjoy the outdoors under the 2008-09 state budget signed into law today by Gov. Charlie Crist.
More Florida drivers choosing gas sippers over motorized behemoths
By Angel Streeter
South Florida Sun-Sentinel
In car-obsessed South Florida, size matters. Big SUVs, big pickup trucks, minivans and four-door sedans dominate.
Bad times make state less green
By Mark Lane
Daytona Beach News-Journal
There are only two parts of the business cycle when the Florida environment is in danger -- good times and bad times.
Rains boost water supplies, watering restrictions remain
By Andy Reid
South Florida Sun-Sentinel
What a difference a week of steady rain has made for once-parched South Florida.
Crist's energy goals get a push
By Zac Anderson
Sarasota Herald-Tribune
One of the first things Gov. Charlie Crist did when he moved into the governor's mansion was put solar panels on the roof.
Bill would gut growth management in Florida, hurt recovery
By Ray Judah
Ft. Myers News-Press
In response to Sen. Bennett's recent commentary concerning Senate Bill 360 ("
New bill reforms road mandates, discourages sprawl
," May 22) let us look at the record.
Veto growth bill
Editorial
Bradenton Herald
Just exactly what will state Sen. Mike Bennett's Community Renewal Act accomplish if signed into law by Gov. Charlie Crist? Several negative impacts trump the positive components.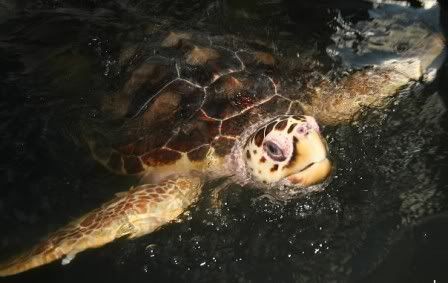 Atlantic loggerhead sea turtle
Wildwood Preservation Society is a non-profit 501(c)(4) project of the Advocacy Consortium for the Common Good. Click here to learn more.


"it's all connected"