FEATURED STORIES

Groups bemoan loss of Florida Forever money
By Bruce Ritchie
FloridaEnvironments.com
Related: Money for Everglades, petro tanks but not Fla. Forever
Florida Forever Coalition statement: No New Funding for Florida Forever in 2009-2010
Environmental groups this afternoon issued statements expressing regret that the state's land-buying program next year will receive no state money or bonding authority.



Editorial cartoon by Andy Marlette, Pensacola News Journal

Crist urged to veto new growth management law
Bu Mitch E. Perry
WMNF Community Radio
Today Hillsborough County Commissioners voted to send a letter to Gov. Charlie Crist, asking that he veto a new Growth Management Bill that critics say would no longer require developers to add road capacity in nearly half the state's municipalities, as well as several entire counties.



Editorial cartoon by Jim Morin, Miami Herald

Obama's budget shows support for Everglades and beach restorations
By William E. Gibson
South Florida Sun-Sentinel
Dealing with other buyers could help state get all of U.S. Sugar's land
The Everglades came out a big winner for the third time this year when President Barack Obama submitted his proposed budget to Congress on Thursday.

U.S. Curbs Use of Species Act in Protecting Polar Bear
By Andrew C. Revkin
New York Times
The Obama administration said Friday that it would retain a wildlife rule issued in the last days of the Bush administration that says the government cannot invoke the Endangered Species Act to restrict emissions of greenhouse gases threatening the polar bear and its habitat.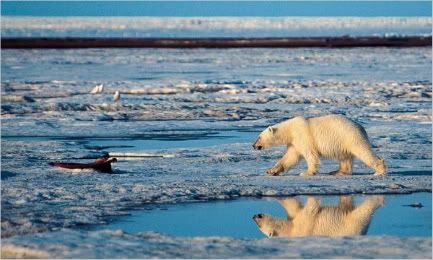 The government says the Endangered Species Act cannot be invoked to fight emissions blamed for loss of polar bear habitat.

MORE GREEN NEWS

Everglades land deal faces six-month delay
By Paul Quinlan
Palm Beach Post
The economy's recent nosedive could push Gov. Charlie Crist's monumental land deal with U.S. Sugar Corp. back at least six months.

Clean Energy Bill Backed by Crist Dies
By Brendan Farrington
The Associated Pres
One of Gov. Charlie Crist's top priorities died Friday as lawmakers failed to take up a clean energy bill before going home.

Lobbyists gush over progress on drilling
By Joe Follick
Ocala Star-Banner
Once political taboo in Florida, prospects for offshore oil drilling have roared back with a secretive group forcing the issue into the center of political and public debate for months to come.

Progress Energy seeks rate hike despite nuclear plant delay
By Asjylyn Loder
St. Petersburg Times
Progress Energy announced Friday a 20-month delay in building its $17 billion nuclear plant, but its customers will continue to pay for it.

Sen. Alexander defends septic tanks budget language
By Bruce Ritchie
FloridaEnvironments.com
Sen. JD Alexander is defending proposed budget language that would prevent the Florida Department of Health from implementing "any nitrogen reduction strategies" for a year until a septic tanks study is completed.

Environmentalists sue again over Fla. water rules
The Associated Press
Miami Herald
Environmentalists again have sued the federal government for allegedly letting Florida flout federal clean water requirements.

Pinellas County allocates Brooker Creek Preserve land for water treatment plants, pipelines
By David DeCamp
St. Petersburg Times
Over the objections of some environmentalists and residents, Pinellas County commissioners on Tuesday designated part of Brooker Creek Preserve for water treatment plants, storage tanks and pipelines.

House to probe drywall fallout
By Gary Taylor
Bradenton Herald
The U.S. House on Thursday voted to study the effects of tainted drywall on housing, and an area construction consultant nodded to the action as a needed first step.

Audubon Calls on Law Enforcers to Pursue Penalties in Rookery Bay Bird Shooting Case
Blog entry
Audubon of Florida
Audubon called on state and federal law enforcement agencies and the Navy to continue to pursue charges and disciplinary action against one woman and six men suspected of participating in an incident in February in which 21 protected wading birds were shot out of the sky as they flew to roost for the night in a secluded rookery.



Florida black bear


Wildwood Preservation Society is a non-profit 501(c)(4) project of the Advocacy Consortium for the Common Good. Click here to learn more.


"it's all connected"