FEATURED STORIES
Crist budget vetoes restore land-buying program
By Bruce Ritchie
Florida Environmental News
Saying that the state's land-buying program is "near and dear" to himself, Gov. Charlie Crist this afternoon announced he is vetoing a deep cut to the Florida Forever Program by the Legislature earlier this month.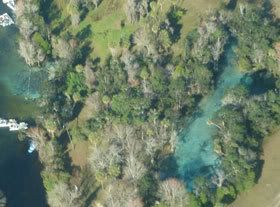 Three Sisters Springs, pictured above, was among the conservation projects whose grant funding was spared by Gov. Crist's veto of Florida Forever legislative budget cuts. In 2007, Wildwood Preservation Society assisted Leon County in securing a $2.3 million dollar matching Florida Forever grant to fund acquisition of the Fred George Basin Greenway. Learn more about Florida Forever by clicking
here
.
Manatees' record numbers not likely to renew 'endangered' debate
By Curtis Morgan
Miami Herald
Florida's manatee count hit an all-time high this year, in large part because cold snaps corralled the endangered sea cows into toasty waters around nuclear power plants and natural springs.
Hope grows for Florida panther's protection with Obama administration
By David Fleshler
South Florida Sun-Sentinel
Hoping the Obama administration proves friendlier to wildlife than its predecessor, a conservation group has filed a legal petition to protect more than 3 million acres for the Florida panther.
Chocolate lab being used to save Eastern indigo snake
By Mike Morrison
Florida Times-Union
C.J. the wonder dog couldn't cut it in the harsh world of drug detection, but doesn't mind using his trained schnozz to sniff out a snake or two for a good cause.
Threatened sea turtles to get protection
By Cain Burdeau
Associated Press
In a blow to Florida fishermen, regulators voted Thursday to take steps to shut down a common type of fishing that uses long lines affixed with hooks and squid bait because it may be killing hundreds of threatened sea turtles every year.
Grand jury to probe biomass deal
By Bill Cotterell
Tallahassee Democrat
Related:
BG&E pulls plug on biomass power plant for south-side Tallahassee
Related:
Biomass plant removed from FSU plan
The newly seated grand jury will investigate how the aborted Biomass Gasification & Electric Co. energy project wound up being planned for Tallahassee's south side, State Attorney Willie Meggs said Monday.
Threatened Eastern Indigo Snake
MORE GREEN NEWS
Analysis of U.S. Sugar land buy criticized
By Curtis Morgan
Miami Herald
A new economic analysis argues that a controversial lease-back included in the $1.34 billion U.S. Sugar land buy for Everglades restoration isn't the sweet deal that rival growers say it is.
FPL could face $1 billion in fines
By Julie Patel
TC Palm
Florida Power & Light reports it may have to pay millions in fines for a massive blackout last year that left as many as 3 million people in the dark.
Cranes complete migration from Wis. to Fla.
Associated Press
Miami Herald
All 14 young whooping cranes led by ultralights on a southward migration from Wisconsin have arrived at wintering sites in Florida.
DEP chief: Florida ready for tougher emissions standards
By Jim Ash
Tallahassee Democrat
Florida's top environmental regulator said Monday the state is ready to go with new auto-emission standards now that President Barack Obama has signaled that he will approve an identical plan for California.
Get set for nuclear politics
Editorial
Palm Beach Post
Florida's Public Service Commission did the state a disservice by ducking the question of whether nuclear power can be considered green energy.
Wood storks captured in Corkscrew Swamp
By Kevin Lollar
Ft. Myers News-Press
Slowly and cautiously, the wood stork flared its black and white wings and settled into a shallow pond Thursday at Corkscrew Swamp Sanctuary in Collier County.
Tougher rules to go into effect by 2010 to end overfishing of 40 marine species in US waters
By Cain Burdeau
Associated Press
Ocean conservationists are hailing former President Bush for passing tough rules to end the overfishing of 40 struggling marine species before he left the White House.
$1.34 billion Everglades deal land use in discussions
By Andy Reid
South Florida Sun-Sentinel
The $1.34 billion deal for the largest public land buy in Florida history started backward.
Agency passes nuclear debate to state
By Christine Stapleton
Palm Beach Post
Florida's utility regulators have crafted their vision of Florida's green energy future without answering the billion-dollar question: What is green energy?
Fla., Ala. Want Water Withdrawal Stopped
Lakeland Ledger
Florida and Alabama are asking a federal court to stop the Army Corps of Engineers from supplying water to Georgia from Lake Lanier, Atlanta's main water source.
Birdwatchers Boost Economy for Florida
Sarasota Herald-Tribune
Dusk descends quickly over the Celery Fields, and just as quickly the birders line up like paparazzi along Palmer Boulevard, their cameras trained on the shallow ponds immediately north.
Turtles may be protected at expense of grouper eaters
By Stephen Nohlgren
St. Pete Times
Publix supermarkets have sold fresh grouper for decades. It might cost $12 a pound or even $15, but it comes right from the Gulf of Mexico, caught by West Florida fishermen.
Eagles build nest in Corkscrew sanctuary
By Kevin Lollar
Ft. Myers News-Press
For 10 minutes Friday morning at Corkscrew Swamp Sanctuary, the very top of the bald eagle's head gleamed over the edge of the big nest like half a golf ball.
After 10-year delay, curbing pollutants
By Kate Spinner
Sarasota Herald-Tribune
Florida is being forced to set new pollution limits for its lakes, rivers and estuaries after environmental groups sued federal regulators for ignoring water quality laws.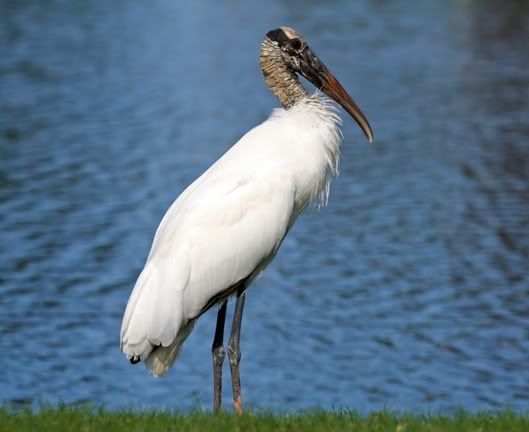 Wildwood Preservation Society is a non-profit 501(c)(4) project of the Advocacy Consortium for the Common Good. Click here to learn more.
"it's all connected"