Please read the urgent message below from Audubon of Florida and take action.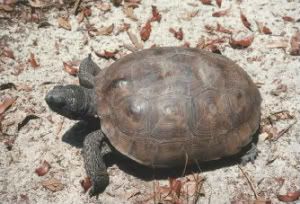 Senate Budget Cuts Florida Forever and Gopher Tortoise Mitigation
Florida Forever is the state's conservation land-buying program, which supports the acquisition of some of Florida's most important natural areas. It appears that the Senate is poised to suspend Florida Forever spending in the current fiscal year. It is not clear that the House will go along.
A statement released Wednesday night by Ways and Means Policy and Steering Committee Chair Senator JD Alexander read, "This was a difficult decision. I believe that Florida Forever is an excellent program; preserving state land is a worthwhile endeavor. However, we are in a budget crisis of unprecedented proportions. President Atwater charged us to question every state expenditure to determine if it was absolutely critical to the teaching, housing, feeding, transporting, protecting, caring or creating jobs for Floridians. Florida Forever is a good program, but it is not a critical program. In light of the reductions being taken in other areas of our state budget, I believe suspending funding for this fiscal year, is the best course of action. Every dollar saved means less cuts to education, healthcare, and other vital budget areas."
Long-time Florida Forever friends in key leadership roles including Senator Lee Constantine and Senate President Jeff Atwater suggest that suspending Florida Forever spending will allow agencies to reappraise projects to make sure that the state is not paying too much. The Cabinet's last approved project, Promise Ranch, raised legislators' eyebrows when $7 million was committed for a conservation easement on an ecologically unranked project.
Audubon is working to limit the reach of the cuts to Florida Forever and hopes that legislators will back off cuts that would impact important and long-sought projects in the Florida Keys, the Lake Wales Ridge and other special places. "The savings legislators are seeking can be accomplished without sacrificing any of the good projects on the Florida Forever list," said Eric Draper, Audubon of Florida's Deputy Director.
HOW YOU CAN HELP
Sign the petition
to the Senate and Governor Crist, urging them to hold harmless the good projects on the Florida Forever List.
Among the cuts to the Florida Fish and Wildlife Conservation Commission is the sweep of $5 million in gopher tortoise mitigation funds to general revenue. These dollars were the result of take permit fees for the entombment of gopher tortoises as previously permitted by the state. Historically these funds were used to acquire gopher tortoise habitat elsewhere to help mitigate the take of tortoises by land conversion. This is a troubling precedent in the world of mitigation, which only works when the regulated and conservation communities have a degree of trust that mitigation fees are not arbitrary and the funds will be used to replace lost natural resources.
Read Audubon's letter on this issue to Governor Crist
.
RELATED LINKS
Audubon of Florida
Florida Forever Land Acquisition Program
Gopher Tortoise Council
Wildwood Preservation Society is a member of the
Support Florida Forever Coalition
.

Wildwood Preservation Society is a non-profit 501(c)(4) project of the Advocacy Consortium for the Common Good. Click here to learn more.

"it's all connected"