FEATURED STORIES
Shortsightedness could end Florida Forever
By Eugene M. Kelly
St. Pete Times
The Florida Native Plant Society recognizes the difficult decisions now facing our state as a result of severe budget shortfalls.
Click the Florida Forever logo to take urgent action now: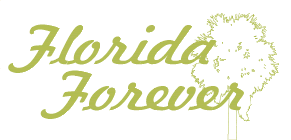 Panthers running out of range
(includes video)
WBBH NBC News
Ft. Myers
Just hours into President Obama's time in office some local environmentalists are already reaching out for change.
Cranes touch down in St. Marks
By Nic Corbett
Tallahassee Democrat
Seven endangered whooping cranes guided by ultralight planes arrived Saturday morning at St. Marks National Wildlife Refuge, where they will spend the rest of the winter.
Tallahassee NAACP asks Gov. Crist to open probe into biomass deal
By Stephen D. Price
Tallahassee Democrat
The Tallahassee branch of the NAACP asked Gov. Charlie Crist to open an investigation of the proposed biomass plant, and of several players involved, including Florida State University President T.K. Wetherell.
Feds Intervene to Set Florida Water Quality Standards
Press Release
Common Dreams
In one of the final acts of the Bush administration, the U.S. Environmental Protection Agency announced that it would set "water quality standards for nutrients" for all Florida surface waters.
MORE GREEN NEWS
Everglades restoration could benefit from federal economic stimulus
By Eric Staats
Naples News
Everglades restoration planners are eyeing money from the federal economic stimulus to revive a sputtering rescue of the River of the Grass.
Firm: FPL hampers renewable-energy goals
By Eve Samples
Palm Beach Post
A subsidiary of one of the nation's largest garbage haulers claims Florida Power & Light Co. is thwarting lawmakers' efforts to encourage the use of renewable energy in Florida.
Dueling constitutional amendments: Developers versus voters for say in Florida's growth
Lauren Ritchie
Orlando Sentinel
Let's say Lake County commissioners lose their collective minds and approve a pig farm next door to your subdivision.
Crist in Favor of Bill Aimed at Protecting Springs
By Bruce Ritchie
The News Service of Florida
Gov. Charlie Crist is backing legislation intended to protect Florida's springs, saying they're an important part of the state's tourism economy.
EPA planning new cap on Florida river pollution
By Steve Patterson
Florida Times-Union
Saying Florida's rivers and lakes are threatened by its growth, the federal government plans to set new limits on nitrogen and phosphorous allowed in waterways.
Manatee deaths in South Florida baffling
By David Fleshler
Palm Beach Post
Six manatees were killed by watercraft in Palm Beach County in 2008, a figure that ties the county record and mystifies conservation officials who had put more police on the water to protect the endangered mammals.
FPL presents solar farm proposal to commission
By Carl Mario Nudi
Bradenton Herald
Manatee County commissioners were very receptive Tuesday of Florida Power & Light's proposed plans for a solar thermal farm next to its Parrish power plant.
Florida considering options for renewable energy targets
By Julie Patel
South Florida Sun-Sentinel
The Florida Public Service Commission recommended last week that one-fifth of Florida's energy supply come from solar and wind power and other renewable power sources by 2020.

Click the logo above to visit the International Crane Foundation.

Wildwood Preservation Society is a non-profit 501(c)(4) project of the Advocacy Consortium for the Common Good. Click here to learn more.
"it's all connected"