Biologist Matt Aresco of the Nokuse Plantation in Northwest Florida holds an alligator snapping turtle. (Photo: Jim Ash, Tallahassee Democrat).
FEATURED STORIES
Crist Wants Ban On Harvesting Of Freshwater Turtles
Associated Press
Tampa Tribune
Related Press Relase:
FWC hears impassioned pleas about turtle harvest
Gov. Charlie Crist told Florida wildlife officials on Thursday that he wants to ban the harvesting of wild freshwater turtles, which are served as delicacies in Asia.
Transportation board votes in favor of Lake Jackson wildlife barrier
Generally speaking, Capital Regional Transportation Planning Agency meetings aren't a big draw for the under-16 crowd.
By John Crawford
Tallahassee Democrat
Biomass debate in Tallahassee coming to a boil
Erwin Jackson, who owns about 50 homes off Jackson Bluff Road that he rents to college students, said he's going to be out of business if a proposed biomass gas electric plant is built in the area.
Related:
Leon County Commissioner Proctor schedules meeting on biomass plant
By Bruce Ritchie
Tallahassee Democrat
County Planning Board Approves Bid To Build City Of Parkland
A fight is brewing in Miami-Dade County over plans to build a new city called Parkland in a location outside the urban development boundary.
Local 10 South Florida News
Ag company's $588 million offer for U.S. Sugar could snarl Everglades plans
By Susan Salisbury and Paul Quinlan
Palm Beach Post
A Tennessee-based farming company today announced a proposal to buy out U.S. Sugar Corp., potentially throwing an enormous wrench into the state's plans to purchase the sugar giant's farming empire to save the Everglades.
MORE GREEN NEWS
Governors pledge to fight global warming together
Gov. Arnold Schwarzenegger, his counterparts in 12 states and regional leaders from four other countries signed a declaration Wednesday pledging to work together to combat global warming, a move Schwarzenegger said will help push heads of state to curb their nations' greenhouse gas emissions.
By Samantha Young
Associated Press
Miami-Dade board backs plan for Everglades suburb
Miami-Dade County's Planning Advisory Board voted 7-3 to recommend that commissioners move the Urban Development Boundary in western Miami-Dade for a new 19,000-person suburb called Parkland.
Miami Herald
Citing apathy, Kendall group takes no stance on controversial project
The Kendall Federation of Homeowner Associations has decided not to take a position on the controversial Parkland community that could bring up to 18,000 people to the edge of the Everglades after only 25 people showed up Monday to discuss the development.
By Yudy Pineiro
Miami Herald
Adviser tells state land in U.S. Sugar deal worth less than Florida offered
By Craig Pittman
St. Pete Times
An independent financial adviser hired by the state says the land U.S. Sugar wants to sell for Everglades restoration is worth $930-million — not the $1.3-billion the state announced last week it is willing to pay.
U.S. Sugar sees the future in plant waste: ethanol
Egrets, herons and other birds circle as a sugar harvester rolls slowly through a cane field, slicing the stalks at the base, loading them into transport trucks, and then blowing the thrash back on the ground.
By Jane Bussey
Miami Herald
U.S. Sugar deal could dissolve into duel over division of land
Even before the state's $1.34 billion land deal with U.S. Sugar Corp. is done, the jockeying has begun over how to divide 181,000 acres between farming and Everglades restoration.
By Andy Reid
South Florida Sun-Sentinel
Land deal could lift U.S. Sugar's sagging fortunes
Is it a buyout or a bailout? Either way, a pending deal to sell land to the state for Everglades restoration could reverse Big Sugar's flagging finances.
By Jane Bussey and Curtis Morgan
Miami Herald
Is solar the right fit
In Germany - now the world leader in solar energy production - the solar revolution started with simple legislation drafted in a city about three times the size of Gainesville.
By Megan Rolland
Gainesville Sun
Expect FPL savings, then a jolt
After pressure from consumer groups, Florida Power & Light announced Monday that it wants customers to save a couple of bucks a month starting in January -- but will ask for a basic rate hike of 6 to 9 percent in 2010.
By John Dorschner
Miami Herald
A baby step toward drilling
A Bush administration nudge toward opening waters off Virginia for oil and gas leasing is rankling environmentalists, who have begun lobbying President-elect Barack Obama to reinstate an offshore drilling ban lifted by President George W. Bush last summer.
By Kirsten B. Mitchell
Sarasota Herald-Tribune
Thousands of Florida softshell turtles end up on dinner plates in Asia
Hauled from canals and marshes around Lake Okeechobee, turtles arrive in the late afternoon at Jones Fish House, a corrugated metal structure on the Palm Beach County side of the lake.
By David Fleshler
South Florida Sun-Sentinel
St. Johns River activists battle DeLand
The debate over taking water from the St. Johns River has spread to another venue, with environmental activists faulting withdrawal plans by DeLand.
By Steve Patterson
Florida Times-Union
Gov. Crist: "hold the line" on urban sprawl
Environment Florida
Fall 2008 Report
This summer, Environment Florida teamed up with Progress Florida to deliver a sixty-foot long scroll of petition signatures to Gov. Charlie Crist at the state capitol.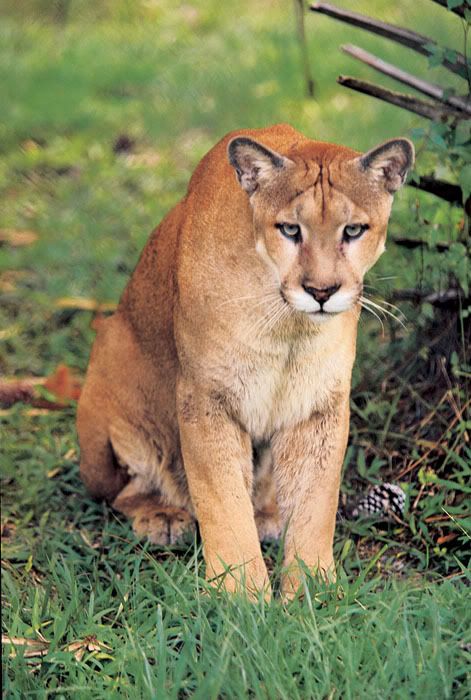 Critically endangered Florida Panther.

Wildwood Preservation Society is a non-profit 501(c)(4) project of the Advocacy Consortium for the Common Good. Click here to learn more.

"it's all connected"