11/18/08 UPDATE: It passed! The Lake Jackson Ecopassage will finally be funded! Read the Tallahassee Democrat article
here.
Road mortality for turtles is higher on Highway US 27 in Tallahassee than anywhere else in the world. Your email today in support of the Lake Jackson Ecopassage could make the difference. Please read the important message below from Dr. Matt Aresco, President of the Lake Jackson Ecopassage Alliance:
On Monday, November 17th, the Capital Regional Transportation Planning Agency (CRTPA) will vote on whether or not to prioritize the construction of the Lake Jackson Ecopassage project for FDOT's Transportation Enhancement funds. These are Federal funds that are allocated to each State for projects such as wildlife crossings.
This project will be the first wildlife crossing project built in Northwest Florida and will consist of a wall and multi-culvert system to allow for safe passage of wildlife.
Please contact the members of the CRTPA to ask them to vote in favor of this project at:
crtpa@lakejacksonturtles.org
.
If you live in the Leon County, Florida area, please attend the meeting at 1 pm in the Tallahassee City Commission Chambers and express your support of the funding for this project using the Transportation Enhancement funds.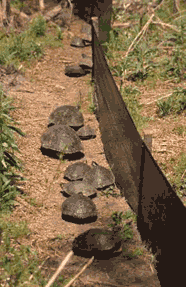 BACKGROUND:
The Lake Jackson State Aquatic Preserve near Tallahassee, Florida is bisected by 4-lane U.S. Highway 27, which is a virtually impassable barrier to turtles and other wildlife with 25,000 vehicles traveling on it per day. Road mortality and attempted crossings of turtles is higher on U.S. 27 than has ever been documented anywhere in the world - over 9,000 turtles in 7 years on a one mile stretch of highway!
More than 12,000 reptiles and amphibians of 45 different species have been saved from death
on the highway by temporary silt fences that were installed by the Lake Jackson Ecopassage
Alliance. Yet over 2,000 animals of 60 different species have still been road-killed.
For more information please see
http://www.lakejacksonturtles.org/crtpameeting.htm
Thank you for your help.
Matt Aresco
President
Lake Jackson Ecopassage Alliance, Inc.
P.O. Box 180891
Tallahassee, FL 32318

Wildwood Preservation Society is a non-profit 501(c)(4) project of the Advocacy Consortium for the Common Good. Click here to learn more.

"it's all connected"