FEATURED STORIES
Black bear hunting may resume in Panhandle
The Associated Press
Florida Today
Mickey Larkins would rather watch bears than hunt them.
Crane once part of Operation Migration shot
By Amanda Nalley
Tallahassee Democrat
Even though whooping cranes have been protected from hunting by the Endangered Species Act since 1973, someone in Indiana apparently did not get the message.
Foes target growth laws months before session
By Jane Healy
Orlando Sentinel
As legislators prepare for next year's session, those in favor of weakening growth laws have started lurking the halls.
Florida's Turf War Over Fertilizer Pollution Heats Up
By Gina Presson
Public News Service Florida
The turf war over fertilizer use is heating up in Hillsborough County this week. On Wednesday, the county commission, in its dual role as the Environmental Protection Commission, considers limiting fertilizer pollution in area waterways.
Fla. delegation weighs in on EPA water standards
By Bruce Ritchie
FloridaEnvironments.com
Twenty-five members of Florida's congressional delegation have signed a letter urging the U.S. Environmental Protection Agency to work closely with state officials and industry in setting limits for nutrients in Florida waterways.
Everglades restoration advocates hail beginning of Tamiami Trail bridge
By Curtis Morgan
Miami Herald
Related editorial
:
One big leap for Everglades restoration
How big was Friday's Tamiami Trail bridge ground-breaking for Everglades restoration advocates and managers?
New Coalition Could Mean 10.5 Billion Dollar Restoration to Florida Everglades
By Gina Presson
Public News Service Florida
In a move that could bring billions of dollars to Florida, four of the state's environmental groups joined forces with nearly 30 other organizations this week to form the "America's Great Waters Coalition."
Wading birds' breeding rebounded over past decade -- good news for Everglades
By Curtis Morgan
Miami Herald
Wading birds, the most beautiful residents of the Everglades and key measuring sticks of its biological health, have been breeding in numbers last recorded more than a half-century ago.
An early OK for a plan to help protect manatees
By Kate Spinner
Sarasota Herald-Tribune
A state wildlife commission gave preliminary approval Wednesday to a plan for reducing manatee deaths here by expanding slow boat speed zones.
FL Could Benefit From Climate Summit Treaty
By Gina Presson
Public News Service Florida
Florida's hopes for a clean energy economy are running high as leaders from nearly 200 nations meet in Copenhagen, Denmark, today through Dec. 18 in an attempt to reach an international treaty to combat global warming.
Protect Florida's fish: Only a fishing ban can save red snapper, 8 others until rebound
Editorial
Miami Herald
Florida's signature fish, red snapper, has been overharvested for years in the Gulf of Mexico and the Atlantic Ocean.
Nutrient overload: Cleaning polluted surface waters no 'burden' to Florida
Editorial
Daytona Beach News-Journal
Too few Floridians are aware of the deadly nutrient overloads in Florida's surface waters.
Seize the moment on climate change
Editorial
Miami Herald
Today 56 newspapers in 45 countries take the unprecedented step of speaking with one voice through a common editorial. We do so because humanity faces a profound emergency.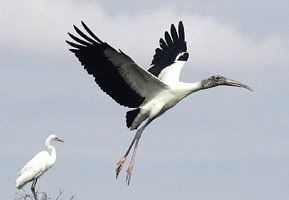 The endangered wood stork is rebounding from recent nesting failures.
THE BIG OIL ROUNDUP
The Big Oil roundup: news and information about Big Oil's push to rig Florida's coastline for the week ending 12-11-09:
A False Solution Called Offshore Oil Drilling
By Toni Reale
Southern Alliance for Clean Energy
Our nation is at an historical crossroads with how we choose to produce the energy that fuels our way of life.
Environment Florida warns new climate bill could mean Florida drilling; asks LeMieux to join Nelson in opposition
By Lesley Clark
Miami Herald
Environment Florida is panning the approach senators have taken in a new Senate climate control bill, saying it could lead to drilling off the Florida coast.
Scott Maddox: "No Baby, No"
Don't Drill Florida
Agriculture Commissioner Candidate Scott Maddox on nearshore oil drilling: "I can think of no better way to destroy our economy and hurt average Floridians than to mortgage our future on the risky proposition of putting oil rigs a few miles off our coast.
Keep our coastline pristine and deep six Big Oil's plans
By Jeffrey C. Ellis
Ft. Walton Sun
As a native Northwest Floridian who has lived along many of its numerous coastlines, I feel drilling for oil offshore in the Gulf of Mexico is an extremely bad idea and would be detrimental to the health of the state's shore.
Town council tells lawmakers not to drill off our beaches
By Christina Hernandez
WINK-CBS News Southwest Florida
Some say drilling for oil off Fort Myers Beach will ruin the town, but others think it'll help the economy.
County might not go with the flow on oil drilling
By Carl Orth
The Suncoast News
Pasco County commissioners want to get to the bottom of the oil drilling issue, so they are planning a local workshop in January.
Drilling's economic impact
Editorial
Northwest Florida Daily News
On the first day of our Nov. 22-24 series, "Oil & Water," state Rep. Dave Murzin of Pensacola described the impetus behind the renewed debate over Gulf Coast drilling.
Near-Shore Oil Drilling: Slick Technology Sham
Editorial
Lakeland Ledger
Floridians and their legislators have had many reasons to be skeptical since proposals surfaced rapidly to open near-shore waters to exploration and drilling for oil.
TAKE ACTION NOW
Write Your State Senator: Big Oil's Promises Are "Empty"
Big Oil and their hired hands in Tallahassee have sworn that drilling Florida's coast would be "invisible" – that there would be no unsightly rigs just a few miles off our coast. We know different – and a recent eye opening story in the Sarasota Herald-Tribune has proven Big Oil's promises completely "empty." Click the picture above – keeping the pressure on by letting our State Senators know people like you are paying attention is how we'll beat Big Oil.

MORE ONLINE ACTIONS
Help Drill for Solutions Not for Oil
, via
Southern Alliance for Clean Energy
.
Let us decide! Petition to Governor Charlie Crist, Senate President Jeff Atwater, and House Speaker Larry Cretul
, via
Civic Concern
.
Contact Your Officials About New Drilling Off Florida's Coasts
, via
Civic Concern
.
Ask your state legislators to keep the rigs out
, via
Save the Manatee Club
.
Write a letter to the editor
, via
Audubon of Florida
.
Write your state legislators
, via
Audubon of Florida
.
Urge Senate President Jeff Atwater to oppose offshore oil drilling
, via
Progress Florida
.
Tell Sen. Atwater Not To Allow Oil Drilling In Special Session
, via
Audubon of Florida
.
Sign the petition against oil drilling
, via
Protect Florida's Beaches
.
Tell Salazar: No drilling off Florida's Coast
, via
Environment Florida
.
Tell new Senator LeMieux to Repower America
, via
Environment Florida
.
Related action:
Don't go drill crazy in the Everglades
, via
Center for Biological Diversity
.
Related action:
Keep oil drilling out of climate change legislation
, via
Oceana
.
ADDITIONAL RESOURCES OF NOTE
Protect Florida's Beaches
, recently launched coalition website.
Protect Florida's Beaches
on Facebook.
Think, Baby, Think
blog via Protect Florida's Beaches.
Don't Drill Florida
website.
Don't Drill Florida
Facebook page.
Hands Across The Sand
website.
Environment Florida
offshore drilling page.
Southern Alliance for Clean Energy
offshore drilling page.
Skytruth blog
, an excellent source of info.
Not the Answer blog
, courtesy Surfrider Foundation.
EnergyFLA.com
, online hub of drilling proponents; their Twitter page is
here
.
MORE GREEN NEWS
Governors to meet over tri-state water dispute
By Bruce Ritchie
FloridaEnvironments.com
The governors of Alabama, Florida and Georgia likely won't have a proposed water-sharing agreement in hand next week when they meet to discuss the Apalachicola-Chattahoochee-Flint river system, a Florida official said today.
Study on St. Johns water withdrawals extended
By Dinah Voyles Pulver
Daytona Beach News-Journal
The deadline for completion of a study on possible environmental impacts of pumping water from the St. Johns River will be extended.
State senators to visit Ocala to discuss water issues
By Fred Hiers
Ocala Star-Banner
Florida lawmakers on the powerful Senate Select Committee on Inland Waters will make Ocala their first stop next week as part of a statewide tour and public meetings to discuss water issues.
Recreational Fishing Alliance challenges red snapper closure
By Jim Sutton
Florida Times-Union
The Recreational Fishing Alliance wasted no time in mounting a legal challenge to an interim red snapper closure, announced Thursday by the federal government and entered into the Federal Registry on Friday.
Interior Secretary pledges to protect lagoon
By Megan Downs
Florida Today
Ken Salazar, secretary of the U.S. Department of the Interior, visited the Pelican Island National Wildlife Refuge Saturday morning, pledging to protect the national parks and fight global warming at the worldwide conference.
Clearwater Marine Aquarium announces Winter the dolphin inspires movie
By Dominick Tao
St. Petersburg Times
Winter the dolphin first entered the spotlight when she was pulled from a tangle of buoy line off Florida's east coast four years ago. The calf's injuries were so severe, she lost her tail.
Man's answer to conservation is blowin' in the wind
By Jim Waymer
Florida Today
The blades that spin in George T. Stringfellow's backyard help slash his electric bill by about 75 percent.
Do Florida flatwoods fight global warming?
By Kevin Spear
Orlando Sentinel
An electronic connoisseur of carbon rose above a large patch of piney wilderness near Orlando on Wednesday, sniffing for data that could play a part in any global response to the climate change being hotly debated by diplomats this week in Copehagen.
A Fake Scandal
The Progress Report
Think Progress
As delegates from countries across the globe gather at the U.N. Climate Change Conference in Copenhagen, Denmark, the world is waiting to see if international leaders will commit to the bold reductions in carbon emissions needed to curb the effects of global warming.
Cabinet rejects county landowners' efforts to intensify developments
By Jennifer Sorentrue and Michael C. Bender
Palm Beach Post
Gov. Charlie Crist and the Florida Cabinet today unanimously ordered Palm Beach County to rescind a pair of growth plan amendments that would have expanded development density for two property owners.
FWC approves draft rule changes for imperiled species listing
From the FWC
TC Palm
The Florida Fish and Wildlife Conservation Commission (FWC) heard draft rules for endangered and threatened species in Florida at the meeting in Clewiston on Wednesday.
FWC approves rule to allow peregrine falcons for falconry in Florida
Press Release
FWC
The Florida Fish and Wildlife Conservation Commission (FWC) approved a rule allowing falconers to take peregrine falcons for the sport of falconry at its meeting in Clewiston on Wednesday.
Paper or plastic? I'll take BYOB
By Sue Carlton
St. Petersburg Times
On a recent morning when I was lucky enough to walk the beach, I saw the tide had gone out, way out, leaving behind what looked like a scattering of children's toys across the sand.
Ten years after
Editorial
Gainesville Sun
It's been 10 years since the EPA was petitioned to regulate greenhouse gases under the Clean Air Act.
Editorial cartoon by Chan Lowe, South Florida Sun-Sentinel. Read the artist's commentary here.
Wildwood Preservation Society is a non-profit 501(c)(4) project of the Advocacy Consortium for the Common Good. Click here to learn more.


"it's all connected"