FEATURED STORIES
Regulating growth now much harder, Pelham says
By Nathan Crabbe
Ocala Star-Banner
Making his second run as secretary of the Florida Department of Community Affairs, Thomas Pelham said the process of regulating growth has taken a turn for the worse.
Sierra Club petitions to have critical habitat for endangered Florida panther
Staff Report
Ft. Myers News
The Sierra Club today filed a petition with the U.S. Fish and Wildlife Service to designate critical habitat for the endangered Florida panther.
Industry reps slam DEP bag ban recommendation
By Bruce Ritchie
FloridaEnvironments.com
Representatives of stores and packaging industries slammed the Department of Environmental Protection today for a draft report's recommendation to tax and then ban plastic and paper bags in Florida.
Gore's presentation on climate change draws 800 as 200 protestors gather outside
By George Bennett
Palm Beach Post
Confused Palm Beach County voters helped thwart Al Gore's 2000 bid to become president of the United States, but he was introduced as "president of the planet" when he returned here Saturday night to deliver an environmental lecture.
Feds to Set State Pollution Limits
By Bill Kaczor
The Associated Press
The federal government will attempt to set Florida's water pollution standards - the first time it'll try that for any state - under an agreement approved Monday.
Hometown Democracy: Pols fear power of the people
By Scott Maxwell
Orlando Sentinel
You know who really scares Buddy Dyer and the rest of the folks down at Orlando City Hall?
Full speed backward on growth management
By Robert M. Weintraub
Gainesville Sun
In 1985, Governor Graham's administration placed an important legal framework in place in Florida to control rampant, undisciplined growth that threatened wetlands, induced traffic congestion, and promoted random sprawl.
Growth debate pits amendment backers, detractors
By Derek Catron
Daytona Beach News-Journal
Both sides see something wrong with Florida's growth patterns, but the question of how to fix it could fuel one of the biggest political fights Florida has ever seen.
FSU Professor studying impact of Gulf of Mexico 'dead zones' on marine life
By Doug Blackburn
Tallahassee Democrat
Kevin Craig may have the largest lab of any biology professor at Florida State University.
Nuclear companies face reactor design problems, ethics questions
By Sue Sturgis
Facing South
Federal regulators have expressed serious safety concerns about the design for 14 of the nation's 25 proposed new nuclear reactors, raising questions about the future of what the industry calls its "renaissance."
Half-inch crack found inside containment wall while Crystal River nuclear plant closed for maintenance
By Richard Danielson
St. Petersburg Times
Progress Energy and federal officials continue to investigate the cause of a half-inch-wide crack recently found inside a containment wall at the Crystal River nuclear plant.
Investing in nuclear power
Editorial
Daytona Beach News-Journal
Say you want to build a nuclear power plant. It won't be easy, cheap or quick. Nor has it been done for three decades in the United States.
Florida Preservation: Forever's Time Runs Out
Editorial
Lakeland Ledger
Forever, as it turns out, arrived in 2009. That is when the shortsighted members of the Florida Legislature managed to kill all funding for the Florida Forever program.
Whooping cranes on the way
By Amanada Nalley
Tallahassee Democrat
Related AP story:
Whooping cranes make annual journey to Fla.
Somewhere in LaSalle County, Ill., 20 whooping cranes are awaiting better weather. The cranes are part of Operation Migration, a nonprofit group establishing a migrating flock of endangered whooping cranes that will nest in Wisconsin and winter in Florida.
An endangered whooping crane takes flight in North Florida.
THE BIG OIL ROUNDUP
Drilling: wrong way to go
By Waldo Proffitt
Sarasota Herald-Tribune
You will remember, I hope, that last week this space was occupied by the story of a huge oil spill 155 miles off the coast of northern Australia -- how that spill came from a 2-year-old drilling rig using the latest technology, how it spread an oil slick over a vast area of the Timor Sea, and how a spill of such size off the Gulf coast of Florida would endanger both hundreds of miles of white, sandy beaches and billions of dollars worth of income from tourism.
Report compares drilling to coast's natural value
By Mary Landers
Savannah Morning News
In an attempt to shift the focus away from the profits of offshore drilling and onto the risk, two national environmental groups are comparing the value of sustainable ocean activities to the predicted value of extractable oil and gas.
Oil and water will never mix in the Sunshine State
By Dave Rauschkolb
Fort Walton Sun
Dear Mr. Shaffer, Thank you for your thoughtful comments regarding Hands Across The Sand and this proposed oil legislation.
Brakes tapped on oil drilling
By John Kennedy
News Service of Florida via Sarasota Herald-Tribune
By ordering an environmental panel to study the wide-ranging effects of offshore oil drilling, Senate President Jeff Atwater is "sending a serious message," the committee's chairman said.
A fact check on Big Oil backers
By Fred Buehler
Fort Walton Sun
In a Nov. 7 local perspective column, Mr. Swiercz demonstrates the problems in discussing the facts about offshore drilling.
Don't risk our future by drilling off our coasts
By June Girard
Gainesville Sun
Here we go again. How many times must Floridians say "No" to drilling in the Gulf?
Tell the EPA to Protect the Everglades from Mining
Action Alert
National Parks Conservation Association
The U.S. Army Corps of Engineers plans to issue mining permits for the destruction of up to 15,000 acres of wetlands near Everglades National Park.
Thumb up: Atwater keeps drillers at bay, for now
Editorial
TC Palm
He hasn't said "no" yet, but Florida Senate President Jeff Atwater hinted he might not consider offshore drilling next year.
State should beware of drilling promises
Editorial
Tampa Tribune
State lawmakers and the people of Florida should see it is an affront to conservative government and fiscal prudence to risk priceless resources and the state's economy for the dubious promises of a secret group of oil interests.
US Senate call for Montara well probe
By John Phaceas
Business News
A senior US senator has demanded a federal investigation into the company responsible for operating the crippled oil rig at the Montara oil project which spewed thousands of barrels of condensate into the Timor Sea.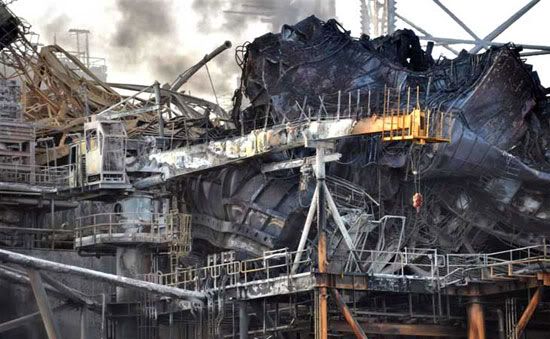 The Montara West Atlas oil rig. Part of PTTE's Safety, Security, Health and Environment statement: "PTTEP's ultimate SSHE goal is to conduct its activities without undue impact on the personnel and properties of the Company and its contractors, the general public and the environment." Note the inclusion of the word "undue" and how protection of the company's property ranks higher than that of the general public and environment!

TAKE ACTION NOW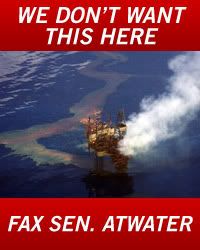 Click the picture above to urge Senate President Jeff Atwater to oppose state legislative efforts that would allow offshore oil drilling off Florida's coast.
LATEST ONLINE ACTIONS
Let us decide! Petition to Governor Charlie Crist, Senate President Jeff Atwater, and House Speaker Larry Cretul
, via Civic Concern.

Contact Your Officials About New Drilling Off Florida's Coasts
, via Civic Concern.

Ask your state legislators to keep the rigs out
, via Save the Manatee Club.
Related action:
Don't go drill crazy in the Everglades
, via Democracy in Action.
Related action:
Keep oil drilling out of climate change legislation
, via Oceana.

MORE ONLINE ACTIONS

Write a letter to the editor
, via Audubon of Florida.

Write your state legislators
, via Audubon of Florida.

Tell Sen. Atwater Not To Allow Oil Drilling In Special Session
, via Audubon of Florida.

Sign the petition against oil drilling
, via Protect Florida's Beaches.

Tell Salazar: No drilling off Florida's Coast
, via Environment Florida.

Tell new Senator LeMieux to Repower America
, via
Environment Florida
.
ADDITIONAL RESOURCES OF NOTE
Protect Florida's Beaches
, recently launched coalition website.
Protect Florida's Beaches
on Facebook.
Think, Baby, Think
blog via Protect Florida's Beaches.
Don't Drill Florida
website.
Don't Drill Florida
Facebook page.
Hands Across The Sand
website.
Environment Florida
offshore drilling page.
Skytruth blog
, an excellent source of info.
Not the Answer blog
, courtesy Surfrider Foundation.
EnergyFLA.com
, online hub of drilling proponents; their Twitter page is
here
.
MORE GREEN NEWS
Jeff Corwin: We're losing a species every 20 minutes
Video Interview
Mother Nature Network
MNN sits down with wildlife biologist and animal expert Jeff Corwin to talk about how climate change is wiping out animal species.
Cabinet approves land-buying bonds, Keys oversight
By Bruce Ritchie
FloridaEnvironments.com
Gov. Charlie Crist and the Cabinet today approved a resolution issuing $250 million in bonds for buying conservation lands, representing the last money approved by the Legislature for the program.
Releasing two captive manatees stirs controversy in Homossasa Springs
By Barbara Behrendt
St. Petersburg Times
When Amanda is hungry, she rolls onto her back and makes a coy little flipper gesture toward her mouth.
Environmental activists protest FPL's attempt to emit more greenhouse gases at new western plant
By Paul Quinlan
Palm Beach Post
A small group of environmental activists spoke out against Florida Power & Light's request to emit a relatively tiny amount of additional greenhouse gases at its new western Palm Beach County power plant.
Florida Keys, land-buying on Cabinet agenda
By Bruce Ritchie
FloridaEnvironments.com
The Cabinet could have a somewhat busy agenda today on environmental issues.
Everglades: North Florida is committed
By Joseph Z. Duke
Florida Times-Union
In a September statewide poll, 79 percent of North Florida voters indicated that Everglades restoration was personally important to them.
Manatees arriving for winter
By David Fleshler
South Florida Sun-Sentinel
Here come the manatees, and right behind them, here come the police.
Brown pelican soars back
Staff Report
Sarasota Herald-Tribune
The brown pelican, as the late Herald-Tribune nature writer Mina Walther once noted, is "a symbol of the inshore seacoast . . . a large, bulky bumbler on foot but marvelous at soaring parallel to the waves, peerless at diving, and nearly always successful in gulping a fish into its pouch."
FDA delays raw oyster ban, Florida reaction mixed
By Bruce Ritchie
FloridaEnvironments.com
The U.S. Food and Drug Administration today backed off a proposal to ban the sale of raw oysters from Gulf states during summer months by 2011.
DEP meeting follows withdrawal of plastic bag ban report
By Bruce Ritchie
FloridaEnvironments.com
Following an uproar last month over a draft proposal to ban plastic shopping bags, the Florida Department of Environmental Protection on Thursday holds another public workshop on whether to regulate bags.
Florida offers $5,000 to turn Prius hybrids into electric plug-ins
By Angel Streeter
South Florida Sun-Sentinel
Anyone looking to convert a Toyota Prius into a plug-in electric vehicle can get $5,000 from the state to cover some of the cost.
Solar energy plant at KSC generates jobs
By Jim Waymer
Florida Today
Kennedy Space Center plans by late next year to start building one of the largest solar power plants of its kind in the world, bringing 1,000 temporary construction jobs and 50 long-term science and engineering jobs.
Consumer advocate, FPL make last argument in rate-hike battle
By Mary Ellen Klas
Miami Herald/St. Petersburg Times Tallahassee Bureau
Customers of Florida Power & Light deserve a rate decrease, not an increase, because the company's request for a $1.3 billion annual hike is ``a conglomeration of extreme positions and excessive demands,'' Florida's consumer advocate argued in a final brief filed Monday with state regulators.
Sunshine Amid The Clouds
Editorial
Lakeland Ledger
Florida's prospects for producing clean, renewble energy are growing brighter.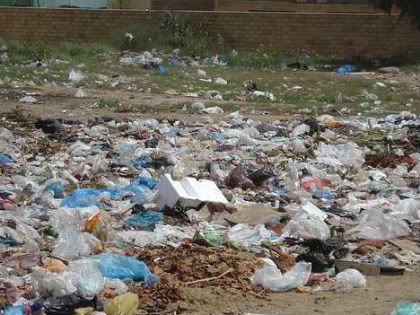 An example of plastic bag pollution – reduce, reuse and recycle!
Wildwood Preservation Society is a non-profit 501(c)(4) project of the Advocacy Consortium for the Common Good. Click here to learn more.


"it's all connected"