FEATURED STORIES
Plan re-emerges to shift water resources across Florida
By Craig Pittman
St. Petersburg Times
Take action now:
Sign on to the letter to the legislature
via Progress Florida
Six years ago, Florida's business leaders came up with a plan to create a state water commission that could route water from sleepy North Florida to supply the booming development in South Florida.
Miami-Dade commissioners consider cashing in on old Glades jetport
By Curtis Morgan
Miami Herald
Related editorial:
Don't go drill crazy in the Everglades
Take action now:
Sign the petition
via Democracy in Action
Faced with a looming half-billion-dollar deficit from the expansion of Miami International Airport, the Miami-Dade Aviation Department wants to cash in on an Everglades jetport it was forced to abandon decades ago.
Bob Graham, Jeb Bush join campaign to restore Florida land-buying funds
By Curtis Morgan
Miami Herald
Related:
Press release
from Florida Forever Coalition
With shrinking revenues and widening deficits, state lawmakers will be sharpening their budget axes when the Legislature meets in March.
Endangered status sought for loggerhead sea turtles
By Paul Quinlan
Palm Beach Post
Loggerhead sea turtles are in a ``dire state,'' with a 40 percent decline in the number of nests counted over the past decade, experts say.
Next Halloween without Bats in FL?
(includes audio)

By Gina Presson
Public News Service Florida
Related:
Florida Bat Conservancy
website
Halloween with its jack-o'-lanterns, black cats and bats has come and gone, but experts warn many bats may be gone for good.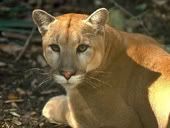 The critically endangered Florida panther faces a new threat: drilling for oil within their limited remaining habitat. Take action now via the link above.
THE BIG OIL ROUNDUP
Debunking the Drilling Propaganda: The Top Five Myths About Gulf Oil Drilling
Civic Concern
Note: also see Take Action section below.
Let's take a look at the top five claims the "Drill Baby Drill" folks have been perpetuating in the media and legislature and see how they stand up to scrutiny.
Offshore fictions: Claims of oil riches for Florida warrant skeptical review
Editorial
Daytona Beach News-Journal
Advocates of drilling for oil in Florida's coastal waters make two claims that have caught the attention of lawmakers and heightened momentum to end the ban on drilling offshore.
Huge Australian Oil Spill Raises Questions
(includes video)
CBS News
Related ABC News story
:
Oil leak impact may last 7 years
An oil spill disaster that could rival the impact of the Exxon Valdez is playing out tonight off the coast of Australia.
Ten weeks, and counting
Editorial
Pensacola News Journal
There was more bad news for proponents of offshore drilling near the Florida coast this weekend.
The state of the art West Atlas oil rig smoldering in the Timor Sea following catastrophic spill covering an estimated 9,000 miles of ocean.

Issues Surrounding Drilling Off Florida's Coast
By John Rogers
WCTV CBS News Tallahassee
There are many questions surrounding this topic and experts in the subject warn, it's something we should not rush into.
Florida Forum: Energy Exploration
Don't Drill Florida
Last night was the FSU/GANNETT Florida Forum on nearshore oil drilling featuring panels of both drilling proponents and opponents. Also included outside the panels were Rep. Dean Cannon(R) and Sen. Mike Haridopolos (R). The forum was billed as an evening discussion of the facts associated with nearshore drilling. Rep. Cannon and Sen. Haridopolos were treated as if they were neutral in the debate and were present to learn more about the issue, but this could not be farther from the truth.
Off-shore drilling pros, cons explored
By Catherine Dolinski
Tampa Tribune
Only one in a hundred offshore drilling leases may produce oil, and there's no guarantee that near-shore drilling will bring big bucks to Florida.
To drill or not to drill. . . is that really the question?
By Paul Flemming
Ft. Myers News-Press
It's a passionate debate, one that's been going on in Florida for decades with an environmentalist ebb and an oil flow.
Crist says he and LeMieux discussed drilling
By Lloyd Dunkelberger and Gary Fineout
Sarasota Herald-Tribune
While U.S. Sen. George LeMieux isn't talking about his recent stint in the private sector, his former boss talked a little bit about it last week.
Opinions Split On Offshore Oil Drilling
Staff Report
Central Florida News 13
Opinions on drilling for oil off Florida's coast are split, according to an exclusive poll conducted by News 13's Bright House Networks affiliate, Bay News 9, along with the St. Petersburg Times and the Miami Herald.
Thrasher, Negron Split on Offshore Drilling
By News Service of Florida
Jacksonville Observer
With the fate of offshore drilling expected to be determined in the Florida Senate next session, the chamber's newest members are split on whether it makes sense to explore for oil and gas in state waters off Florida's Gulf Coast.
Energy Expert Ballentine: Promise of Florida's Offshore Oil is Exaggerated
Staff Report
HeatingOil.com
For years, the US oil industry has touted domestic offshore drilling as a pivotal component of any solution to this country's energy issues.
USF program to track oil spills falters
By Catherine Dolinski
Tampa Tribune
For years, Texas has relied on scientists and technology at Texas A&M University to track oil spills, forecast where they are headed and minimize the damage they cause.
FSU acts as 'broker' for drilling symposium
By David Cartes
Tallahassee Democrat
The energy needs of the United States and the financial condition of the state of Florida have prompted a renewed consideration of oil and gas activity off the Florida coast.
Judah gets fired up over offshore drilling
By Betty Parker
Ft. Myers News-Press
Lee County Commissioner Ray Judah was fired up for his appearance at BUPAC (Businesspeople United for Political Action Committee) this week.
Offshore Oil Drilling, Damage
By Amanda Casares
Lakeland Ledger
Since the offshore-drilling debate has been opened again, I must voice my opinion on the subject.
Don't let oil drilling ruin Florida
Letters to the editor
St. Petersburg Times
It was with a sinking sense of dread that I read your article on the polls showing voters favoring offshore oil drilling.
Drilling for answers
Editorial
Panama City News Herald
The ongoing debate about whether to allow drilling for oil off Florida's coast is a classic example of assessing risk vs. reward.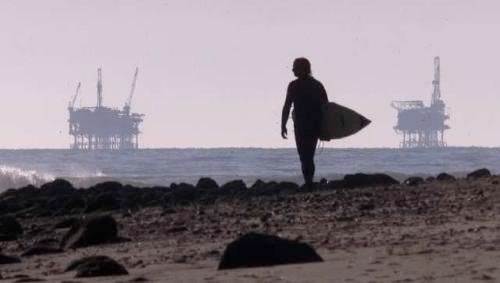 Welcome to, er, beautiful and sunny Florida?

TAKE ACTION NOW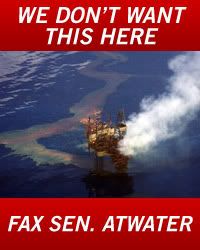 Click the picture above to urge Senate President Jeff Atwater to oppose state legislative efforts that would allow offshore oil drilling off Florida's coast.

LATEST ONLINE ACTIONS


Let us decide! Petition to Governor Charlie Crist, Senate President Jeff Atwater, and House Speaker Larry Cretul

, via Civic Concern.


Contact Your Officials About New Drilling Off Florida's Coasts

, via Civic Concern.


Ask your state legislators to keep the rigs out

, via Save the Manatee Club.

MORE ONLINE ACTIONS


Write a letter to the editor

, via Audubon of Florida.


Write your state legislators

, via Audubon of Florida.


Tell Sen. Atwater Not To Allow Oil Drilling In Special Session

, via Audubon of Florida.


Sign the petition against oil drilling

, via Protect Florida's Beaches.


Tell Salazar: No drilling off Florida's Coast

, via Environment Florida.


Tell new Senator LeMieux to Repower America

, via Environment Florida.


Tell Your Senator No More Offshore Drilling
, via Oceana.

ADDITIONAL RESOURCES OF NOTE
Protect Florida's Beaches
, recently launched coalition website.
Protect Florida's Beaches
on Facebook.
Think, Baby, Think
blog via Protect Florida's Beaches.
Don't Drill Florida
website.
Don't Drill Florida
Facebook page.
Hands Across The Sand
website.
Environment Florida
offshore drilling page.
Skytruth blog
, an excellent source of info.
Not the Answer blog
, courtesy Surfrider Foundation.
EnergyFLA.com
, online hub of drilling proponents; their Twitter page is
here
.
MORE GREEN NEWS
South Florida hunt for Burmese pythons ends
The Associated Press
South Florida Sun-Sentinel
A pilot program aimed at helping eradicate giant, nonnative Burmese pythons from South Florida has ended with 37 of the invasive constrictors being killed, wildlife officials said today.
Another species of python is raising concern in region
By Kate Spinner
Sarasota Herald-Tribune
If thousands of Burmese pythons slithering through the Everglades are not worrisome enough, wildlife experts are now warning of another invasive reptile found as close as east Sarasota.
House members vent against EPA water standards
By Bruce Ritchie
FloridaEnvironments.com
Members of a Florida House panel complained today about the potential cost of water quality standards that could be proposed by the U.S. Environmental Protection Agency in January, agreeing with industry representatives who said businesses and households will be affected.
Time Magazine writer discusses Everglades pollution, restoration
By Curt Devine
Gainesville Sun
"This is the story of America's last frontier," said Michael Grunwald, senior correspondent of Time Magazine.
Effects of "Dead Zone" on Gulf shrimping studied
By Florida State University and FloridaEnvironments.com
FloridaEnvironments.com
A team of researchers from Florida State University, Duke University and the National Marine Fisheries Service will study the environmental and economic impacts of the vast "dead zone" in the northern Gulf of Mexico on shrimping in the region.
Florida will pay steep price for policies on development
By Ron Littlepage
Florida Times-Union
With 300,000 homes and condos sitting vacant, and with population growth nil, government and business leaders are pushing ways to make it easier to build more homes and condos.
Florida land-buying program absorbs more revenue
By Bruce Ritchie
FloridaEnvironments.com
With the downturn in the state's economy, Florida's conservation land-buying program is sucking up an increasingly larger share of tax revenue from real estate transactions, a state finance official told House members today.
Public Input Sought on St. Marks Refuge Expansion
Wakulla.com
In October 2009, the St. Marks National Wildlife Refuge received approval to request public input on a proposal to add an additional 35, 295 acres to the refuge.
LeMieux's time to act
Editorial
Orlando Sentinel
Warnings about how climate change could threaten the security of the U.S. and nations throughout the world will be sounded today at a conference at the University of Central Florida in Orlando.
Regional summit highlighted problems associated with climate change
Editorial
South Florida Sun-Sentinel
The session had all the jargon that you'd expect at a "green" convention.
Sunshine amid the clouds
Editorial
Sarasota Herald-Tribune
As the days grow shorter, Florida's prospects for producing clean, renewable energy grow brighter.
PSC must set meaningful efficiency standards
Editorial
South Florida Sun-Sentinel
The Public Service Commission can show its "new management" mettle by establishing new energy efficiency standards.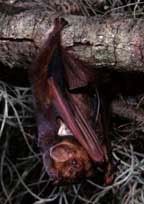 A Seminole bat 'hanging out'.
Wildwood Preservation Society is a non-profit 501(c)(4) project of the Advocacy Consortium for the Common Good. Click here to learn more.


"it's all connected"