FEATURED STORIES
McCollum, Sink Agree on Funding for Florida Forever
By News Service of Florida
The Jacksonville Observer
For a mere $15 million, Florida lawmakers can secure $300 million for the state's Florida Forever program, a bargain even during cash-strapped times, the top contenders to replace Gov. Charlie Crist said Tuesday in a bit of campaign camaraderie.
Study raises new red flag on coastal development
By Curtis Morgan
Miami Herald
As early as the 1980s, scientists warned that rising seas could submerge vast portions of Florida's coast.
Sen. Bennett chides DCA secretary over new growth management law
By Catherine Dolinski
Tampa Tribune
Mike Bennett, chairman of the Senate Committee on Community Affairs, was by no means pleased this month when state Community Affairs Secretary Tom Pelham told Bennett's panel that a new growth management law hadn't freed urban-area developers from transportation concurrency rules as lawmakers had expected.
Activists meet with feds over environmental racism
By Dionne Walker
Tampa Tribune
Environmental and racial justice activists from six states met with federal Environmental Protection Agency officials Tuesday to demand a revamp of the agency they accuse of overlooking years of chronic environmental missteps in minority communities across the South.
Campaign to Reduce Carbon Dioxide Focuses on 350
By Andrew C. Revkin
New York Times
Campaigners against global warming have drawn on an arsenal of visually startling tactics over the years, from posing nude on a Swiss glacier to scaling smokestacks at coal-fired power plants.
We're surrounded by beautiful beaches and the ocean. But maybe, not for long.
By James Boyce
FLA Politics
To live in Florida is to be surrounded by the beauty and the wonder of the ocean.
Audubon Celebrates a Victory for Wood Storks
Newsletter
Audubon of Florida
Audubon celebrates federal District Judge Jose Martinez's decision to revoke the wetland destruction permit for the Mirasol development in southwest Florida.
Obama touts billions for 'smart grid' plan
By Zac Anderson
Sarasota Herald-Tribune
Related:
Obama may have little sway in state's clean-energy debate
President Barack Obama came to this rural community Tuesday to tout an ambitious energy reform plan working through Congress, but he also came bearing gifts in the form of $200 million for Florida Power & Light to install 2.6 million "smart meters."
President Obama's visit to Florida filled with irony
By Dr. Stephen A. Smith
Southern Alliance for Clean Energy
President Obama is visiting DeSoto County, Florida today to headline the opening ceremony of the largest solar photovoltaic (PV) facility in the country.
Solar power should be above politics
Editorial
Ft. Myers News-Press
President Barack Obama's visit to DeSoto County today marks the opening this week of the nation's largest solar power plant. It adds to the excitement of this milestone in the state's economic development.
THE BIG OIL ROUNDUP
Lawmakers' love affair with Big Oil
By Carl Hiaasen
Miami Herald
The mystery group trying to repeal Florida's ban on offshore oil drilling is winning converts the old-fashioned way, deploying a battalion of lobbyists and throwing campaign money at state legislators.
Offshore-drilling debate reveals upcoming battle lines
By Josh Hafenbrack
Orlando Sentinel
Related editorial:
Caveat emptor on drilling
Envision oil derricks cluttering Florida's sunset views. Oil spills threatening marine life, turning beach sand black and scaring away tourists.
Cash cow or curse? Drilling experts offer familiar promises, warnings
By Jim Ash
Tallahassee Democrat
Related:
Viewers respond, raise their own concerns about off-shore drilling
Offshore drilling would bring 20,000 new jobs and $2 billion a year to Florida, or it would doom a $60-billion-a-year industry that draws millions of tourists to Florida's pristine beaches.
Florida Forum: Energy Exploration
Don't Drill Florida
Last night was the FSU/GANNETT Florida Forum on nearshore oil drilling featuring panels of both drilling proponents and opponents.
Supporters for offshore drilling in Florida still hiding
By Mitch Perry
Creative Loafing
Last night in Tallahassee, proponents and opponents of offshore drilling debated for two hours in a debate sponsored by Florida State University and Gannett Florida, the owner of the Tallahassee Democrat newspaper, and broadcast over the internet from the Florida State University web site.
Ken Welch: offshore drilling not the answer
By Sean Kinane
WMNF Community Radio Tampa
At last night's offshore oil drilling forum in Tallahassee, drilling advocate David Rancourt, with the Southern Strategy Group, was asked who is backing the plan.
Australia oil spill fuels debate here
By Catherine Dolinski
Tampa Tribune
Aug. 21 was a mess for the oil industry. That was the day an oil platform off the northern coast of Australia began leaking 300 to 400 barrels of oil a day into the Timor Sea.
Company says oil leak may take weeks to plug
By David Weber
ABC News
The company responsible for the oil leak in the Timor Sea has warned that it may not stop spewing out oil for several more weeks.
Australian Oil Rig Blowout Creates Environmental Catastrophe
Press Release
Defenders of Wildlife
The impacts of the nine-week West Timor oil rig blowout are creating an environmental catastrophe for wildlife and ocean ecosystems, Defenders of Wildlife said today.

Drilling advocates' claims that their technology is safe have been proved completely false as a massive ongoing oil spill is creating an environmental and marine disaster in the Timor Sea off Australia's coast.

Offshore drilling splits House
By Bill Cotterell
Tallahassee Democrat
During the Florida Legislature's first big hearing on offshore oil drilling, state Rep. Paige Kreegel summed up the collision of economic, environmental and political factors.
Promise of drilling is vastly overblown
By Thomas Ballentine
Tallahassee Democrat
Related editorial:
Think energy
Related AP story:
Fla. offshore drilling being debated on Internet
The recent hype concerning offshore oil and gas drilling in Florida falls into the category of "Much ado about almost nothing."
House District 9 challenger Rick Minor says no campaign money from 'big oil'
By Jim Ash
Tallahassee Democrat
Trying to build on his strong third-quarter fundraising momentum, House District 9 challenger Rick Minor took a swipe this morning at the incumbent, suggesting she is a pawn of the oil industry.
Launch of New Campaign uses Power in Numbers to Oppose Off Shore Drilling
(includes video)
By Meagan O'Halloran
WJHG NBC News Panama City
The battle over off-shore oil and gas drilling in the Gulf is escalating.
Cafe owner launches effort against offshore oil drilling
By John Kennedy
The News Service of Florida via FloridaEnvironments.com
A Panhandle restaurateur said today he wants thousands of Floridians to hit the beaches to fight offshore oil-drilling along the state's Gulf coast.
Interests Differ on Money Drilling Would Bring In
By News Service of Florida
Jacksonville Observer
Florida's fight over oil-drilling Wednesday pivoted on green issues – as in dollars.
Restaurant owner to protest proposed oil drilling
By Kimberly White
Northwest Florida Daily News
David Rauschkolb can pinpoint almost to the second when the inspiration struck.
Slow down the stampede to OK offshore drilling
By Ron Littlepage
Florida Times-Union
The charade in Tallahassee has begun.
Drilling's benefits unproven to Florida
By Fred Strobel
Sarasota Herald-Tribune
The fine series of articles by the Herald-Tribune's Jeremy Wallace and Zac Anderson place the problem in the proper perspective: Opening the eastern Gulf of Mexico to drilling is an environmental question, not an economic one, and soon to be a political one.
Chamber, BDA worried about drilling
By Daniel Carson
Panama City News Herald
Offshore oil drilling continues to be an area of concern for some Bay County groups, with officials from the Bay Defense Alliance and Bay County Chamber of Commerce worried Florida lawmakers will pass 2010 legislation that conflicts with the military's Gulf of Mexico training missions.
Lee commission chairman: Will support drilling off state 'when hell freezes over'
By Charlie Whitehead
Naples News
Lee County Commission Chairman Ray Judah laid out for a business group Thursday morning precisely when and under what circumstances he would support drilling off Florida beaches in the Gulf of Mexico.
Florida needs safe buffer from offshore rigs
By J. Earle Bowden
Pensacola News Journal
Again, how much will near-shore oil rigs lubricate Florida's sandy shores?
Next step in vetting Florida offshore-drilling plan: FSU forum
By Kevin Spear
Orlando Sentinel
Just as oil companies drill down into the Earth with progressively narrower sections of pipe, both opponents and proponents of offshore rigs in Florida waters are steadily sharpening their arguments as they search for a payoff in public support.
Tanker collision causes oil spill in Galveston
By Angel Covarrubias
KVEO News Texas
Coast Guard officials say they have contained an oil spill in the Gulf of Mexico caused when two tankers collided near Galveston.
Start to cap gusher of hype
Editorial
Palm Beach Post
Take the reader poll:
To drill or not to drill?
Over two hours Wednesday, the question of allowing oil and natural gas drilling off the Florida coast will get a more honest debate than the issue got last spring over several days in the Legislature.
Money, oil, secrecy
Editorial
St. Petersburg Times
Money, oil and secrecy make a dangerous brew.
Satellite image detailing extent of growing oil slick from the blowout of the allegedly safe, advanced technology West Atlas oil rig in the Timor Sea.

TAKE ACTION NOW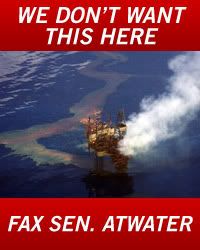 Click the picture above to urge Senate President Jeff Atwater to oppose state legislative efforts that would allow offshore oil drilling off Florida's coast.

MORE ONLINE ACTIONS


Write a letter to the editor

, via Audubon of Florida.


Write your state legislators

, via Audubon of Florida.


Tell Sen. Atwater Not To Allow Oil Drilling In Special Session

, via Audubon of Florida.


Sign the petition against oil drilling

, via Protect Florida's Beaches.


Tell Salazar: No drilling off Florida's Coast

, via Environment Florida.


Tell new Senator LeMieux to Repower America

, via Environment Florida.


Tell Your Senator No More Offshore Drilling
, via Oceana.

ADDITIONAL RESOURCES OF NOTE

Protect Florida's Beaches
, recently launched coalition website.
Protect Florida's Beaches
on Facebook.
Don't Drill Florida
website.
Don't Drill Florida
Facebook page.
Hands Across The Sand
website.
Environment Florida
offshore drilling page.
Skytruth blog
, an excellent source of info.
Not the Answer blog
, courtesy Surfrider Foundation.
EnergyFLA.com
, online hub of drilling proponents; their Twitter page is
here
.
MORE GREEN NEWS
Conference: Climate Change Worse for Florida Than Predicted, if no Action
(includes audio)
By Gina Presson
Public News Service Florida
"It will be worse than predicted unless we take action."
Commission vote on FPL rate hike could signal shift in utilities' influence
By Dara Kam
Palm Beach Post
Utility regulators will decide Tuesday whether to comply with Gov. Charlie Crist's request to hold off voting on nearly $2 billion in base rate hikes for the state's two largest utilities.
At FPL rate hearing, outage complaints get attention
By Mary Ellen Klas
Miami Herald/St. Petersburg Times Tallahassee Bureau
Related:
Bill requires FPL boosters to disclose utility links
Everglades High School history teacher Stephanie Nagel arrived home on Wednesday and, once again, her clocks were off.
Power Plays in Florida
By Alan Farago
Counterpunch
Today President Obama takes the bully pulpit for a new energy future to a rural, conservative town in Florida; Arcadia where Florida Power and Light is building the largest solar energy facility in the nation.
Largest solar panel plant in US rises in Fla.
By Christine Armario
The Associated Press
Greg Bove steps into his pickup truck and drives down a sandy path to where the future of Florida's renewable energy plans begin: Acres of open land filled with solar panels that will soon power thousands of homes and business.
Everglades at mercy of county, group says
By Paul Quinlan
Sarasota Herald-Tribune
A high-profile growth watchdog group called on the state of Florida Wednesday to rein in the Palm Beach County Commission, whose land use decisions, they fear, will cripple the multibillion-dollar Everglades restoration.
Scientists recommend improvements after reviewing Panther protection plan for eastern Collier
By Eric Staats
Naples News
A team of scientists is calling for improvements to a plan to protect the endangered Florida panther in eastern Collier County.
South Florida counties form environmental coalition
By Linda Trischitta
South Florida Sun-Sentinel
With a flourish of the pen, leaders from South Florida's four counties on Friday created a regional force that they hope will obtain federal funding to protect drinking water, enhance mass transit and encourage the use of alternative fuels.
Protesters accuse environmental agencies of inaction on climate change
By Paul Quinlan
Palm Beach Post
A two-hour, three-way standoff between protesters, environmental regulators and police outside a Florida Department of Environmental Protection office today ended peacefully, when activist leaders met briefly with regulators to discuss greenhouse gas emissions.
State agency teaches disabled about fish and wildlife - and jobs
By Jerome Burdi
South Florida Sun-Sentinel
An owl, snake, skunk and alligators were some of the main attractions at the Florida Fish and Wildlife Conservation Commission's mentoring day for the disabled.
Survey shows residents TAPPing into water quality
(includes audio)

By Trimmel Gomes
WFSU Public Radio Tallahassee
You may have seen humorous TV ads and billboards recently about the city of Tallahassee's TAPP campaign...TAPP stands for "Think About Personal Pollution".
Leon commissioners defer on 'Hometown Democracy' stance
By TaMaryn Waters
Tallahassee Democrat
Leon County commissioners decided not to take a stand on the heavily disputed proposed Hometown Democracy amendment during a workshop Tuesday.
Tired of dead-end development? Let's take back our cities!
By Mel Kelly
Destin Log
What does "growth" really look like to Florida communities?
Uninspiring energy-efficiency standards
Editorial
Miami Herald
Florida PSC should lead in promoting conservation, renewable power sources
The easiest, cheapest way to save energy is to use less of it. Floridians get that, already.
Panthers without borders
Editorial
Daytona Beach News-Journal
You see its image often on license plates in Florida, but chances are next to nothing -- and growing slimmer by the acre -- that you'll ever see the real thing in its natural habitat.
Forever isn't political
Editorial
Orlando Sentinel
This week, gubernatorial candidates Alex Sink and Bill McCollum seemed the last people capable of agreeing on anything, given their freewheeling attacks on each other for failing to stop rogue debt collectors from threatening Floridians.
Bagging a bad habit
Editorial
Orlando Sentinel
The world didn't end when doctors stopped making house calls, when filling stations stopped checking under the hood, when ATMs replaced tellers.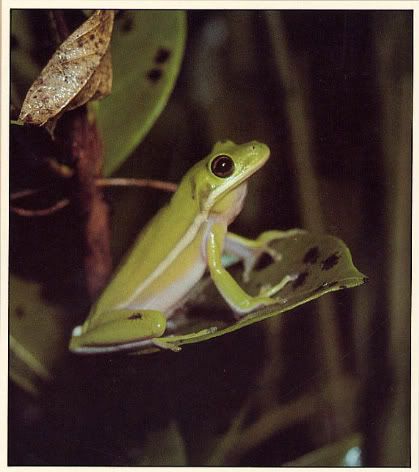 Wildwood Preservation Society is a non-profit 501(c)(4) project of the Advocacy Consortium for the Common Good. Click here to learn more.


"it's all connected"