FEATURED STORIES

Florida Forever defenders step up
By Yvette C. Hammett
Tampa Tribune
Related: Read the Florida Forever Coalition press release here.
It's been an easy concept from the start. Get developers to pay for growth by preserving vast stretches of natural Florida.

County won't appeal ruling on Summerfield
By TaMaryn Waters
Tallahassee Democrat
Leon County commissioners decided Tuesday they didn't want to appeal a court ruling regarding the Summerfield development.

Land grabs fuel Hometown Amendment drive
By Lauren Ritchie
Orlando Sentinel
The city of Wildwood, west of Leesburg at the junction of Interstate 75 and Florida's Turnpike, has annexed empty land that has approval for up to 87,000 new homes.

Economic hammer pounds developers
By Michael Sasso
Tampa Tribune
Long vilified as greedy power brokers, many of the people in the business of turning open spaces into malls and subdivisions are reeling from liens, foreclosure lawsuits and bankruptcies.

Florida wants to bag the plastic
By Kevin Spear
Orlando Sentinel
Florida environmental officials want to make the state the first in the nation to prohibit throwaway plastic and paper bags.

PSC showdown Friday: Can Progress Energy charge customers upfront for nuke plant costs?
By Robert Trigaux
St. Petersburg Times
What once seemed a slam dunk deal for Progress Energy -- building a new nuclear power plant complex in rural Levy County north of Tampa Bay -- is now very much up in the air.

Nuclear reactor design has safety flaw
By Curtis Morgan
Miami Herald
The nuclear reactor design that Florida Power & Light has chosen for its expansion at Turkey Point has safety flaws, federal regulators said Thursday.

Feds need to close red snapper fishing areas
Editorial
Florida Today
Space Coast anglers -- and anyone who enjoys a seafood meal -- know why red snapper is a prized catch.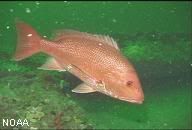 The red snapper is being fished unsustainably.

THE BIG OIL ROUNDUP

The Big Oil roundup: news and information about Big Oil's push to rig Florida's coastline for the week ending 10-16-09:

Federal scientists: Limit offshore drilling plans
By Jim Tankersley and Josh Meyer
Los Angeles Times
The federal government's top ocean scientists are urging the Interior Department to drastically reduce plans to open the coast to offshore oil and gas drilling, citing threats to marine life and potentially devastating effects of oil spills in Arctic waters.

NOAA urges caution in expanded offshore drilling
By Sue Sturgis
Facing South
The National Oceanic and Atmospheric Administration has called on the Interior Department to proceed cautiously with plans to expand offshore oil and gas drilling, pointing to the need to protect fisheries, marine habitat and coastal communities.

Solar group's endorsement of offshore drilling causes controversy
By Catherine Dolinski
Tampa Tribune
An association of solar energy businesses in Florida stunned environmentalists last month by declaring its support for offshore oil drilling.

What's the tie between lobbyists, oil drilling and solar power?
By Marc Caputo
St. Petersburg Times/Miami Herald
From Progress Florida: On behalf of the tens of thousands of our members across Florida who strongly support moving our state and nation toward a clean, renewable energy future and growing a green economy here in the "Sunshine State," we were extremely disappointed to learn about your association's support for opening Florida's near shore waters to oil drilling.

Solar Energy's Stockholm Syndrome
Don't Drill Florida
Stockholm syndrome is a psychological response sometimes seen in abducted hostages, in which the hostage shows signs of loyalty to the hostage-taker, regardless of the danger or risk in which they have been placed.

Solar Group's Drilling Stance Spurs Backlash
By Kate Galbraith
New York Times
A Florida solar group's support for offshore oil and gas drilling as a means of generating revenue for renewables has spurred a backlash.

Drilling backers, foes prepare for big fight
By Steve Bousquet
Miami Herald/St. Petersburg Times
From an office near the state Capitol, David Rancourt oversees a growth industry: the lobbying and public-relations operation seeking to lift the long-standing ban on offshore oil and gas exploration off Florida.

Australian oil spill fuels Alex Sink's drilling skepticism
By Adam Smith
St. Petersburg Times
Could a ruptured rig off western Australia(left) be the death nell to state officials trying to open up Florida to offshore drilling as close as three miles to the coast?

Strike two: oil leak plugging attempt fails
ABC News
Related: Failure to plug oil leak 'unacceptable'
The West Atlas oil rig in the Timor Sea has been leaking oil into the ocean for more than seven weeks.

Oil drilling threatens tourism
By Will Graves
Orlando Sentinel
The one-dimensional thinking championed by state Rep. Dean Cannon is exactly what National Geographic, The New York Times, The Wall Street Journal, the Orlando Sentinel and other publications have decried as a death knell for Florida.

Florida Republicans: drill, baby, drill (includes video)
By Steve Nichols
Fox 13 News Tampa Bay
Will there be consequences for local lawmakers who oppose offshore drilling legislation?

Bennett wants to delay offshore drilling debate
By Jeremy Wallace
Sarasota Herald-Tribune
State Sen. Mike Bennett, R-Bradenton, is looking to put the brakes on the state oil drilling debate.

Florida State University to hold offshore-drilling symposium
By Jim Ash
Tallahassee Democrat
Pledging to be honest brokers in a politically charged debate, Florida State University scientists announced Monday they will conduct an offshore drilling symposium next month.

Save Florida
By Bill Pownall
Hernando Today
I am writing this letter to each and every citizen of the state of Florida for you to contact and press your state legislators from passing a bill this upcoming session or as early as an October special session.

Florida oil drilling supporters, opponents post letters on issue
By Bruce Ritchie
FloridaEnvironments.com
Florida oil drilling opponents today called on Gov. Charlie Crist to include more coastal protections to his criteria for allowing offshore drilling.

Green activist advocates taking polite approach to opposition
By Steve Patterson
Florida Times-Union
ProvidedWith Florida politicians and environmentalists squaring off to fight over offshore oil drilling, a visiting activist is sharing some advice: Don't make enemies until you have to.

Rigging offshore drilling
Editorial
Orlando Sentinel
An elected official whose spouse gets paid by a group bent on influencing legislation before his committee has no business heading that committee.



Editorial cartoon by Jeff Parker, Florida Today.

TAKE ACTION NOW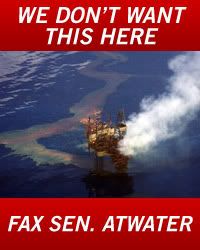 Click the picture above to urge Senate President Jeff Atwater to oppose state legislative efforts that would allow offshore oil drilling off Florida's coast.

MORE ONLINE ACTIONS
Write a letter to the editor, via Audubon of Florida.
Write your state legislators, via Audubon of Florida.
Tell Sen. Atwater Not To Allow Oil Drilling In Special Session, via Audubon of Florida.
Sign the petition against oil drilling, via Protect Florida's Beaches.
Tell Salazar: No drilling off Florida's Coast, via Environment Florida.
Tell new Senator LeMieux to Repower America, via Environment Florida.
Tell Your Senator No More Offshore Drilling, via Oceana.

ADDITIONAL RESOURCES OF NOTE
Protect Florida's Beaches, recently launched coalition website.
Protect Florida's Beaches on Facebook.
Don't Drill Florida website.
Don't Drill Florida Facebook page.
Environment Florida offshore drilling page.
Skytruth blog, an excellent source of info.
Not the Answer blog, courtesy Surfrider Foundation.
EnergyFLA.com, online hub of drilling proponents; their Twitter page is here.

MORE GREEN NEWS

For the loggerhead sea turtle, a worrisome trend
By Kate Spinner
Sarasota Herald-Tribune
For loggerhead sea turtles, 2009 marked a dismal nesting year, extending a decade-long decline that has prompted lawsuits, fishing bans and a push to list the animal as endangered.

Long-stalled project to help Florida Bay, Everglades finally getting started
By Andy Reid
South Florida Sun-Sentinel
A vital Everglades restoration project, intended to fix decades of environmentally destructive draining, got a long-awaited go-ahead from South Florida water managers on Thursday.

Delayed canal overhaul OK'd
By Curtis Morgan
Miami Herald
Back in the 1970s, when Mike Collins was a young flats guide in the Keys, old-timers like legendary fly-fishing pioneer Jimmie Albright already knew what was ailing Florida Bay.

FPL agrees to assessment of mysterious saltwater plume near Turkey Point nuclear plant
By Curtis Morgan
Miami Herald
Florida Power & Light will spend millions to assess whether the massive cooling canal system at the Turkey Point nuclear power plant is fueling salt contamination of the aquifer in South Miami-Dade County.

Fla. PSC considers nuclear plant rate hikes
The Associated Press
Tampa Tribune
The Public Service Commission is considering rate increases to pay for building nuclear power plants that critics say aren't needed.

PSC staff recommends utilities be allowed to drop conservation incentives
By Mary Ellen Klas
St. Petersburg Times/Miami Herald Tallahassee Bureau
Despite pressure from both Gov. Charlie Crist and the Florida Legislature, state regulators on Thursday recommended that electric utilities not be required to give customers new incentives for saving energy and reducing electrical consumption.

Volusia approves massive 'city in the woods' project
By Ludmilla Lelis
Orlando Sentinel
A potential city in the woods, with more than 20,000 homes proposed on remote timberland west of Interstate 95, passed a key hurdle Thursday.

State lawmakers battling DCA secretary over growth
By Michael Peltier
Naples News
Civics books often tell you how it's supposed to work.

Bronson says water lawsuit threatens jobs, prescribed burning
By Bruce Ritchie
FloridaEnvironments.com
Agriculture Commissioner Charles Bronson today warned other Cabinet members that setting specific pollution standards for nutrients in Florida waters could jeopardize prescribed burning efforts and the state's forest industry.

Group: FEMA Must Consult FWS To Protect Turtles (includes audio)
By Gina Presson
Public News Service Florida
The Florida Wildlife Federation (FWF) has inched closer to filing a lawsuit against the Federal Emergency Management Agency (FEMA).

Solar plant set to open, even as shadows loom
By Zac Anderson
Sarasota Herald-Tribune
The road to North America's largest photovoltaic solar plant passes cows and orange trees before turning to gravel amid a field of 90,000 black panels.

Stop drift in oceans policy
By Frank Muller-Karger
St. Petersburg Times
In Florida, our beaches and coastal waters attract over 33 million tourists each year. Our marine fishing, boating, tourism, recreation and ocean transport industries bring over $400 billion every year to our state.

Seagrass Recovery Joins the United Nations in Calling Attention to the Need to Restore Critical Seagrass Habitats in the Coastal Zone of the World's Oceans
Press Release
Seagrass Recovery
A report released October 14, 2009 by the United Nations Environment Programme (UNEP) stresses the importance of urgent action to maintain and restore marine ecosystems such as seagrass, mangroves and salt marshes (blue carbon sinks) as the key to combating climate change.

Environmental threats observe no borders
By Douglas Rader and Kumar Mahadevan
Sarasota Herald-Tribune
Cuban and American scientists recently gathered at Environmental Defense Fund in Washington, D.C., and Mote Marine Laboratory in Sarasota for a groundbreaking exchange of science and ideas -- the first of its kind in years to highlight the importance of working together on ocean conservation and shared waters.

Giant invasive snakes are here to stay
By Curtis Morgan
Miami Herald
There are a few upbeat findings in a new federal study of the assorted threats posed to the nation by Burmese pythons and eight other large exotic constrictors.

Joint investigation finds no criminal wrongdoing at Public Service Commission
By Mary Ellen Klas
Miami Herald/St. Petersburg Times Tallahassee Bureau
Leon County State Attorney Willie Meggs said Monday that a joint investigation between his office and state police into the state's public utilities regulator has not turned up any criminal wrongdoing.

PSC troubles prompt widespread calls for reform
By Mary Ellen Klas
Miami Herald/St. Petersburg Times Tallahassee Bureau
Related Carl Hiaasen column: Man bites dog: PSC rejects FPL rate hike
Faced with an edict from Gov. Charlie Crist to ``clean house'' at the troubled Public Service Commission, Senate President Jeff Atwater says he'll hold hearings during the next two months to change the way the utility regulator does business.

Ballot issue on growth a hot topic
By Grace Gagliano
Bradenton Herald
A November 2010 ballot issue is already stirring heated local discussions.

Suit over law that favors builders
By Dale White
Sarasota Herald-Tribune
The new state law that critics blasted as a massive assault on Florida's growth regulations has been blocked by the agency that is supposed to enforce it, and attacked in court by a growing number of cities and counties that want it struck down.

Bio-energy, ethanol projects proposed across Florida
By Bruce Ritchie
FloridaEnvironments.com
Nine bio-energy or ethanol projects are being proposed in Florida and at least five others are under discussion, according to the Florida Department of Environmental Protection.

Enviros support new lands ranking process
By Bruce Ritchie
FloridaEnvironments.com
In a move that environmentalists said resolves their concerns, a state panel on Friday adopted a rule that would establish a new rankings process for determining which conservation lands should be bought.

Environmental agency rejects Florida Crystals land as inland port site
By Paul Quinlan
Palm Beach Post
Politically powerful Florida Crystals Corp. was dealt a blow Friday by state environmental regulators, who said a transportation, warehousing and distribution complex the sugar company wants built on its land south of Lake Okeechobee would interfere with Everglades restoration.

Manatee habitat poorly defined
Editorial
Daytona Beach News-Journal
In the next few months, manatees will start heading for their traditional wintering grounds in Florida -- mostly springs (such as Blue Spring State Park in Orange City) and power-plant outfalls.

Needed review
Editorial
Florida Today
Florida residents — and those along the Space Coast in particular — have long had a special responsibility to help the manatee survive.



Threatened loggerhead sea turtle.


Wildwood Preservation Society is a non-profit 501(c)(4) project of the Advocacy Consortium for the Common Good. Click here to learn more.


"it's all connected"