FEATURED STORIES
Big business isn't doing state's environment any favors
By Brian P. Armstrong
Tallahassee Democrat
The answers to current energy issues will be key to a safe, healthy and prosperous future for Florida.
Wild Places Falling to Development
By Tom Palmer
Lakeland Ledger
It hit me as I was driving through one of the formerly remote sections of Central Florida's rural interior.
Fla. PSC approves new nuclear plant rates
By Bill Kaczor
The Associated Press
State regulators struggled with seemingly contradictory legal requirements Friday as they set annual rates to pay for future nuclear power plants, which critics say aren't needed, and upgrade existing ones.
Nuclear Regulatory Commission says planned Levy nuclear reactor has flaws
By Sean Kinane
WMNF Community Radio Tampa
Yesterday the U.S. Nuclear Regulatory Commission said the design chosen for nuclear power plants at two sites in Florida is unacceptable because it cannot withstand hurricane winds.
Debate rages on Hometown Democracy amendment
By Jim Saunders
Daytona Beach News-Journal
Florida voters are still more than a year away from an election showdown about how to manage the state's growth.
Two recent panther deaths confound biologists
By Eric Staats
Naples News
A case of a Florida panther found dead in an orange grove east of Ave Maria has been turned over to federal investigators.
Manatees and Florida's Other Protected Species Need Your Input!
Take Action!
Save The Manatee Club
The Florida Fish and Wildlife Conservation Commission is making final revisions to the state's imperiled species listing process and needs to hear your comments by November 6th at 5:00 p.m.
Group wants 83 coral species listed as endangered
Staff Report
The Associated Press
Environmental activists are petitioning the federal government to put 83 coral species on the endangered species list.
Public pays as FPL makes case
By Mary Ellen Klas so
Miami Herald/St. Petersburg Times Tallahassee Bureau
Florida Power & Light has spent nearly $5 million trying to raise your electric rates.
An underwater shot of a pair of Florida manatees.

THE BIG OIL ROUNDUP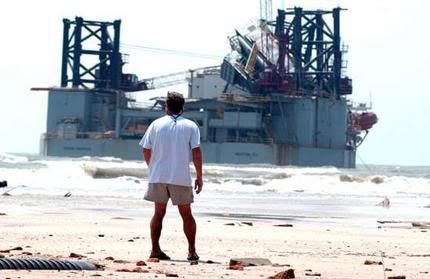 Coming soon to Florida's coastline? This oil rig beached just off of Dauphin Island, Alabama, after Hurricane Katrina brought the enormous structure a few hundred meters from shore.

Alabama, Texas oil revenues below Florida estimates
The Associated Press
Tampa Tribune
Texas and Alabama get far less money every year from offshore drilling in their state waters than advocates say Florida can expect, the state's environmental chief told a House panel Wednesday.
Key business group admits oil drilling in Florida will not lower prices at pump
Press Release
ProtectFloridasBeaches.org
House leaders today asked no questions about the secretive Texas group that is responsible for the push to drill and is conspicuously absent from the first critical legislative hearing.
State GOP senators skeptical on offshore oil drilling
By Steve Bousquet and Shannon Colavecchio
St. Petersburg Times/Miami Herald Tallahassee Bureau
The aggressive push for oil drilling off Florida's shores is backed by a coalition of powerful, well-financed business interests who are determined to succeed where they failed before: the state Senate.
Details of LeMieux's work for oil group remain murky
By Alex Leary
St. Petersburg Times
Up until he was appointed as Florida's newest U.S. senator, George LeMieux was advising a secretive pro-oil drilling coalition that is pushing a bill through the state Legislature to open up the Florida Gulf Coast to drilling.
Parties rake in oil, gas cash
By Catherine Dolinski
Tampa Tribune
With the debate over offshore oil drilling gaining steam but the outcome still in doubt, oil and gas companies have stepped up their contributions to the state's major political parties.
Oil spill off Australia could hold lesson for Florida
By Ernest Hooper
St. Petersburg Times
Over in Australia, they're trying to cap a leaking oil well nearly two months after it began spilling crude into the Timor Sea.
Timor Sea Drilling Spill - 3rd Relief Attempt Fails
By John
SkyTruth blog
Ugh, back to the ongoing Montara/West Atlas oil spill.
It's not the risk from oil drilling, it's the pipelines, DEP says
By Bruce Ritchie
FloridaEnvironments.com
In what the House council chairman said will be the first of several meetings on oil drilling, Florida's environmental chief today said drilling accidents pose a low risk to the state but he said other competing uses for state waters must be considered.
Drilling foes address House
By Catherine Dolinski
Tampa Tribune
Mary and Lee Wilkerson have won preservation awards and accolades from travel Web sites for their painstaking restorations of older beach homes in the Tampa Bay area.
Lawmakers kick off a crucial round in the state's offshore-drilling debate
By Lloyd Dunkelberger
Sarasota Herald-Tribune
Oil drilling has been specifically banned in Florida coastal waters since 1990.
Florida's offshore hustle
By Dan Berard
Tampa Bay Weekly
The Florida Energy Associates continue to pressure our state legislature to allow drilling offshore of Florida.
House to hear drilling debate
By Jim Ash
Tallahassee Democrat.
The think tanks are humming, big oil is gushing money, some polls suggest the public is primed -- and environmentalists are nervous.
DRILL, BABY, DRILL? Oil, gas money flows in Florida as offshore drilling debate looms
By Chris Kromm
Facing South
A plan to begin offshore drilling as close as three miles from the Florida coast stalled in the legislature this year, but energy interests aren't taking no for an answer.
Offshore drilling risks outweigh benefits to state
By Deirdre Macnab, Florida League of Women Voters
Naples News
The Florida League of Women Voters believes that Floridians must take note of the environmental risks versus the potential monetary gain when considering offshore drilling.
Offshore drilling a bad idea
By Reginald T. Dogan
Pensacola News Journal
Before I moved to Florida 13 years ago, I thought about offshore oil exploration about as much as I thought about exploring Mars.
Florida, and U.S., should heed NOAA's concerns over environmental impacts from oil drilling
Editorial
South Florida Sun-Sentinel
As Florida gets serious about tapping into oil reserves off the Gulf Coast as a way to pump up a sagging state budget, warnings about very real threats to the environment should serve as a wake-up call to pause the push for drilling off our shores.
Pinellas to oppose offshore oil drilling
By David DeCamp
St. Petersburg Times
Related:
Safety Harbor joins offshore oil drilling opponents
Pinellas County legislative priorities will include opposing efforts to allow offshore drilling within 125 miles of the county's tourist-rich beaches, according to the list of lobbying priorities to be discussed at Tuesday's County Commission meeting.
Manatee commission opposes Gulf drilling
By Sara Kennedy
Bradenton Herald
The Manatee County Commission Tuesday unanimously agreed to direct its staff to prepare a resolution stating it does not support oil or gas drilling in state waters in the Gulf of Mexico.
FARE to FlaSeia: 'Please Come Back Home'
Press Release
Reuters
The Florida Alliance for Renewable Energy (FARE) believes that Florida must accelerate its diversification of energy producing sources beyond its current dependence upon fossil fuels, nuclear and natural gas.
The O.K. Corral - A showdown of the solar industry of Florida
By Susan Nilon
The Nilon Report
The Florida Solar Energy Industry Association (FLSEIA) went rogue last week and decided to join the supporters of Off-shore drilling(OSD).
Drilling off coast is too risky
By Justin Scott Lacher
Sarasota Herald-Tribune
There are primarily three reasons why I oppose oil drilling off the Florida coast: endangerment of sea animals, tourist money at risk if beaches are ruined by oil spills, and possible coral reef damage.
Gulf drilling is a danger we can't afford
Letters to the Editor
St. Petersburg Times
Related:
Industry
puff piece
to which writers are responding.
Dave Mica's op-ed expounds on how wonderful drilling in the Gulf of Mexico will be for our economy.
Oil industry greases votes at Florida Legislature
Editorial
TC Palm
The oil industry's money machine is pumping money into the state Legislature in an effort to open drilling within three miles of Florida's coast.
Danger of drilling hits home
Editorial
Sarasota Herald-Tribune
State legislators from this region are divided on whether to allow oil and gas drilling off Florida's Gulf Coast. But local governments have had no qualms about taking firm stands against the proposal.
Golden State's green path
Editorial
Sarasota Herald-Tribune
The backers of nearshore oil drilling want Floridians to think their scheme is the only way to meet energy demands and finance investments in alternative sources, such as solar.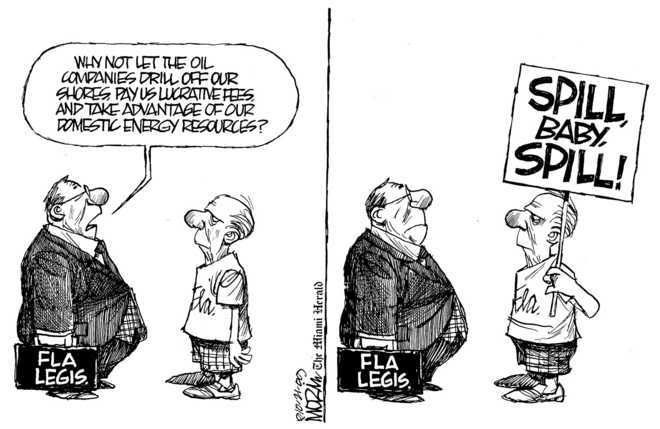 Editorial cartoon by Jim Morin, Miami Herald.

TAKE ACTION NOW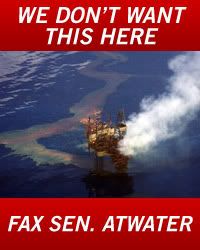 Click the picture above to urge Senate President Jeff Atwater to oppose state legislative efforts that would allow offshore oil drilling off Florida's coast.
MORE ONLINE ACTIONS

Write a letter to the editor
, via Audubon of Florida.

Write your state legislators
, via Audubon of Florida.

Tell Sen. Atwater Not To Allow Oil Drilling In Special Session
, via Audubon of Florida.

Sign the petition against oil drilling
, via Protect Florida's Beaches.

Tell Salazar: No drilling off Florida's Coast
, via Environment Florida.

Tell new Senator LeMieux to Repower America
, via Environment Florida.

Tell Your Senator No More Offshore Drilling
, via Oceana.

ADDITIONAL RESOURCES OF NOTE

Protect Florida's Beaches
, recently launched coalition website.
Protect Florida's Beaches
on Facebook.
Don't Drill Florida
website.
Don't Drill Florida
Facebook page.
Hands Across The Sand
website.
Environment Florida
offshore drilling page.
Skytruth blog
, an excellent source of info.
Not the Answer blog
, courtesy Surfrider Foundation.
EnergyFLA.com
, online hub of drilling proponents; their Twitter page is
here
.
MORE GREEN NEWS
Survey favoring land deal takes aim at Crist critics
By Curtis Morgan
Miami Herald
The latest volley in the political battle over Gov. Charlie Crist's controversial $536 million land deal with the U.S. Sugar Corp. was fired Tuesday in the form of a poll bankrolled by its strongest supporters.
Floridians head to Capitol Hill to lobby for Climate legislation
(includes audio)
By Sean Kinane
WMNF Community Radio Tampa
A group of Floridians concerned about climate change is in Washington, DC lobbying members of Congress to enact strong environmental legislation.
Floridians head to Capitol Hill to lobby for Climate legislation
(includes audio)
By Sean Kinane
WMNF Community Radio Tampa
A group of Floridians concerned about climate change is in Washington, DC lobbying members of Congress to enact strong environmental legislation.
Study Shows Water Shortages in Southeast United States Are Due to Overpopulation, Likely to Be Repeated
Press Release
Center for Biological Diversity
A new study by Columbia University climate experts has determined that the drought that caused water shortages in the southeastern United States in 2007 and 2008 was not unprecedented in severity, but in fact a "typical event."
State planners urge Marion to reject Shady-area industrial park
By Bill Thompson
Ocala Star-Banner
State planners are urging Marion County to reject a controversial industrial park targeted for an area south of Ocala, saying the proposal will promote sprawl, could harm the environment, lacks appropriate infrastructure, and is not needed at this time.
Four on list for PSC replacement
By Mary Ellen Klas
Miami Herald/St. Petersburg Times Tallahassee Bureau
Meeting for less than half an hour, the Public Service Nominating Council on Tuesday sent Gov. Charlie Crist the names of four previous nominees to fill an unexpired term on the state utility board.
DEP's Sole says "lift the hood" on biomass projects
By Bruce Ritchie
FloridaEnvironments.com
The governor says they could provide renewable energy for Florida, but Department of Environmental Protection Secretary Michael Sole says biomass electric plants also are being viewed by DEP the same as any other environmental permit applications.
Environmental concerns fail to stop expanded rock mining in Everglades Agricultural Area
By Andy Reid
South Florida Sun-Sentinel
Rock mining that environmentalists say threatens to pollute water supplies and hamper Everglades restoration can expand to more western farmland, Palm Beach County commissioners decided Thursday.
Klement gets hurry-up call on PSC from governor
By James A. Jones Jr.
Bradenton Herald
His appointment to the Florida Public Service Commission was originally supposed to begin in January, but David Klement, of Bradenton, learned that he will be getting to work even sooner.
Fishing for amberjack closing in Gulf federal waters
By Tom McLaughlin
Northwest Florida Daily News
News that a federal agency had slammed the door on this year's amberjack season without notice didn't sit well Tuesday with charter fishermen.
Treasure Coast Manatee awareness urged
By Staff Report
TC Palm
Gov. Charlie Crist recently issued a proclamation recognizing November 2009 as Manatee Awareness Month, a tradition supported by Florida's governors for many years.
Manatee concerns snag river project
By Christian M. Wade
Tampa Tribune
When temperatures in the Gulf of Mexico drop in winter, herds of manatee meander slowly up the Hillsborough River in search of warmer water.
Corkscrew named Wetland of International Importance
By Eric Staats
Naples News
Corkscrew Swamp Sanctuary is basking in the international limelight.
PSC approves nuke charges as members cite legal conflict
By Bruce Ritchie
FloridaEnvironments.com
Florida law contains contradictions to guide the Public Service Commission on how much to allow companies to bill their customers for nuclear power plants that have not been completed, some PSC members said today.
North America's Largest Photovoltaic Solar Plant Set to Open
By Zac Anderson
Lakeland Ledger
The road to North America's largest photovoltaic solar plant passes cows and orange trees before turning to gravel amid a field of 90,000 black panels.
After rich success, land conservation program faces Spartan future
By Zac Anderson
Sarasota Herald-Tribune
More than 27,000 acres have been protected from development over the last decade through Sarasota County's conservation tax -- an amount of land twice the size of Manhattan.
Protect the water, not polluters
By Diane Roberts
St. Petersburg Times
Florida is half-solid, half-liquid.
The real outrage at the PSC
Editorial
Palm Beach Post
To understand the latest act in the carnival that is the Florida Public Service Commission, you have to go back eight years.
State must preserve Florida Forever
Editorial
Tampa Tribune
There is a good reason Democrats Reubin Askew and Bob Graham have joined Republicans Bob Martinez and Jeb Bush to campaign for the funding of Florida Forever.
Water matters
Editorial
Gainesville Sun
News flash: The Environmental Protection Agency has decided that it has a responsibility to enforce the Clean Water Act.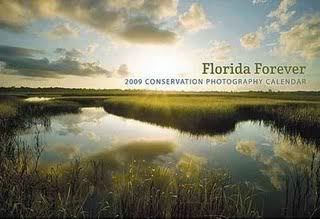 Click the picture above to visit the Florida Forever Coalition website.
Wildwood Preservation Society is a non-profit 501(c)(4) project of the Advocacy Consortium for the Common Good. Click here to learn more.


"it's all connected"