Ed. Note: today's post covers the past two weeks – we'll return to our weekly posting schedule next Friday.

FEATURED STORIES

Federal agency could update manatee habitat map
By Curtis Morgan
Miami Herald
It has been more than 30 years since federal wildlife managers formally mapped the places where endangered manatees live in Florida.

Report: Climate change poses risk to Florida's National Parks
By Paul Brinkmann
South Florida Business Journal
Florida's three national parks – which help drive tourism dollars to the state – are among the 25 parks most at risk from climate change, according to a report from Natural Resources Defense Council.

Body of evidence shows that atrazine harms fish and amphibians, USF researchers say
By Richard Danielson
St. Petersburg Times
With the EPA taking a hard look at the popular weed killer atrazine, two University of South Florida biologists say there's evidence it harms fish and frogs.

Everglades restoration dispute heads to Florida's high court
By Paul Quinlan
Palm Beach Post
Gov. Charlie Crist's mammoth land deal with the U.S. Sugar Corp., a $536 million bid to restore the Everglades, is headed to the state Supreme Court.

Lake Jackson is a on a rebound with help from Mother Nature
By Gerald Ensley
Tallahassee Democrat
Joe Jacobsen has been fishing Lake Jackson since 1956. On a recent Friday morning, the retired Tallahassee electrician went out with hopes of catching some bream but wound up catching a bunch of speckled perch instead.

Blocking build-build-builders
By Mike Thomas
Orlando Sentinel
The Florida Chamber of Commerce and Associated Industries of Florida are complete frauds.



Lake Jackson shoreline.

THE BIG OIL ROUNDUP

The Big Oil roundup: news and information about Big Oil's push to rig Florida's coastline for the two week period ending 10-9-09



Editorial cartoon by Andy Marlette, Pensacola News Journal.

Fla. drilling advocate: Money won't come quickly
By Bill Kaczor
The Associated Press
An offshore drilling advocate acknowledged it'll take years before the state can realize the promises of a revenue windfall from oil and natural gas exploration during a Capitol debate Tuesday.

Florida Solar Group Backs Offshore Drilling
By Kate Galbraith
New York Times
When solar power advocates peddle their product, they emphasize that the panels generate clean energy – in implicit contrast to greenhouse gas-producing fossil fuels.

Florida solar group criticized for oil drilling support
By Bruce Ritchie
FloridaEnvironments.com
A solar energy group's support for offshore oil drilling is facing sharp criticism from environmentalists.

Support of oil drilling takes the shine off solar
By Eric Ernst
Sarasota Herald-Tribune
When it endorsed drilling for oil within sight of Gulf coast beaches last week, the state's solar power industry showed its true color: Green.

Solar, oil industries: strange bedfellows?
By Peter Linton-Smith
Fox 13 News Tampa Bay
Florida's solar energy industry trade group is reconsidering a position taken last week on offshore oil drilling.

In midst of offshore drilling debate, Miami lawmaker denies conflict with his lobbyist wife
By Steve Bousquet and Shannon Colavecchio
St. Petersburg Times/Miami Herald Tallahassee Bureau
The powerful Miami lawmaker now in charge of the Senate committee on energy policy is married to a lobbyist hired to help secure the repeal of Florida's ban on offshore oil and gas exploration.

Two senators want panel to explore oil drilling
By Bruce Ritchie
FloridaEnvironments.com
Two Democratic senators today said they are proposing legislation to require creation of a new panel to look at the risks and benefits of drilling off of Florida's coastline.

Drilling proposal protects Pinellas
By Catherine Dolinski
Tampa Tribune
Supporters of oil drilling off Florida's Gulf coast say their plan would leave waters around Pinellas and a few other counties free of derricks.

Don't Drill In Gulf of Mexico, Beach Cities Agree
By Sheila Mullane Estrada
St. Petersburg Times
Pinellas County's beach communities voiced strong opposition last week to any oil drilling within state-controlled waters of the Gulf of Mexico.

Offshore Drilling Bill Passes House; Panhandle Chambers Oppose (includes video)
Staff Report
WJHG News Panama City
Chamber of commerce officials across the Panhandle are organizing opposition to any plans for expanding offshore oil and gas drilling in the Gulf.

Cities and county unite to oppose offshore drilling
By Doug Sword
Sarasota Herald-Tribune
Sarasota County and its four cities unanimously approved a resolution to maintain the bank against oil drilling off of Florida's coast.

Don't drill in Gulf of Mexico, beach cities agree
By Sheila Mullane Estrada
St. Petersburg Times
Pinellas County's beach communities voiced strong opposition last week to any oil drilling within state-controlled waters of the Gulf of Mexico.

Florida's dej vu on oil drilling
By Bob Rackleff
Tampa Tribune
Before Florida goes back into offshore oil drilling, let's consider the mess our state leaders created the last time they aspired to be another Texas or Louisiana.

Some agreement, disagreement in House Dems oil debate
By Bruce Ritchie
FloridaEnvironments.com
A discussion among Florida House Democrats on oil drilling today featured some sharp exchanges between a leading environmental opponent an attorney representing drilling supporters.

Politicians slimy enough without Big Oil's slick talk
By Scott Maxwell
Orlando Sentinel
I'm looking forward to a healthy debate over offshore drilling.

Offshore drilling is not worth the risks to the Florida gulf coast
By Dan DeWitt
St. Petersburg Times
The Gulf of Mexico at Bayport is clear enough that James Frost could look down from the pier Tuesday and see crab traps a dozen feet underwater.

Beware the Sirens of Big Oil
By Dr. Riki Ott
Huffington Post
Cordova, Alaska. In the early 1970s, Big Oil wooed Alaskans with a seductive chorus promising jobs, riches, and risk-free oil development, pipeline transfer, and tanker transport.

Florida Lawmakers Dive Deep Into Big Debate On Drilling
By Brandon Larrabee
Jacksonville Times-Union
A battle over the future of Florida's coastline and the resources that lie just beyond is shaping up in the Legislature, as lawmakers, lobbyists and advocates on both sides mobilize for what could be one of the major fights of the coming session: whether to open state waters to offshore oil drilling.

Drilling Tug-Of-War Continues
By Timothy O'Hara
Key West Citizen
An oil spill off the coast of Australia that is currently dumping 16,800 gallons of crude in the ocean each day is heightening concerns about allowing drilling off the coast of Florida.

Group Aims For Neutral Forum On Drilling
By Jim Ash
Tallahassee Democrat
Supporters and opponents of offshore drilling are cautiously optimistic that the Century Commission for a Sustainable Florida, a policy group created by the Legislature in 2005, can provide a neutral forum to answer some of the thorniest questions.

Century Commission for a Sustainable Florida assessing offshore drilling
By Jim Ash
Tallahassee Democrat
Supporters and opponents of offshore drilling are cautiously optimistic that the Century Commission for a Sustainable Florida, a policy group created by the Legislature in 2005, can provide a neutral forum to answer some of the thorniest questions.

Oil, gas drilling off Florida coast? Lawmaker's plan spurs debate
By Kevin Spear
Orlando Sentinel
Related: Drilling in Gulf? Pros and cons of Cannon's plan
State Rep. Dean Cannon is an avid pilot, motivated partly by his father's past military flying, so he often wings it to the capital in a rented plane.

'Drill bill' puts our tourism economy in jeopardy
By David Pleat
Destin Log
In July of this year over 58,000 gallons of raw crude oil spilled into the pristine waters of the Gulf of Mexico 30 miles off of the coast of Louisiana.

Anti-Drilling Coalition Fractures
By Zac Anderson
Sarasota Herald-Tribune
Oil and solar power may seem like strange bedfellows, but this week the Florida Solar Energy Industry Association -- a group that represents more than 100 solar companies statewide -- announced support for oil drilling within 10 miles of Florida's coast so long as oil tax money is used to subsidize solar installations.

Drilling camp making inroads
By Jeremy Wallace
Sarasota Herald-Tribune
While much of the nation has been focused on the health care debate in Washington, a three-pronged effort to open Florida's Gulf Coast to oil drilling has quietly been gaining strength and appears set to become a major battle later this fall.

Floridians should unite against drilling
By Tommy Maple
Independent Alligator
Florida politics has always been a giant petri dish of sleaze, and the Florida Legislature is always a spectacular orgy of corruption.

Stacking the deck for drilling
Editorial
St. Petersburg Times
Republican Senate President Jeff Atwater, who wants to be Florida's next chief financial officer, ignored a blatant conflict of interest and named a new energy committee chairman whose wife is a lobbyist for the secretive group pushing offshore drilling.

Too slick for Florida
Editorial
Orlando Sentinel
Winter Park's Dean Cannon keeps hawking his proposal to lift the state's ban on offshore drilling.
Tallahassee mulls drilling off Florida's Gulf Coast
Editorial
South Florida Sun-Sentinel
The push is still on to turn Florida into a gas- and oil-producing state and, unlike similar efforts in Congress, this push is appealing to a far more receptive audience.

Offshore drilling a live issue
Editorial
Ft. Myers News-Press
Ed. Note: this editorial board flatly states that the offshore industry has a "solid safety record" – a reckless assertion in light of the number and severity of known spills.
Used to be, offshore oil drilling was a simple issue in Florida politics: Don't even think about it.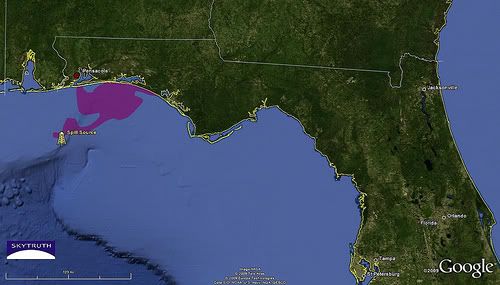 Montara-sized area of oil slick and sheen overlain in the northern Gulf of Mexico, showing potential impact of a comparable spill from a source located in the Destin Dome area 50 miles offshore from Pensacola. Based on analysis of August 30, 2009 NASA / MODIS satellite image of Timor Sea blowout and spill. It would in fact be much worse than even this illustration because thousands of gallons have continued to spill every single day since.

First attempt to plug oil leak fails
ABC News
The company responsible for an oil leak off the north-west coast of Australia says the first attempt to plug the leak with mud and stop the flow of oil has been unsuccessful.

Oil Platform Spill a Disaster in the Making
Audubon of Florida blog
On the 21st August the West Atlas drill rig began spewing 400 barrels of oil a day into the Timor Sea.

Foes of drilling say new technology won't stop oil spills
By Tamara Hill and Mike Deeson
Tampa Bays 10 News
The Coast Guard has documented more than 239,000 oil spills across the globe between 1973 and 2001.

TAKE ACTION NOW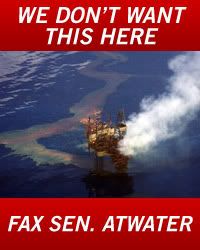 Click the picture above to urge Senate President Jeff Atwater to oppose state legislative efforts that would allow offshore oil drilling off Florida's coast.

MORE ONLINE ACTIONS
Tell Salazar: No drilling off Florida's Coast, via Environment Florida.
Tell new Senator LeMieux to Repower America, via Environment Florida.
Tell Your Senator No More Offshore Drilling, via Oceana.
Tell Sen. Atwater Not To Allow Oil Drilling In Special Session, via Audubon of Florida.

ADDITIONAL RESOURCES OF NOTE
Protect Florida's Beaches, recently launched coalition website.
Protect Florida's Beaches on Facebook.
Environment Florida offshore drilling page.
Skytruth blog, an excellent source of info.
Not the Answer blog, courtesy Surfrider Foundation.
EnergyFLA.com, online hub of drilling proponents; their Twitter page is here.

MORE GREEN NEWS

Rare butterfly is a clue to global warming
By Dan Moffett
Palm Beach Post
The United Nations pulled together 100 world leaders last week for the highest-level meeting yet on global climate change.

Migrating Birds Seek Cooler Temps as Climate Changes
By Patricia Behnke
Wakulla.com
Autumn in Florida brings relief from the suffocating heat and dripping humidity of summer.

Long-Term Climate Changes Raise Concerns
By Tom Palmer
Lakeland Ledger
The prospect of the effects of climate change on the Lake Wales Ridge has environmental land managers worried.

Students find that wetlands matter
By Faith Eidse
Tallahassee Democrat
Globally, wetlands harbor 5,000 plant and 190 amphibian species, a third of all bird life, most of our fish nurseries and half our threatened or endangered species.

The battle escalates as pythons flourish
By Paul Flemming
Tallahassee Democrat
Hostilities have already been declared, but Florida is considering a surge in its war against Reptiles of Concern.

U.S. Sugar, shareholders agree on $15.9M deal in suit
By Brian Skoloff
The Associated Press
U.S. Sugar Corp. and employee shareholders of the largest U.S. cane sugar producer have agreed on a settlement to a lawsuit that claimed U.S. Sugar's board failed to inform shareholders of two lucrative buyout offers, then rejected the deals.

Coal waste from Florida headed to Panama (includes audio)
By Sean Kinane
WMNF Community Radio Tampa
Last December a major environmental disaster occurred when an ash dike ruptured near a Tennessee power plant, endangering schools and residences.

Legislature Provides Cash For Possible Sweetheart Deal
By Bruce Ritchie
FloridaEnvironments.com
It looks like a sweetheart deal, though it's not clear yet who in the Legislature helped set it up.

Ag Commissioner Wants To Intervene In EPA Suit
Associated Press
Florida Agriculture Commissioner Charles Bronson wants to challenge a legal settlement involving the Environmental Protection Agency that could impose costly nutrient standards for state water bodies.

FPL's Request To Raise Rates For Natural Gas Pipeline Shot Down
By Julie Patel
Orlando Sentinel
The Florida Public Service Commission denied Florida Power & Light's proposal to build a $1.53 billion natural gas pipeline on Tuesday, saying the utility didn't prove the project was the best and cheapest option.

Too much politics in regulation, utility analysts say
By Mary Ellen Klas
Miami Herald/St. Petersburg Times Tallahassee Bureau
A day after Florida Power & Light losts its bid to build a ratepayer-financed natural gas pipeline, utility analysts Wednesday said Florida has a ``highly politicized atmosphere'' for utility regulation and warned that if it continues, credit ratings for utility companies could drop.

Ship likely struck whale found dead in Port of Tampa, NOAA says
By Baird Helgeson
Tampa Tribune
A ship in the Gulf of Mexico likely struck and killed the rare 41-foot whale found floating in the Port of Tampa last weekend, according the National Oceanic and Atmospheric Administration.

Hunters Push to Legalize Fishing Once-Endangered Goliath Grouper
By Natalie O'Neill
Miami New Times
​Shhhhhhhh. Listen to that. It's the sound of hundreds of feisty, cow-size fish making sweet, sweet love.

State to enforce new seagrass rule
Staff Report
Tampa Tribune
State law officers will soon begin enforcing new rules targeting those that intentionally damage seagrass.

Reef Rescue: We found rare Staghorn coral where Palm Beach officials told feds it wouldn't be
By Sonja Isger and Andrew Marra
Palm Beach Post
Excitement is brewing this morning about a patch of life no one knew was flourishing in waters a mile east of the island of Palm Beach.

Florida panther No. 113 now a mother
By Andrea Stetson
Ft. Myers News-Press
No one knew panther No. 113 was a mom until a camera, paid for by Southwest Florida schoolchildren, captured an image of the tawny mother and her cub.

Senator Proposes Snake Ban
By Mike Vasilinda
Capitol News Service
A Florida State Senator is proposing a total ban on the importation and possession of non native Reptiles of Concern, which includes most species of pythons.

Collier Commissioners not sold on protection for endangered red-cockaded woodpecker
By Eric Staats
Naples News
A draft plan to protect an endangered woodpecker in rural Collier County needs to be reworked, county commissioners said this week.

EPA cites West Palm Beach over sewage
By Paul Quinlan
Palm Beach Post
The city's sewage treatment plant has pumped untold millions of gallons of poorly treated wastewater onto wetlands adjacent to wells used to supplement the city's drinking water supply.
Gulf Power To Cut Ribbon On Wind Energy Test Tower
Staff Report
Pensacola News-Journal
Gulf Power Co.'s experiment in wind energy generation will begin today with a 10:30 a.m. ribbon-cutting of its newly erected data-gathering tower on Navarre Beach.

Recovery Without Feeling
By Alan Farago
Counterpunch
The economic calamity is abating according to Ben Bernanke, Federal Reserve Chief.

'Sea change' due in state's growth policies
By Peter Johnson
Tampa Tribune
Citizens across Florida are concerned with the implications of the statistics that register the state's economic downturn.

Hometown democracy: Empower the people on growth
By Bett Willett
Florida Times-Union
Amendment 4 will give voters veto power over changes to their local master plan.

Don't let feds backslide on Everglades
Editorial
Ft. Myers News-Press
Here we go again. Congress is considering a $34 million cut to Everglades restoration funding, continuing a decade-long betrayal of its commitment to this epic project.

A bridge to the Everglades
Editorial
Palm Beach Post
For now, it's just a piece of paper. With any luck, however, it will become the document that helps to save the Everglades.

Not listening
Editorial
Gainesville Sun
Ever since water management officials first floated the idea of pumping the Ocklawaha and St. Johns rivers, they have framed the discussion not in terms of whether to take the water, but when.



Female red-cockaded woodpecker.

Wildwood Preservation Society is a non-profit 501(c)(4) project of the Advocacy Consortium for the Common Good. Click here to learn more.


"it's all connected"