FEATURED STORIES

Money, White House pick revive Everglades restoration hopes
By Curtis Morgan and Lesley Clark
Miami Herald
After years of tepid support, Washington appears primed to jump-start stalled Everglades restoration.

Wakulla Springs protection zone, workshop in the works
By Bruce Ritchie
Florida Environmental News
See our recent post for related info
With Tallahassee seeking federal money to upgrade its sewage treatment plant, Wakulla Springs supporters now are focusing more attention on the threat to groundwater posed by septic tanks.

Bill encouraging growth angers environmentalists
By Brandon Larrabee
Florida Times-Union
See our recent post for related info
A new proposal aimed at encouraging development in urban areas to cut sprawl and juice the economy is running into resistance from environmental organizations and growth-management groups.

A lot of people rethinking nuclear power
By Russell Ray
Tampa Tribune
Visit NoNuke.org here
When Progress Energy announced plans more than two years ago to build a nuclear plant in Levy County, the project was met with little resistance.

Sansom's friend pushes for toll road through nature preserve
By Craig Pittman
St. Pete Times
Visit Nokuse Plantation's website here
A developer closely linked to former House Speaker Ray Sansom is pushing for a new toll road to slice through a nature preserve that taxpayers spent $16.5 million to save from development.
Maybe the bears could just take taxis
By Howard Troxler
St. Pete Times
Related article: Swiftmud delays vote on Pasco land swap with developer SunWest
Florida has its own subspecies of black bear: ursus americanus floridus. It once lived all over the state, but we have hemmed it into a few remaining areas, six or eight depending on how you count.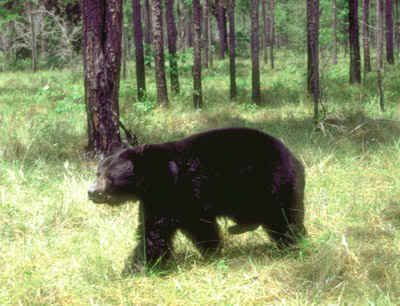 An estimated 12,000 bears once roamed the area that is now Florida. Approximately 1,000 to 1,500 Florida black bears survive today.

MORE GREEN NEWS

Stimulus to help utilities go green
By David Hunt
Florida Times-Union
The federal stimulus package is expected to pump nearly $125 million into renewable energy projects in Florida, according to state documents.

Gainesville Betting on Solar Energy
By Zac Anderson
Gainesville Sun
Mike Roach is not your typical energy entrepreneur.

Florida State, City of Tallahassee cleared of violations in biomass project
By Bill Cotterell
Tallahassee Democrat
A grand jury quickly and emphatically cleared city and Florida State University officials of any legal or ethical violations Tuesday in planning the aborted biomass electricity project south of Tallahassee.

Lawmakers to Consider Reducing Fla. Pollution
By Brian Skoloff
Associated Press
With much of this peninsular state situated at or below sea level, parts of Florida could disappear under water if global warming predictions indicating significant sea level rise come true.

King of Spain, Fla. gov discuss renewable energy
By Jennifer Kay
Associated Press
Spain and Florida, which already share so much history, are poised to share in a future based on renewable energy projects that create new jobs and solve environmental problems, King Juan Carlos said Friday.
FL State Parks Are Back in the Game
Audubon of Florida News
Hooray! The proposal to temporarily close nineteen state parks and transfer another three to the agencies that hold title to them was not included in the Governor's budget.

Funding brings safe haven for endangered manatees
By Robby Douglas
Citrus Daily
U.S. Sen. Bill Nelson (D-FL) announced Monday there's $1.5 million in the 2009 federal appropriations bill for preserving and protecting Three Sisters Springs in Citrus County.

The Story of Leonard Abess, Banker
By Alan Farago
Counterpunch
In his first speech to Congress, President Obama briefly bonded with popular outrage at Wall Street's excess and greed.

Edison Farms' vision, Mother Nature's nightmare
By Nancy A. Payton
Naples News
Jason Wagoner's Feb. 16 Guest Commentary, "Edison Farms fulfills vision for Lee County, Red Sox," might better be titled "Mother Nature's Nightmare."

Loosening safeguards a bad move
Editorial
Ft. Myers News-Press
Business opportunities exist in good times and bad, and the shrewdest individuals look to take advantage of crisis situations.



Endangered wood stork in flight over Fred George Basin, May 2008. Photo courtesy Richard Baas.
Wildwood Preservation Society is a non-profit 501(c)(4) project of the Advocacy Consortium for the Common Good. Click here to learn more.
"it's all connected"