FEATURED STORIES
Florida heads for U-turn on road mandates for developers
By Aaron Deslatte
Orlando Sentinel
One idea emerging in the Legislature to kick-start Florida's stalled growth engine: repeal the road-building mandates developers hate.
Environmentalists, Navy clash: Planned training range could harm endangered whales
By Jim Waymer
Florida Today
Navy subs could one day play war games about 60 miles off Jacksonville, with sonic pings that environmental groups fear might ring a death knell for the critically endangered North Atlantic right whale.
From state mines to gulf dead zone: the trail of Florida phosphate
By Craig Pittman
St. Pete Times
For a good example of the law of unintended consequences, look no further than the nationwide push to promote ethanol.
Zoning would preserve area's charm
By Laura Lee Corbett
Tallahassee Democrat
Tallahassee has a wonderful opportunity in the coming days and weeks to protect the charm and architectural beauty — and long-term real-estate values — of one of our most unique neighborhoods.
U.S. Sugar deal too costly for state role
By Paul Quinlan
Palm Beach Post
Related:
State lawmakers skewer U.S. Sugar deal
Related:
Big deal threatens small towns
Related:
Lobbyist ties, state appraisers' price concerns cloud U.S. Sugar deal
Gov. Charlie Crist's administration decided to put the full burden of his billion-dollar-plus Everglades initiative on taxpayers in southern Florida so as not to worsen the state's already strained budget, newly released court records show.
Critically endangered Right Whale and calf
MORE GREEN NEWS
Activists jailed for protesting Palm Beach County fossil fuel plant
By Mitch E. Perry
WMNF Community Radio Tampa
In West Palm Beach yesterday, two environmentalists were jailed and five others received probation for protesting the construction of a planned new natural gas fired power plant last February.
Nelson bill aims to ban import, trade of pythons
By Paul Quinlan
Palm Beach Post
It reads like the plot to a budget horror flick: Pythons fill up the Everglades and spread across the southern third of the United States.
Complaints About Progress Energy Increase After Rate Hike
By Yolanda Fernandez
Tampa Tribune
Homeowner Michael Martin says a 25 percent increase in his Progress Energy bills will hit him hard. He says the electricity bill for his 1,500-square-foot home could increase $75 to $150 a month, depending on how much he uses.
Progress Energy to study solar power at coal plants
Staff Report
Ocala Star-Banner
Progress Energy is teaming with the Electric Power Research Institute to examine the possibilities and engineering required to add solar energy panels to the utility company's fossil fuel plants.
Divided flock: Florida welcomes migration of whooping cranes
Staff and wire reports
South Florida Sun-Sentinel
The tallest birds in North America have a new home in Florida.
Longliners say new federal rule endangers livelihood
By Stephen Nohlgren,
St. Pete Times
Related:
Sea Turtle Restoration Project press release re Commercial Bottom Longline Fishing off Florida's West Coast
Waiting to unload a boat full of fish last week, veteran crew member Tennessee Dave Kerrick sipped a beer and summed up the anger and resignation that is sweeping Pinellas County's grouper docks. "Everybody else is going out of work because of the economy; we are going out of work because of flipping reptiles."
Gainesville's solar plan attracting attention
By Megan Rolland
Gainesville Sun
As lawmakers attempt to increase Florida's renewable energy supply and decrease the use of volatile and polluting fossil fuels, Gainesville could become a microcosm test site for a different approach.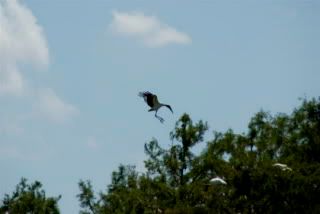 Wildwood Preservation Society is a non-profit 501(c)(4) project of the Advocacy Consortium for the Common Good. Click here to learn more.
"it's all connected"