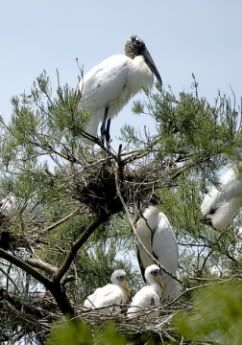 Endangered Wood Storks nesting in Fred George Basin

Ed. Note: Last year it was reported that the U.S. Fish and Wildlife Service was considering reclassification of wood storks from endangered to threatened status. At the time many conservation groups including Wildwood Preservation Society expressed concern that such a move was premature. The report referenced in the article below offers further evidence that protection of the fragile wood stork and its habitat must be stronger now than ever.

Wading birds' nests down three-quarters from 2002
By Paul Quinlan
Palm Beach Post

The shipwrecked economy, real estate slump and lousy job market got you down?

South Florida's wading birds feel your pain.

After a string of fat years that began in 2000, wading birds have also fallen on hard times. A recent two-year drought combined with a few unseasonably heavy rains in late spring to make bird life especially difficult this year in the Everglades, a one-time avian Shangri-La.

The number of wading bird nests in South Florida fell 51 percent this year to 18,418, according a report for the South Florida Water Management District. That's down almost three-quarters from 68,750 in 2002 - the best year on record in South Florida since the 1940s - and 59 percent less than the average of the last eight years.

Scientists who study wading birds as a measure of the overall health of the Everglades ecosystem call this year's prognosis foreboding.

"It was a pretty bad year. Certainly the worst year we've had in the last eight years," said Mark Cook, the district environmental scientist who co-edits the annual report. "If the fish aren't doing well, and the other parts of the system aren't doing well, then the wading birds aren't doing well."

All species of wading birds nested significantly less than in other years of the past decade, according to the report, which spotlighted numbers for the wood stork (down almost two-thirds in five years), white ibis (down 61 percent from last year) and the roseate spoonbill (the lowest since records began in 1983).

On the whole, wading birds' fortunes appear to be shifting back to late-1990s levels, undoing the gains that followed 2000.

It's too soon to call the decline a trend. Counting wading birds nests has evolved from the manual labor of an intrepid few to a complex statistical game involving zig-zagging fly-overs and extrapolation. Results can vary widely from year to year.

What's more, scientists say a few years of drought won't kill off the wading bird population. Most live about 14 years and can feed elsewhere - in the case of white ibises, your front lawn, for example.

"Come March or April, if you see large number of white ibises foraging in the urban areas, you know it's not particularly good in the Everglades," said Cook.

Detailed record-keeping that began in the 1980s shows overall improvement - for white ibises in particular, whose nesting figures jumped nearly eightfold during the past two decades.

Cook attributes the gains of the past decade to a shift in focus from Everglades eradication to Everglades restoration and better communication between bird trackers and the water managers who control flows through the ecosystem.

"We had over 50,000 nests in 2002 and 2006, which suggests that we haven't completely lost the system," said Cook. "But the caution is that we need to get going with restoration, because some of these changes could be irreversible."

But despite some recent gains, today's Everglades, which is about half its original size, is still far less hospitable to birds than the Everglades of the 19th century or earlier. Before the 1940s - prior to our carving and fitting the great marsh with today's massive network of drainage canals, pumps, dams and floodgates - scientists estimate that wading bird nests numbered more than 200,000.

Scientists describe an ideal year for wading birds this way: A particularly wet rainy season fills the marsh with water, prompting fish, crayfish and the smaller organisms in the food chain to flourish. A steady dry season then follows, lowering water levels evenly across the system and drawing fish and crayfish into smaller and smaller pools for the birds' easy hunting.

In Everglades National Park, wading bird abundance fell 29 percent this year, with seven of the nine species tracked showing declines in the past year. The worst declines hit white herons (down 51 percent), small dark herons (down 43 percent), great egrets and white ibis (both down 32 percent). Also down were wood storks (down 31 percent), small white herons (down 14 percent), and glossy ibis (down 11 percent). Two species - roseate spoonbills and great blue herons - increased (40 percent and 17 percent, respectively).

Also troubling: The birds are showing up in new places instead of traditional habitats.

More spoonbills in Everglades National Park meant trouble this year for Florida Bay, where historically 90 percent of the state's spoonbills made their home, said Jerry Lorenz, Florida research director for National Audubon Society.

Spoonbill numbers in Florida Bay are among the best indicators of Everglades health and water management, Lorenz said. They are dependent on the fish and crayfish and are sensitive to changes in the system. Since the mid-1980s, the population there has been collapsing, he said.

Plume hunting in the early part of the 20th century decimated the spoonbill population, which eventually rebounded with nests numbering around 1,250, Lorenz said. Researchers counted only 341 this year in Florida Bay. Low flows of freshwater south through the Everglades have increased salinity in Florida Bay, affecting the food chain and sending spoonbills elsewhere - including, among other places, island colonies in Tampa Bay, he said.

"They would rather be in Tampa Bay than the Everglades," Lorenz said.

Theodore Below, an avian ecologist for the state Department of Environmental Protection, says counts in the region he has studied - Southwest Florida around Marco Island - have fallen to less than half their numbers in the 1980s.

"I see more on Naples beach than I have before, and I think it's because they're having to look for food," Below said.

But birds are resilient and even slight improvements to the ecosystem could yield a resurgence and reduce first-year mortality rates of 60 percent to 80 percent, he said.

"In 14 years of breeding, all they have to do is bring two chicks up that make it," Below said. "If they produced a breeder every year, we'd be up to our necks in birds."


RELATED INFO
Click here to read the complete South Florida Wading Bird Report
South Florida Water Management District
November 2008
The Everglades' Critical Turning Point
By Sara Fain
E Magazine
December 30, 2008



Wildwood Preservation Society is a non-profit 501(c)(4) project of the Advocacy Consortium for the Common Good. Click here to learn more.

"it's all connected"