Crist asked to stop turtle harvest
By Jim Ash
Tallahassee Democrat
November 20, 2008
Biologists Wednesday urged Gov. Charlie Crist to impose an immediate ban on the commercial harvesting of wild turtles before a skyrocketing demand in Asia dooms them.
Although little research has been done on the size of Florida's turtle population, an emergency rule that limits the catch to 20 soft shell turtles per day isn't working, the scientists say.
"The rate of capture is still too high and the data that we have suggests that this is unsustainable," said Matt Aresco, director of the 50,000-acre Nokuse Plantation preserve in Walton County.
Soft shell turtles can take up to 10 years to mature sexually and only one in 100 eggs survives because of natural predation, Aresco said.
"Everything eats them," he said.
The Florida Fish and Wildlife Conservation Commission adopted the 20-per-day limit in September at the urging of the scientists. Their studies show that only about 10 percent of Florida's exported turtles come from the wild. The rest come from turtle farms, according to state regulators. Environmentalists dispute the figures.
Commissioners are scheduled to discuss permanent regulations at a workshop in Tallahassee today.
The threat emerged about two years ago as Chinese and Asian fresh-water turtle populations collapsed and the industry turned to U.S. suppliers in the South to meet demand.
The turtles are prized for their meat as well as their shells and other body parts, which are ground into potions for folk remedies.
Commercial harvesters argue that they have access to only a tiny percentage of Florida's 7,000 freshwater lakes and that turtles are teeming in private water bodies where they can't go. Environmentalists dispute the claim.
"Seventy-five percent of soft shell turtle habitat is actually accessible to harvesters," Aresco said.
A group of 35 scientists sent a letter Monday to Gov. Charlie Crist pleading with him to intervene.
"He's still studying it," said his spokesman, Sterling Ivey.
The emergency rule was originally put in place for a year while regulators study the issue. The commission has since moved up the deadline for proposing a final rule to April with a vote in July.
Concern over freshwater turtle harvest reverberates with the FWC
Press Release
Florida Fish and Wildlife Conservation Comission
November 18, 2008
Hearing "loud and clear" the concerns raised by turtle scientists about freshwater turtles, the Florida Fish and Wildlife Conservation Commission (FWC) has fast-tracked its process for managing the freshwater turtle harvest in Florida and welcomes all input.
"The concern shown for the freshwater turtles in Florida has registered with us loud and clear," said Ken Haddad, executive director of the FWC. "As a result, we have accelerated our process to develop the best possible strategies for turtles. We will take a few months to gather the facts; then we can build on consensus."
Haddad said the FWC certainly appreciates all the input received from turtle scientists, fishermen and others on freshwater turtle harvest, and the agency will continue to welcome their insight as it moves rapidly toward developing a management strategy.
"This cooperative attitude will ensure that we develop the very best policy for freshwater turtles," Haddad said.
The FWC passed a new rule in September that limits the harvest of wild Florida freshwater turtles to five per day per person. Each fisherman with a commercial license is allowed to harvest an additional 15 Florida softshell turtles per day, for a total of 20. The FWC will monitor and enforce the current rule to ensure the turtles are being adequately protected.
"The recently passed rule provides an interim period to give us time to understand the issue and verify information," Haddad said. "We have moved up our schedule and are working rapidly to pass a new management strategy that will ensure appropriate regulations by June."
FWC's rule-making requires specific steps to provide proper public due process. The FWC will seek input over the next few months. Staff will present the proposed management strategy at the Commission's April meeting. Commissioners will vote on the final plan and regulations at June's meeting.
The best months (September and October) for harvesting freshwater turtles has passed in Florida. During cooler weather, turtles move at a much slower pace and eat less food, making them difficult to harvest. In addition, May 1 begins the closed season for harvest of the Florida softshell turtle which goes until July 31.
"By the time the closed season ends, we will have made our decision on the harvest of freshwater turtles," Haddad said. "We don't see the situation as an emergency, especially in light of the seasonal slow down and closed season."
On Thursday, Nov. 20, the FWC will meet with turtle experts, including scientists and fishermen, and with concerned residents regarding a long-term plan for the harvest of freshwater turtles. The meeting will be 10 a.m. - 4 p.m. at the Tampa Port Authority Board Room, 1101 Channelside Dr. in Tampa.
The public is invited to attend and provide information and engage in an open discussion of the pertinent information regarding freshwater turtle harvest in Florida. Experts with a variety of perspectives are expected to present information and answer questions.
HOW YOU CAN HELP
FWC will collect information from turtle experts, fishermen, and concerned residents regarding a long-term plan for the harvest of freshwater turtles at a meeting from 10 a.m. to 4 p.m. Thursday, November 20 at the Tampa Port Authority Board Room, 1101 Channelside Dr. in Tampa.
If you have information about freshwater turtle harvests in Florida, please share your observations with FWC at this meeting, or by email to bill.turner@myfwc.com. You are also encouraged to email Gov. Charlie Crist at Charlie.Crist@MyFlorida.com urging him to ban Florida's freshwater turtle harvest altogether.
RELATED NEWS STORIES
Thousands of Florida softshell turtles end up on dinner plates in Asia
Hauled from canals and marshes around Lake Okeechobee, turtles arrive in the late afternoon at Jones Fish House, a corrugated metal structure on the Palm Beach County side of the lake.
South Florida Sun-Sentinel
November 19, 2008
China gobbling up Florida turtles
A rising demand in China for turtles for food and medicine has led to the round-up of thousands of turtles from Florida's lakes, ponds and canals.
St. Petersburg Times
October 6, 2008
MORE INFO AND WAYS TO HELP
Support the
Florida Turtle Conservation Trust
and click
here
to read their September 29th press release.
Support
The Lake Jackson Ecopassage
.
Support
The Gopher Tortoise Council
.
Check out the Center for Biological Diversity report:
Unsustainable Commercial Harvest of Southern Freshwater Turtles
.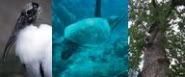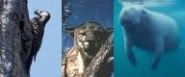 Wildwood Preservation Society is part of the
Florida Endangered Species Network
.

Wildwood Preservation Society is a non-profit 501(c)(4) project of the Advocacy Consortium for the Common Good. Click here to learn more.

"it's all connected"