Endangered wood storks nesting in Fred George Basin Summer 2008.
Winter 2008-09 Update
Thanks to your support Wildwood Preservation Society has helped put the brakes on three potentially disastrous developments in just the past few months!



Mahan Massacre: WPS assisted Progress Florida in generating over 1,000 online petition signatures from concerned Big Bend area residents opposing the Rockaway development, aka Mahan Massacre east of Tallahassee. Tallahassee City Commissioner Debbie Lightsey rightly called the Mahan Massacre "the poster child for urban sprawl." This massive development would have been located outside the Urban Services Area, allowing more than 10 times the number of homes than current zoning laws provide. After submitting the petitions to Florida's Department of Community Affairs (DCA), the DCA rejected the project citing many of the same concerns we expressed. As noted in this recent Tallahassee Democrat article, the developers have agreed to halt the project but intend to submit a revised proposal in the future.
Everglades sprawl: WPS teamed up with our friends at Hold The Line and Progress Florida in rallying thousands of Floridians from around the state to sign a petition to Gov. Charlie Crist urging the DCA to reject two developments, including a Lowe's big box retail center that threatened the Everglades. On Friday July 18th DCA did exactly that. But our work isn't done. Lowe's, who still wants to cement urban sprawl to the edge of the Everglades, plans to fight this decision. "We feel confident that the decision will be overturned,'' declared a Lowe's attorney in response to the DCA's decision. There are 111 Lowe's stores in Florida but there's only one Everglades. It's very easy to email Lowe's and tell them to protect the Everglades, not pave it – simply click here. Let's keep the pressure on Lowe's.
Thomasville industrial park: This summer WPS Founder Misty Penton helped a group of activists in Thomasville, Georgia prevent a land transfer that would have resulted in a pristine 200-acre forested area being converted into an industrial park. After numerous community members spoke in favor of preservation, the Thomas County Board of Commissioners voted unanimously to spare the land, reversing a previous decision. This Thomaville Times-Enterprise story has the details.

Meanwhile our commitment to protecting the remaining undeveloped portion of Fred George Basin is stronger than ever. The endangered wood storks completed a highly successful mating season and the Wildwood rookery now sits abandoned – until next spring. With South Florida colonies like the critically important Corkscrew Swamp Sanctuary on the decline, the conservation of fragile habitat in places like Fred George Basin is absolutely critical.

Flooded meadow in Fred George Basin following Tropical Storm Fay in August 2008.
After battling drought for the past couple years, the Big Bend region was inundated with intense flooding courtesy of Tropical Storm Fay in late August as evidenced by the photo above. With Fred George Sink acting as a tiny drainhole for the entire basin, some flooding is inevitable under extreme conditions. However, as noted in our blog post here, reckless development can greatly exacerbate the problem and is already blamed for flooding in some parts of the county.
WPS is expanding our web outreach. Check out our blog for all the latest Florida environmental and wildlife news. Join other environmental activists from around the state on MySpace at the Florida Environmental Leaders Network group. And Facebook users can now network with us at our newly created page here.
WPS is proud to have been awarded special recognition from A United Journey 4 Humanity for our continuing efforts to save Fred George Basin. WPS joins other outstanding difference-makers in receiving this honor.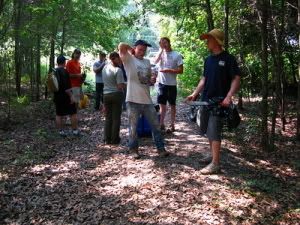 Volunteers gather to clear debris from trail easement in southwest Tallahassee July 19th, 2008. Photo courtesy John Kalin.
WPS Founder Misty Penton led a group of volunteers, including members of the FSU Environmental Service Program, in clearing trash and debris from a city-owned trail easement that is slated to become an important addition to the local greenway system. Workers gathered bags of cans, bottles, plastic, bicycle frames, an old truck tire and assorted debris from an old homeless camp. Click here for more photos and information, and thanks to everyone who participated!
Finally, following her appointment earlier this year, WPS Founder Misty Penton has been elected to a full term on the Ochlockonee River Soil and Water Conservation District Board. The mission of the Ochlockonee River Soil and Water Conservation District Board is to annually assess the condition of the soils and waters, both above and below ground, in Leon County; to educate the public about the state of the soils and waters; to educate the public about conservation practices which will enhance the conditions of the soils and waters; and to promote and advocate conservation practices and policies which will benefit the soils and waters of the County.
Wildwood Preservation Society is an all-volunteer nonprofit effort. Thanks to all of our supporters, volunteers and coalition members. Did you miss our last update? Click here. Questions? Email us at wildwoodpreservation@gmail.com.

Wildwood Preservation Society is a non-profit 501(c)(4) project of the Advocacy Consortium for the Common Good. View/subscribe to our blog here.

"it's all connected"