Endangered Wood Stork in Fred George Basin, photo courtesy Richard Baas.

This Tuesday afternoon, the Leon County Commission will vote on agenda item 21 (purchase of Fred George Basin Greenway), approving the allocation of funds already identified through Blueprint 2000 and Florida Communities Trust, to be used for the acquisition of the 'core' parcel (76 acres). This parcel is the first of 5 to be acquired which will preserve the last 172 acres of the Fred George Basin that remain of the more than 500 originally identified for conservation in Blueprint 2000.

Conserving this critical land will help protect:

• The quality of Leon County's drinking water;
• Natural flood storage and aquifer recharge karst area;
• Fragile ecosystems from the closed Fred George Basin all the way to Wakulla Springs; and
• Endangered and threatened species including the American Wood Stork, Little Blue Heron, White Ibis and Gopher Tortoise.

Please take action by:

1. Sending the email below (scroll down and feel free to cut and paste) or, even better, write one of your own to the commissioners and their aides:
proctorb@leoncountyfl.gov; gleer@leoncountyfl.gov; saulsj@leoncountyfl.gov; summerlinl@leoncountyfl.gov; daileyj@leoncountyfl.gov; doughertyj@leoncountyfl.gov; deslogeb@leoncountyfl.gov; tannerb@leoncountyfl.gov; rackleffhsd@earthlink.net; bradyk@leoncountyfl.gov; akinyemia@leoncountyfl.gov; jonesc@leoncountyfl.gov; thaellC@leoncountyfl.gov; greenm@leoncountyfl.gov
2. Calling your County Commissioner:
Bill Proctor (District 1): 850-606-5361
Jane Sauls (District 2): 850-606-5362
John Dailey (District 3): 850-606-5363
Bryan Desloge (District 4): 850-606-5364
Bob Rackleff (District 5): 850-606-5365
Akin Akinyemi (at large): 850-606-5369
Cliff Thaell (at large): 850-606-5367

3. Most importantly, attending the County Commission meeting to show your support:
Tuesday, December 9th at 3pm
Leon County Courthouse, 5th Floor
301 South Monroe Street, Tallahassee 32301

Thank you for your support of this critical conservation project. For more information, go to www.myspace.com/wildwoodpreservation or call Wildwood Preservation Society founder Misty Penton at 850-559-9661. The Agenda Item for Tuesday's meeting may be viewed on the County website here.

Sincerely,

Your friends at Wildwood Preservation Society

PS – Supporters include:
Florida Wildlife Federation
Florida Audubon Society
Environment Florida
1000 Friends of Florida
The Habitat Trust for Wildlife
Cornwall's Voice For Animals
Heart of the Earth
Ochlockonee River Soil and Water Conservation District
Blueprint 2000
Leon County Commission
Apalachee Audubon Society (local Audubon Chapter)
Friends of Lake Jackson
Lake Jackson Protection Alliance
FSU Environmental Service Program
Big Bend Sierra Club
Wildwood Neighborhood
Erin Brockovich
Former State Rep. Loranne Ausley
State Sen. Al Lawson
U.S. Rep. Kendrick Meek
U.S. Sen. Bill Nelson
U.S. Fish and Wildlife Service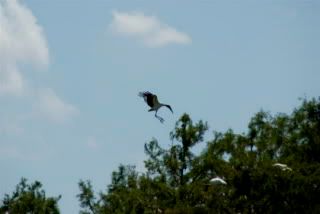 Endangered Wood Stork landing in Fred George Basin, photo courtesy Richard Baas.

EMAIL TO COMMISSIONERS Note: please blind copy (bcc) wildwoodpreservation@gmail.com.
Subject: It's time to bring Fred George Basin acquisition in for a landing

Dear Commissioner:

Two years ago, on December 12, 2006, the Leon County Commission voted unanimously to acquire the last 172 acres of Fred George Basin that remain of the more than 500 originally identified for conservation in Blueprint 2000. On Tuesday, your vision and leadership are needed again to bring this critical acquisition in for a landing. As you know, conserving this critical land will help protect:

• The quality of Leon County's drinking water;
• Natural flood storage and aquifer recharge karst area;
• Fragile ecosystems from the closed Fred George Basin all the way to Wakulla Springs; and
• Endangered and threatened species including the American Wood Stork, Little Blue Heron, White Ibis and Gopher Tortoise.

The creation of the Fred George Basin Greenway will also provide a much-needed park in northwest Leon County and help reduce traffic and school overcrowding in this area that has been so impacted by intense development.

With the establishment of the Fred George Basin Greenway the Leon County Commission is taking a critical first step toward protecting our way of life and natural resources for generations to come.

Thank you in advance for your support.




Wildwood Preservation Society is a non-profit 501(c)(4) project of the Advocacy Consortium for the Common Good. Click here to learn more.

"it's all connected"