FEATURED STORIES
Getting Serious About Global Warming
The Progress Report
Think Progress
Even as pressure builds for the U.S. Senate to take action on global warming, polluters have intensified their campaigns to block clean energy reform.
Group formed to help resolve tri-state water dispute
By Bruce Ritchie
FloridaEnvironments.com
A diverse coalition of groups within Alabama, Florida and Georgia is trying to encourage a discussion of water issues that have divided residents of the three states in the past.
Are you drinking dirty water? Florida among 10 worst states for tap water
By Daniel Vasquez
South Florida Sun-Sentinel
A recent New York Times series called "Toxic Waters" has rightly drawn attention to the issue of drinking safe - or unsafe, as the case may be - tap water.
Do gopher tortoises need federal protection from the building industry? Feds to ponder the issue
By Paul Quinlan
Palm Beach Post
Federal officials are considering whether to add protections for the gopher tortoise that environmentalists say are long overdue but that builders industry experts warn could be catastrophic for Florida's economy.
Activists want bigger 'critical' area off Florida-Georgia coast for right whales
By Steve Patterson
Florida Times-Union
Related
:
Training range OK for whales, Navy says
Wildlife activists are asking the federal government to enlarge an area off the Florida-Georgia coast where special efforts are made to protect endangered right whales.
Critically endangered right whales.

THE BIG OIL ROUNDUP
The Big Oil roundup: news and information about Big Oil's push to rig Florida's coastline for the week ending 9-25-09
Group pushes for Gulf drilling legislation
By Carl Mario Nudio
Bradenton Herald
Looking to influence the future of oil drilling in the Gulf of Mexico, an advocacy group has been traveling Florida promoting its ideas.
Offshore drilling supporter tells tourism agency: It's safe
By Valerie Whitney
Daytona Beach News Journal
State Rep. Dean Cannon, a big supporter of offshore drilling, brought his platform Thursday to the people charged with attracting visitors to Florida.
Digitally mapped simulation of what the oil spill happening right now off Australia's coast would look like if it happened from a drilling platform 80 miles from Florida's coastline in the Gulf of Mexico. This map was created two weeks ago – it would in fact be much worse now because it's still leaking 400 barrels a day and the rig isn't expected to be plugged UNTIL AT LEAST MID-OCTOBER! Moreover, this ongoing catastrophe emanated from a new oil platform that the fossil fuel lobby has touted as safe. Per the article above, did Rep. Cannon tell tourism officials any of this? He's just another Big Oil shill, baby, shill.

Sarasota County opposes drilling
Staff Report
Sarasota Herald-Tribune
Related editorial
:
Taking a stand against drilling
Pristine beaches should trump oil exploration, Sarasota County leaders said Tuesday in opposing any oil exploration in Florida waters.
Expanded Oil Drilling Within 3 to 10 Miles Of Florida's West Coast?
(audio story)
By Robert Lorei
WMNF Community Radio Tampa
There's a renewed effort to try to lift the ban on oil drilling close to Florida's coastline.
Mike Haridopolos: Oil drilling, low taxes on tap for Florida
By Mike Haridopolos
TC Palm
Economic growth. Increased sovereignty. Transparency in government. Citizen participation. Tax relief. Spending restraint.
Chamber survey seeks support for 'energy exploration'
By Mary Ellen Klas
St. Petersburg Times
The Florida Chamber of Commerce is ratcheting up the oil-drilling debate with a new "survey" of its members that asks whether they would support or oppose cap and trade, renewable energy standards for electric companies and "energy exploration in the Gulf of Mexico off the coast of Florida as long as any permanent structures necessary for oil and natural gas production are not visible from shore?"
Alex Sink is following legislation 'very closely'
By Tom McLaughlin
Northwest Florida Daily News
Alex Sink, Florida's chief financial officer and the leading Democratic candidate for governor, said she's following "very closely" state legislation that would allow oil drilling near the coast.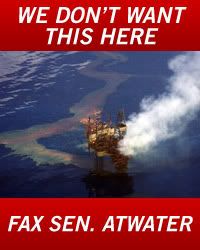 Click the picture above to urge Senate President Jeff Atwater to oppose state legislative efforts that would allow offshore oil drilling off Florida's coast.

MORE ONLINE ACTIONS
Tell Salazar: No drilling off Florida's Coast, via Environment Florida.
Tell new Senator LeMieux to Repower America, via Environment Florida.
Tell Your Senator No More Offshore Drilling, via Oceana.
Tell Sen. Atwater Not To Allow Oil Drilling In Special Session, via Audubon of Florida.

MORE GREEN NEWS
World Leaders Bring Hope to the Sunshine State?
(includes audio)
By Gina Presson
Public News Service Florida
As leaders of the world's largest economies begin the Group of Twenty (G-20) summit today in Pittsburgh, many in Florida are watching for discussion of climate change.
Feds Again Petitioned for Florida Panther Critical Habitat
Staff Report
Environmental News Service
As a species, the endangered Florida panther needs about 4,860 square miles in southern Florida to be protected as critical habitat to save the animal from extinction and recover the species, according to a new scientific petition submitted to the U.S. Fish and Wildlife Service by three nonprofit organizations.
Florida rural lands rule withstands farm groups' challenge
By Bruce Ritchie
FloridaEnvironments.com
Florida farm groups supported the Rural Land Stewardship Act in 2001 because they said it would preserve agriculture while helping the economies of rural communities.
Enviro group joins in criticism of PSC
By Bruce Ritchie
FloridaEnvironments.com
One of the most active environmental groups before the Florida Public Service Commission says recent controversies show the panel is overly influenced by utilities and lobbyists, including former PSC staff and commissioners.
Polluted Lake Okeechobee getting dirtier
By Curtis Morgan
Miami Herald
Water managers, environmental agencies and conservation groups have been talking about cleaning up Lake Okeechobee for decades.
Atlanta Floods May Bring Temporary Peace to Water Wars
By Mike Vasilinda
Capitol News Service
The is a silver lining in the more than 20 inches of rain that has beset the Atlanta area.
Salty St. Johns River could change wetlands in Duval, Clay, St. Johns
By Steve Patterson
Florida Times-Union
Wetlands in Jacksonville and northern St. Johns and Clay counties could be changed by rising salt levels if utilities withdraw water from the St. Johns River far upstream, a state researcher told scientists Wednesday at a symposium on possible withdrawals.
High Mercury Levels Found In North Fla. River Fish
The Associated Press
WKRG News 5 Pensacola-Mobile
Researchers are warning north Florida residents to be careful about consuming mercury-contaminated fish from some area rivers.
Project to map Everglades water levels aims to protect wildlife
By Kimberly Miller
Palm Beach Post
Fat alligators are happy alligators and a sign that water levels in the Everglades are just right.
New, nastier python enters Everglades fray
By Curtis Morgan
Miami Herald
As if one giant python wasn't enough, a cluster of captures in a single square mile of West Miami-Dade has scientists worried about a new species spreading across South Florida.
Florida senator proposes python ban
By David Fleshler
South Florida Sun-Sentinel
You wouldn't be able to buy a Burmese python as a pet anymore in Florida, under a bill drafted by a state senator who said the state should shut off the source of "dangerous reptiles" that have colonized the Everglades.
Volusia County gives 1st approval to Farmton -- city in the wilderness
By Ludmilla Lelis
Orlando Sentinel
A plan that would conserve more than 40,000 acres of remote timberland while establishing a new city of more than 20,000 homes has passed its first round of approvals.
Some get it right, some get it wrong on local growth decisions
By Jane Healy
Orlando Sentinel
Gov. Charlie Crist and the Cabinet got it right last week when they flatly rejected a project in the middle of Ocala horse country.
Time to end canned hunts on Treasure Coast
Editorial
TC Palm
Owners of JR Outfitters deny that they're running "canned hunts" out in Indiantown. But charging hunters for the privilege of shooting exotic animals inside an enclosed area pretty much fits the bill.
Manatees are symbolic
Editorial
Tallahassee Democrat
The story of a manatee's death, descriptively told by reporter Amanda Nalley in Saturday's Democrat, is a reminder of the resources in peril in Florida waters.
Wildwood Preservation Society is a non-profit 501(c)(4) project of the Advocacy Consortium for the Common Good. Click here to learn more.


"it's all connected"