FEATURED STORIES
Is Florida better off with a shrinking population?
By Gimleteye
Eye on Miami
Related:
Florida Hometown Democracy
A front page article in the Sunday New York Times addressed Florida's shrinking population.
Push for drilling off Florida's coast is well-oiled
By Mary Ellen Klas
St. Petersburg Times/Miami Herald Tallahassee Bureau
A secretive group of powerful legislators, business groups and Texas oil companies has been laying the groundwork since December to win legislative approval to open Florida waters to oil exploration and end the 20-year drilling moratorium.
Lawmakers wary about oil drilling talks in special session
The News Service of Florida
Palm Beach Post
Gov. Charlie Crist is fueling the hopes of groups that want to open Florida waters to offshore drilling while getting the state potentially billions of dollars from oil companies.
Crist the climate-change crusader is gone with the wind (power)
By Mike Thomas
Orlando Sentinel
Everything is a political calculation with Charlie Crist.
Group gives Florida D+ on water quality
By Bruce Ritchie
FloridaEnvironments.com
The Gulf Restoration Network today said Florida gets a D+ grade for its efforts to protect water quality, which was about the average grade for Gulf coast states.
Florida DEP, PEER tussle over carbon cap-and-trade
By Bruce Ritchie
FloridaEnvironments.com
Public Employees for Environmental Responsibility says Gov. Charlie Crist has abandoned carbon emissions cap-and-trading in his quest for a U.S. Senate seat, but a state Department of Environmental Protection response suggests it's all untrue.
Report: Loggerhead Turtles at Risk of Extinction
The Associated Press
New York Times
It's a scene that scientists say is all too common: A commercial fishing boat pulls in a net full of shrimp or tuna and finds a loggerhead sea turtle mixed in with the catch.
Threatened loggerhead sea turtle.
MORE GREEN NEWS
Crist again distances himself from environmental movement
(includes audio)
By Mitch E. Perry
WMNF Community Radio
Five states have asked U.S. Senate leaders to let them impose stricter limits on greenhouse gas emissions than would be permitted under the climate legislation working its way through Congress, saying both levels of regulation are necessary to fight global warming.
Now what? US Army Corps of Engineers must take sea-level rise into account
By Gimleteye
Eye on Miami
The US Army Corps of Engineers has played a central role in the unsustainable development of Florida.
Former U.S. Senators and Admiral: Climate Change Threatens National Security
(includes audio)
By Gina Presson
Public News Service Florida
Three men who should know something about the matter are calling climate change a national security issue.
Groups urge House speaker to support lands program
By Bruce Ritchie
FloridaEnvironments.com
Environmentalists today met with House Speaker Larry Cretul to urge his support for Florida's conservation land-buying program, but the issue of using oil drilling revenue to buy land was not discussed.
Keep swimming with manatees; feds say it's OK
By Tom Palmer
Lakeland Ledger
The practice of swimming with manatees, which I really don't understand, will continue for now without additional restrictions, federal officials have decided, despite criticism of the idea.
Streams or ditches? DEP considers waterways reclassification
By Bruce Ritchie
FloridaEnvironments.com
Few people who drive along Franklin Boulevard east of the state Capitol notice a ditch between the lanes of traffic or realize it may have historical significance.
Forest of staghorn coral thrives
By Susan Cocking
Miami Herald
Dropping 12 feet below the ocean's surface less than a mile off Fort Lauderdale's beach-front towers, a diver might wonder if he or she somehow got magically transported to a remote coral reef in the Caribbean.
Wakulla industrial park owners want rule change to allow biomass
By Dave Hodges
Tallahassee Democrat
Two county commissions in the area will address the same topic Sept. 8 in communities where the outcome could be markedly different.
Florida's Public Service Commission probed amid FPL rate bid
By Mary Ellen Klas
Miami Herald/St. Petersburg Times Tallahassee Bureau
The state's top law enforcement agency is investigating the Public Service Commission on grounds that commissioners and staff members may have had improper relationships with the utilities they regulate.
Miami-Dade boasts Florida's first eco-friendly school
By Elaine De Valle
Miami Herald
Mariana Botero looks like the typical ninth-grader with blue nail polish and a dozen or so bracelets on each arm.
Hurricanes Add to the Stresses on Wildlife and Coastlines
By Patricia Behnke
FWC via Wakulla.com
More than one-half of the U.S. population lives within 50 miles of a coast. In Florida, 72 percent of the 18 million residents live or work in coastal areas, with approximately 12 million people living in Florida's coastal counties.
Bill to drill hits too close to home
Editorial
South Florida Sun-Sentinel
Gov. Charlie Crist and state lawmakers think they've found a solution to Florida's ongoing revenue woes.
Why rush drilling bill?
Editorial
Orlando Sentinel
Winter Park's Dean Cannon drew richly deserved criticism in the spring for trying to rush a bill through the Legislature in its final hours that would rid the state of its offshore-drilling ban.
Oil spills still a threat
Editorial
Pensacola News Journal
One of the arguments made by those who favor offshore drilling for oil near Florida's coastline is that modern drilling equipment is so advanced, safe and effective that oil spills from rigs are virtually a thing of the past, so there's no real risk to Florida's beaches.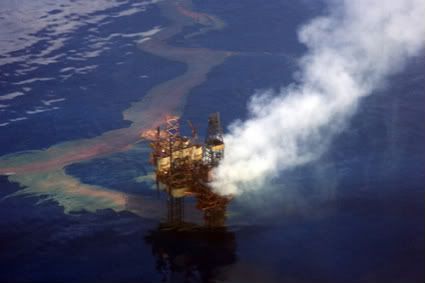 Montara (West Atlas) Blowout and Oil Spill, Western Australia, August 2009 (note: Florida Energy Associates has touted Australia's drilling technology in their efforts to open Florida's coast).
Wildwood Preservation Society is a non-profit 501(c)(4) project of the Advocacy Consortium for the Common Good. Click here to learn more.
"it's all connected"