FEATURED STORIES

Vast protection area urged for Florida panthers
By Paul Quinlan
Palm Beach Post
Environmentalists are pressing the federal government to declare 3 million acres of South Florida - an area twice the size of Delaware - critical habitat for the nearly extinct Florida panther.

Cabinet Halts Development Plan
By Joe Follick
Lakeland Ledger
In another sign that Florida's historic economic reliance on home building is continuing to ebb, Gov. Charlie Crist and the Florida Cabinet unanimously upheld a judge's decision to bar a housing development in Marion County.

Ocala development fight signals broader duel over Hometown Democracy
By Aaron Deslatte
Orlando Sentinel
With the state's housing market cratered and its population in decline, Gov. Charlie Crist and the Cabinet waded into the debate over Florida's development future Tuesday when they rejected an appeal from developers of a 400-acre project outside Ocala.

In the Age of Stupid, Coconut Creek Mayor Marilyn Gerber gets butterflies
By Gimleteye
Eye on Miami
A group of gritty citizens in Florida have organized a successful petition to put on the 2010 state-wide ballot an amendment to the state constitution called Florida Hometown Democracy. It is greatly feared by state business interests.



Overdevelopment is wiping out the critically endangered Florida panther.

THE BIG OIL ROUNDUP
The Big Oil roundup: news and information about Big Oil's push to rig Florida's coastline for the week ending 9-18-09

A few questions for those who would drill for oil off of Florida's shores
By Bob Rackleff
St. Petersburg Times
The mysterious promoters of offshore oil drilling in Florida waters promise "A Breathtaking Economic Opportunity," in their words.

Four years after buying back oil lease, state considers allowing drilling
By Bruce Ritchie
FloridaEnvironments.com
Excerpt: Mark Ferrulo, an environmental activist who has fought offshore drilling in Florida efforts since 1991, said the dispute points to the influence that money is having in the current drilling debate. He is director of Progress Florida, which opposes drilling.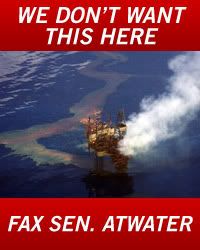 Click the picture above to urge Senate President Jeff Atwater to oppose state legislative efforts that would allow offshore oil drilling off Florida's coast.

MORE ONLINE ACTIONS
Tell Salazar: No drilling off Florida's Coast, via Environment Florida.
Tell new Senator LeMieux to Repower America, via Environment Florida.
Tell Your Senator No More Offshore Drilling, via Oceana.
Tell Sen. Atwater Not To Allow Oil Drilling In Special Session, via Audubon of Florida.

Oil Drilling opposed by environmentalists, tourism officials and business owners (includes audio)
By Sean Kinane
WMNF Community Radio Tampa
A gigantic oil spill that has been occurring for more than three weeks off the coast of Australia is being used as a warning to Floridians against opening up the state's coastline to offshore drilling.

Oil drilling means jobs and money, proponents say
By Craig Pittman
St. Petersburg Times
Related: Who's behind Florida Energy Associates?
They appeared in the spring, a secretive group trying to upend Florida's longtime ban on offshore drilling by promising millions of dollars and hundreds of jobs.

Oil-drilling debate gets stickier (includes video)
By Steve Nichols
Fox News Tampa Bay
Opponents of offshore drilling near Florida now have a strong argument from the Timor Sea. The same technology the oil industry touts as being virtually spill-proof is involved in a major incident between Australia and Indonesia.

Don't look now, but oil rigs in our future
By Douglas C. Lyons
South Florida Sun-Sentinel
It may not be the best public policy for a state that's made its reputation, and a considerable tourism industry, from its beaches. But it'll cement Florida's legacy as the laboratory for just about every right-wing political initiative under the sun.

Opponents of offshore drilling say lifting ban could have dire consequences
By Eileen Schulte
St. Petersburg Times
You'll never be able to eat fish from Tampa Bay or the Gulf of Mexico again if oil drilling is allowed within 10 miles of Florida's west coast.

West Atlas Oil Spill Advertises Danger of Drilling in Florida
News Blog
Audubon of Florida
Oil has been flowing from the West Atlas platform for three weeks.

Offshore oil drilling by the numbers
By Harlan Weikle
Tampa Bay Weekly
Three, six and 12 billion barrels are the various estimates of the oil reserves to be found off Florida's Gulf coast; a mere drop in the bucket compared to the potential economic loss to Florida, say opponents of offshore drilling.

Offshore drilling poll doesn't quite add up
Editorial
Pensacola News Journal
Now here's a surprise: The state's chief business lobbying group conducts a poll on offshore drilling and finds that Floridians overwhelmingly support it, and therefore the Legislature — in a special session to be called on another issue — should act to expose Florida's coast.

Drilling threatens Florida's economic base
Editorial
Daytona Beach News-Journal
To hear them speak, some Florida lawmakers have drill bits for tongues.

Big Oil mixing money and politics in Tallahassee
Editorial
Miami Herald
The well-financed campaign to open Florida waters in the Gulf of Mexico to oil and gas drilling should be greeted with great skepticism by state residents and their representatives in the Legislature.

Oil drilling in state waters bad business
Editorial
Lake Wales News
After falling short of slipping through a bill to allow oil and gas drilling near Florida's coast earlier this year, legislative leaders are greasing the skids to get a similar bill considered during a possible special session in October or November.



Environmentalists fear oil is heading towards an area where whales breed. What might a similar spill do off Florida's coast?

MORE GREEN NEWS

Year-long project aims to preserve coral in Miami-Dade waters
By Susana Montes-Delgado
Miami Herald
Related AP story: Massive coral protection plan approved
In their wet suits and masks, scientific divers carry oxygen tanks, underwater cameras, measuring tape, and about 50 pounds of equipment into Biscayne Bay to restore Miami-Dade's coral reefs.

Feds, Florida anglers battle over red-snapper ban
By Ludmilla Lelis
South Florida Sun-Sentinel
Related: Anglers to feds: Bone up on red-snapper facts
On the docks at Ponce Inlet, the chance to hook a red snapper lures tourists to the Sea Spirit, a deep-sea party boat.

Navy facing whale battle
By Curtis Morgan
Bradenton Herald
Florida isn't known for whale watching, but every winter the coastline offers a haven for endangered North Atlantic right whales.

Huge N. Brevard land deal pushes on
By Rick Neale
Florida Today
If approved, the Farmton Plan will designate more than 8,000 acres of northern Brevard County's serene forests, swamps and marshes as conservation land -- with no taxpayer purchase required.

Lawsuit coming if panthers aren't protected, environmental groups say
By Eric Staats
Naples News
A courtroom could be the next stop for a push to designate millions of acres in South Florida as critical habitat for the endangered Florida panther.

Florida manatee deaths up this year; St. Marks River manatee latest local death
By Amanda Nalley
Tallahassee Democrat
No one knows how long she floated there, ribs broken, bobbing on her side, air escaping her lung and filling her body cavity.

Nokuse Plantation: Children will 'fall in love with nature'
By Kimberly White
Northwest Florida Daily News
Nature enthusiasts shrugged off the wet weather Saturday and hit the trail adjacent to the E.O. Wilson Biophilia Center.

Red cockaded woodpecker no longer found around Estero Bay
By Charlie Whitehead
Naples News
The red cockaded woodpecker is no longer endangered in the Estero Bay watershed.

Firm stand on 'need' for growth
Editorial
Daytona Beach News-Journal
Florida's governor and Cabinet withstood heavy statewide pressure by influential development and business interests to strike a blow Tuesday for responsible growth management.

Florida Cabinet should deny subdivision
Editorial
Miami Herald
In a recent case of David going up against Goliath, two Marion County residents fought successfully to stop a large subdivision from being built on 400 acres in the middle of horse country outside Ocala.

The power of one
Editorial
Gainesville Sun
A lone citizen's challenge to a 2007 land use change approved in neighboring Marion County will be taken up today by Gov. Charlie Crist and the Florida Cabinet. It is a growth-management case of statewide significance.



Today the South Atlantic Fishery Management Council voted to protect what may be Earth's largest deepwater coral ecosystem off the coasts of North Carolina, South Carolina, Georgia and Florida.


Wildwood Preservation Society is a non-profit 501(c)(4) project of the Advocacy Consortium for the Common Good. Click here to learn more.


"it's all connected"