FEATURED STORIES
Huge oil spill off Australia cited by opponents of drilling off Florida
By Craig Pittman
St. Petersburg Times
Related editorial:
Don't let this come to Florida's shores
On Aug. 21, oil began bubbling out from an offshore rig about 90 miles from Australia's coast.
More anti-drilling editorials from Florida's major daily newspapers:
Palm Beach Post
:
Advice for special session: Don't take up drilling...
Florida Today
:
Stop the stampede
Sarasota Herald-Tribune
:
Stop the oil rush
Gainesville Sun
:
The rush job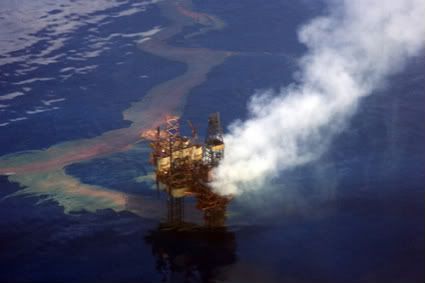 Montara (West Atlas) Blowout and Oil Spill, Western Australia, August 2009 (note: Florida Energy Associates has touted Australia's drilling technology in their efforts to open Florida's coast).
Senate President doubts special session for oil drilling
By Bruce Ritchie
FloridaEnvironments.com
Related:
Associated Industries wants oil drilling on special session agenda
Senate President Jeff Atwater today said a special session of the Legislature in October is highly unlikely and he raised doubts about whether it should include consideration of lifting Florida's ban on offshore oil drilling.
Slow the rush to drill near Florida's beaches
By Eric Draper
Tallahassee Democrat
Gov. Charlie Crist recently set off speculation about adding oil drilling to the agenda for the upcoming special session of the Legislature. It was an unfortunate change of position, but not surprising for this governor who is campaigning for the U.S. Senate and appears to be leaving his own high-minded climate and energy agenda undone.
The mystery push for offshore oil
By David Guest
Tampa Tribune
News that "a secretive group of powerful legislators, business groups and Texas oil companies has been laying the groundwork" to open Florida's shores to oil and gas drilling should make all of us sit up and pay attention.
Not here and not now: the case against drilling
By Eric Ernst
Sarasota Herald-Tribune
A local environmental organization, ManaSota-88, has just released a position paper called "10 Reasons Not to Drill for Oil Offshore of Florida."
Former Florida Gov. Bob Graham tries to chill state GOP's ardor for oil
By Adam C. Smith
St. Petersburg Times
Former Florida Gov. and U.S. Sen. Bob Graham has watched the politics of offshore drilling flip 180 degrees in recent years.
Digitally mapped simulation of what the oil spill happening right now off Australia's coast would look like if it happened from a drilling platform 80 miles from Florida's coastline in the Gulf of Mexico.

MORE GREEN NEWS
Endangered Florida panthers feel the squeeze
By Alex Halperin
Christian Science Monitor
Related AP story:
Another Fla. panther found dead on interstate
As southwest Florida struggles through the recession, the highly endangered Florida panther, which has lost much of its habitat to strip malls and gated communities, might have been expected to benefit from tough times.
Florida wildlife leaders consider using federal standards for imperiled species
By Kevin Spear
Orlando Sentinel
Related:
Lightning-rod list of Florida's vanishing wildlife
The Florida Fish and Wildlife Conservation Commission will outline the details today of a third major overhaul in less two decades of the agency's troubled efforts to list species on the brink of extinction.
Rare whales' safety pits U.S. Navy against environmentalists
By Curtis Morgan
Miami Herald
Florida isn't known for whale watching, but every winter the coastline offers a haven for endangered North Atlantic right whales.
Saving the shark that bit me
By Debbie Salamone
Bradenton Herald
Sharks rarely attack people. The odds of a shark bite are roughly one in every 11.5 million times a person visits a beach, according to the International Shark Attack File.
Miami Beach's Sea Turtles Threatened by Its People
By Carmen Gentile
New York Times
Under the cloak of nightfall, dozens of freshly hatched sea turtles beat tiny flippers against the wet sands of Miami Beach, inching their way toward the ocean and a life aquatic.
Gopher tortoise could get protection under Endangered Species Act
By Eric Staats
Naples News
Gopher tortoises that crawl around dry scrubby habitat in Southwest Florida could be making a move under the Endangered Species Act.
Builders wary of more gopher tortoise protection
By Steve Patterson
Florida Times-Union
A federal agency is taking a fresh look at whether gopher tortoises need new protections that could have big impacts on development in Florida and Georgia.
State leaders clash over growth plans
By Charlie Whitehead
Naples News
With all the controversial changes in Florida growth management regulations in the past few years, the sharpest disagreement during a recent seminar in Fort Myers was over a change that hasn't been made.
Trees or homes? Miami Corp. land use hinges on Volusia, Brevard OK
By Ludmilla Lelis
Orlando Sentinel
During the next 50 years, a new city of residential villages and business districts could be carved out of remote timberland in central Volusia and northern Brevard counties where Florida black bears and panthers still roam.
Catching On To Florida's Economic 'Ponzi Scheme'
By Diane Roberts
NPR
For the first time since World War II, Florida is losing population.
Mine expansion plan worries Everglades restorers
By Paul Quinlan
Palm Beach Post
South Florida water managers are raising concerns about a proposal to expand a rock mine that borders future Everglades restoration land.
Costs grow for Everglades reservoir left unfinished by sugar deal
By Andy Reid
South Florida Sun-Sentinel
Tack on another $12 million to the taxpayers' tab for the cost of a massive, unfinished reservoir rendered obsolete by a proposed half-billion-dollar Everglades-restoration land deal with U.S. Sugar Corp.
Florida's waterways must be a priority
By Joe Murphy, Gulf Restoration Network
St. Petersburg Times
Few things unite Floridians like water. We swim in it, fish in it, paddle over it, and rely on it for our very survival.
Filmmaker not content to watch Orange Lake wetlands die
By Jared Leone
St. Petersburg Times
Some make movies for the glitz and glamor of Hollywood. Terry Neal made his movie to save Orange Lake.
A contract with nature
By Tom Bayles
Sarasota Herald-Tribune
It has been nearly 60 years since the start of the great Florida building boom where those involved were more focused on the millions they were making rather than any damage they were doing to ecosystems.
Progress, FP&L argue for nuke cost recovery
By Bruce Ritchie
FloridaEnvironments.com
Witnesses for an environmental group and utilities wanting to build nuclear power plants sparred Tuesday before the Public Service Commission over the predicted costs of construction and how to pay for them.
Progress Energy, FPL nuclear costs face double challenge
By Kevin Spear
Orlando Sentinel
Environmental activists and the state advocate for utility customers plan to challenge Florida's two biggest power companies this week when the companies urge state regulators to let them continue charging for the early costs of nuclear plants not yet under construction.
2 Fla. PSC staffers resign as nuke plant weighed
By Bill Kaczor
The Associated Press
Two top Public Service Commission staffers resigned Tuesday and two others went on administrative leave as alleged ethics lapses again overshadowed a hearing on proposed rate increases - this time to pay for new nuclear power plants.
A toxic, exotic mess in the Everglades
Editorial
St. Petersburg Times
With the environmental focus on global warming and greenhouse gases, it's easy to forget that other pollutants continue to need regulatory attention.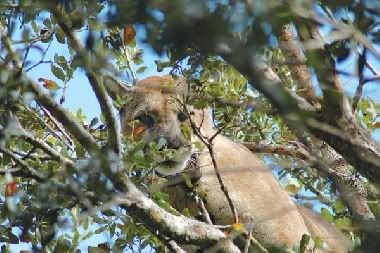 Critically endangered Florida panther.
Wildwood Preservation Society is a non-profit 501(c)(4) project of the Advocacy Consortium for the Common Good. Click here to learn more.


"it's all connected"