FEATURED STORIES
Plan re-emerges to shift water resources across Florida
By Craig Pittman
St. Petersburg Times
Take action now
:
Sign on to the letter to the legislature
via Progress Florida
Six years ago, Florida's business leaders came up with a plan to create a state water commission that could route water from sleepy North Florida to supply the booming development in South Florida.
Florida Waterways Under Scrutiny by EPA
(includes audio)

By Concetta DeLuco
WMNF Community Radio Tampa
Related St. Petersburg Times column
:
Hold polluters accountable for what they do to Florida waters
In efforts to protect Florida's surface waterways, the US Environmental Protection Agency (EPA) and Florida's Department of Environmental Protection have joined forces and are making efforts to adopt stricter state regulations.
Utilities fight water rules
By Paul Quinlan
Palm Beach Post via Miami Herald
Related editorial
:
Water conservation a must in Florida
A deal to put most of South Florida under permanent, three-day-a-week water restrictions -- among the loosest in the state -- has begun to unravel at the 11th hour amid utilities' demands that they not be forced to reduce water use.
Property rights and sea level rise
By Gimleteye
Eye on Miami
Florida is a unique lens through which to view the dilemma of delay and inadequate response by government to the challenges of global warming.
Wet season not quite rainy enough in Southwest Florida
By Kevin Lollar
Ft. Myers News-Press
Southwest Florida had another dry wet season this year, which is good for some things and not so good for others.
Brown pelicans no longer listed species
By Tom Palmer
Lakeland Ledger
Brown pelicans, whose population declined because of DDT contamination decades ago, have been removed from the endangered species list because of their dramatic recovery.
Florida bristle fern, bonneted bat may be shielded
The Associated Press
Miami Herald
A bat and a fern found only in Florida may be added to the federal list of endangered and threatened species.
Everglades group closes office
By Curtis Morgan
Miami Herald
A landmark environmental group founded by Everglades icon Marjory Stoneman Douglas is closing its Miami office, citing declining membership and donations.
Keep industry out of old jetport site
By Jack E. Davis
Miami Herald
It's like an old wound that some hack doctor keeps digging at.
Endangered wood stork in Fred George Basin, Leon County.
THE BIG OIL ROUNDUP
A drill, a spill, a tragedy
By Waldo Proffitt
Sarasota Herald-Tribune
Earlier this week the Herald-Tribune published a letter from reader Rob West of Osprey who wrote, "If state-of-the-art leaking oil rigs burning off the coast of Australia do not become screaming headlines all over Florida, I just plain give up."
Atwater in no hurry on drilling
By Jim Ash
Tallahassee Democrat
Senate President Jeff Atwater hinted Monday that he might not consider opening up Florida waters to offshore drilling in the next legislative session, his last before term limits force him to step down.
Offshore drilling claims by oil and gas industry: lies and half-truths?
By Judson Parker
Tallahassee Environmental News Examiner
Related
:
Offshore drilling debate heats up in Florida
Related
:
Is China behind the offshore drilling push in Florida?
The debate about whether or not the Florida state legislature should lift the nearly three decade old offshore oil exploration and drilling moratorium has been heating up lately, and has been fueled by a series of symposiums organized by both the media and the industry over the past few weeks.
Senator Nelson says drilling bad for Florida economy
By Kerry Kavanaugh
ABC Action News Tampa Bay
Senator Bill Nelson says drilling off the coast of Tampa Bay will hurt the state's tourism industry.
Bringing jobs to Florida?

Bill Nelson advises Tampa Chamber of Commerce to fight offshore drilling
By Mitch Perry
Creative Loafing Tampa
Florida U.S. Senator Bill Nelson said today that the Tampa Bay area has taken a big leap in attempting to get high-speed rail to the region, and he placed great hopes on the Florida Legislature conducting a special session on rail issues next month to show Washington that it means business about a a $2.5 billion federal stimulus request for high speed rail.
Nelson says Gulf drilling could curb military training
By William March
Tampa Tribune
Drilling for oil in the Gulf of Mexico could harm Florida's economy by interfering with military training and testing in the Gulf and cutting activity at Florida bases, Sen. Bill Nelson told the Tampa Chamber of Commerce on Monday.
Some locals lining up against drilling
By John Kennedy
News Service of Florida
Panhandle communities and Gulf Coast chambers of commerce are among the unlikely allies environmentalists and Democratic opponents of offshore oil exploration are gaining as they push to block House efforts to lift the state's 20-year-old drilling ban.
Buchanan remains a no on drilling
By Jeremy Wallace
Sarasota Herald-Tribune
Do not count Rep. Vern Buchanan among the politicians in Florida easing their opposition to oil drilling off the coast.
Senate to go slow on drilling
By Brent Batten
Naples News
The effort to bring oil exploration as close as three miles to Florida's beaches has encountered a speed bump.
Senate president calls for study of "complicated" drilling issue
By Bruce Ritchie
FloridaEnvironments.com
Senate President Jeff Atwater today announced that Senate committee staff would conduct a detailed and comprehensive review of the implications of offshore drilling with no timeline for completion.
Review of Florida oil drilling is the right thing to do
By David Plazas
Ft. Myers News-Press
Florida Senate President Jeff Atwater showed great foresight by calling for a review of several considerations before opening Gulf waters to oil drilling, thus, tempering the rush to extract fossil fuels in state waters.
Not so fast on drilling, Atwater says
Editorial
St. Petersburg Times
State Senate President Jeff Atwater is slowing down the oil rush in Tallahassee by insisting on gathering facts before putting the state's beaches and economic health at risk.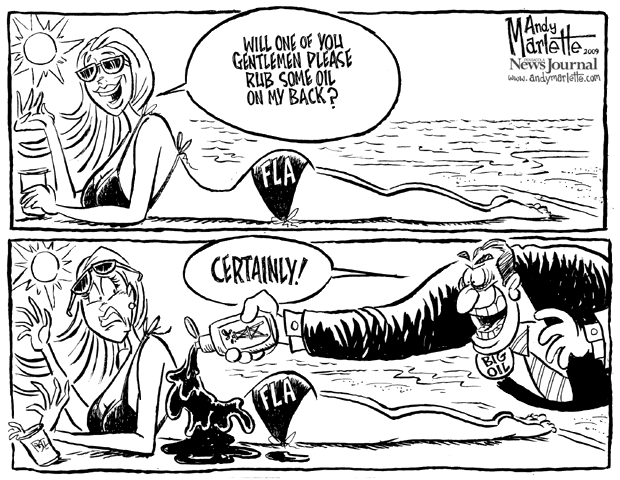 Editorial cartoon by Andy Marlette, Pensacola News Journal.

TAKE ACTION NOW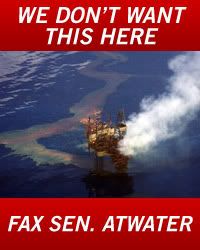 Click the picture above to urge Senate President Jeff Atwater to oppose state legislative efforts that would allow offshore oil drilling off Florida's coast.

LATEST ONLINE ACTIONS


Let us decide! Petition to Governor Charlie Crist, Senate President Jeff Atwater, and House Speaker Larry Cretul

, via Civic Concern.


Contact Your Officials About New Drilling Off Florida's Coasts

, via Civic Concern.


Ask your state legislators to keep the rigs out

, via Save the Manatee Club.
Related action:

Don't go drill crazy in the Everglades

, via Democracy in Action.
Related action:

Keep oil drilling out of climate change legislation

, via Oceana.

MORE ONLINE ACTIONS


Write a letter to the editor

, via Audubon of Florida.


Write your state legislators

, via Audubon of Florida.


Tell Sen. Atwater Not To Allow Oil Drilling In Special Session

, via Audubon of Florida.


Sign the petition against oil drilling

, via Protect Florida's Beaches.


Tell Salazar: No drilling off Florida's Coast

, via Environment Florida.


Tell new Senator LeMieux to Repower America
, via Environment Florida.

ADDITIONAL RESOURCES OF NOTE

Protect Florida's Beaches
, recently launched coalition website.
Protect Florida's Beaches
on Facebook.
Think, Baby, Think
blog via Protect Florida's Beaches.
Don't Drill Florida
website.
Don't Drill Florida
Facebook page.
Hands Across The Sand
website.
Environment Florida
offshore drilling page.
Skytruth blog
, an excellent source of info.
Not the Answer blog
, courtesy Surfrider Foundation.
EnergyFLA.com
, online hub of drilling proponents; their Twitter page is
here
.
MORE GREEN NEWS
PSC wants more time to work on conservation goals
By Mary Ellen Klas
St. Petersburg Times/Miami Herald Tallahassee Bureau
Signaling another shift in direction at the Public Service Commission, state utility regulators ordered their staff Tuesday to come up with "more robust" energy conservation goals that reward customers for using less energy.
Bringing the Developing World to America
By Glen Gardner
Public News Service Florida
They've traveled thousands of miles to carry the message to the Southeast and Midwest this week that what we do - and don't do - in places like Florida to reduce carbon pollution linked to climate change has consequences for people on the other side of the world.
Two Florida DEP heads join opposition to EPA standards
By Bruce Ritchie
FloridaEnvironments.com
Opponents of federal water quality standards for nutrients in Florida waterways raised their level of opposition today, unveiling a Web site and two former state environmental chiefs who are on their side.
Florida (gone?) Forever
Editorial
Miami Herald
Look out, Florida lawmakers, four former governors are conducting a full-court press to convince you to resume funding the state's farsighted land-conservation program, Florida Forever.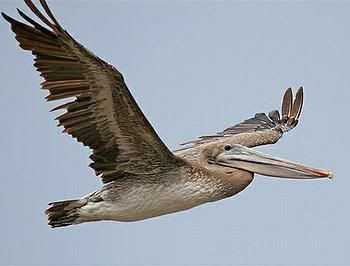 The Brown Pelican has soared off the endangered list.
Wildwood Preservation Society is a non-profit 501(c)(4) project of the Advocacy Consortium for the Common Good. Click here to learn more.


"it's all connected"