FEATURED STORIES

For Gov. Charlie Crist, it's not easy being green
By Craig Pittman
St. Petersburg Times
What happened to the man they once called "Governor Green"?

Florida coalition targets pending federal pollution rules
By Curtis Morgan
Miami Herald
After losing on the legal front, a powerful coalition of agriculture and business interests, wastewater utilities, water managers and tax watchdogs is mounting a lobbying assault on pending federal rules that could force Florida to clean up pollution fouling lakes, canals, streams and beaches statewide.

Manatee Deaths on Pace to Break Record
By Whitney Ray
Capitol News Service
2009 is on track to be the deadliest year for Florida manatees, with an estimated 4-hundred deaths so far.

Growth Rush of 2009
By David Catron and Jim Saunders
Daytona Beach News-Journal
Developers seek land-use approvals before Hometown Democracy goes to voters.

Florida planners face legislative scrutiny on growth
By Bruce Ritchie
FloridaEnvironments.com
State planners say it would take 268 years of population growth to use up the new home lots that already are allowed in Tallahassee and Leon County.

Fed rule halts red snapper fishing
By Jim Waymer
Florida Today
Come Jan. 4, better throw back that red snapper, at least in federal waters. Having one onboard will be illegal.

Florida ranks third in nation for coal power plant pollution (audio story)
By Sean Kinane
WMNF Community Radio Tampa
A new report released today lists Florida as the third worst state for power plant pollution.

Plentiful, green energy goes untapped in Florida
By Ken Kaye
South Florida Sun-Sentinel
The Sunshine State receives enough rays to power every home from Key West to Pensacola.

State admits violations, seeks more Everglades cleanup time
By Curtis Morgan
Miami Herald
Water managers and environmental regulators have acknowledged the state is in violation of a landmark legal agreement requiring Florida to halt the flow of polluted water into the Everglades.

Push to overbuild continues
Editorial
Palm Beach Post
Six months after the state turned from growth watchdog to lapdog, the fight over growth management in Florida continues.



Florida's iconic manatee. 400 of these gentle giants have died in 2009 alone, the deadliest year on record.

THE BIG OIL ROUNDUP




Faulty promises in bid to drill off Florida?
By Jeremy Wallace
Sarasota Herald-Tribune
Take action now: Write Your State Senator: Big Oil's Promises Are "Empty"
The oil industry makes its case for drilling within a few miles of Florida's coast by trumpeting a new kind of drilling that is "virtually invisible" on the coast.

Lobbyists pay out as oil issue heats up
By Paul Flemming
Gannett Florida Capital Bureau
Related: Some leery of the revenue promised by oil
Related: Energy industry political contributions database
Money makes things happen in this capital city. Consider Florida Energy Associates LLC, the entity behind the current push for drilling in Florida waters.

Drilling bill would likely pass House but not Senate
By Bill Cotterell
Gannett Florida Capital Bureau
Related: Lawmakers are wary of oily beaches
Related: Real prize could lie in waters controlled by US government
Related: Oil drilling: the players
The push for the Florida Legislature to approve near-shore Gulf Coast drilling in its 2010 session is like oil exploration itself — surveys and projections, expert opinions, test wells to take the political pulse and throwing around plenty of money in search of a gusher that ends in a positive vote.

Gulf of Mexico drilling proposal worries conservationists, tourism officials
By Jim Waymer
Gannett Newspapers
Related: Oil & Water: The debate over drilling in Florida
Related: Military bases could feel drilling's impact
Related: Where will they drill? ... and other questions
Related column: Why risk damaging tourism?
Oil spills kill fish, birds and tourist reservations.

New report says oil drilling will harm Florida coasts (includes audio)
By Lauren Martinez
WMNF Community Radio Tampa
The 3 to 10 miles the Florida Legislature controls off the state's coastline has caught the attention of oil lobbyists who want to remove the drilling ban.

Offshore oil drillers now looking at Florida's east coast
By Jim Waymer
Florida Today
Wildcat wells might one day spring up off the Space Coast.

Florida's move to drill could sway Congress
By Jim Ash
Pensacola News Journal
The immediate debate in the Legislature is about drilling in waters controlled by the state in the narrow band up to 10.3 miles from the coast.

St. Joe Company mum on offshore oil drilling
By Jim Ash
Ft. Myers News-Press
Northwest Florida, proud home of turquoise waters and sugar-sand beaches, has become ground zero in the fight against the Legislature's push for offshore drilling.

Lots of risk, no reward in drilling off the coast of Florida
By Carter Hall
TC Palm
The siren song of big oil is seductive and enticing. It promises many things for Floridians: cheaper gas, more gas, new jobs, help with Florida's budget problems and finally, safe technology with no spills.

Paradise lost to oil drilling
By Jonathan T. Baxter
Pensacola News Journal
I am a world traveler who, in a lighthearted way, has always said that if I find the perfect beach I would stop traveling.

Oil drilling momentum stuns Graham
By Jeremy Wallace
Sarasota Herald-Tribune
Former Florida Gov. Bob Graham is dismayed at how fast oil drilling advocates are gaining ground in their push to open the Gulf of Mexico to drilling.

Old Florida needs to let go of old ways
By Matthew Christ
Independent Alligator
The Gulf of Mexico may look calm from the porch I've perched myself on for the Thanksgiving holiday, but a contentious political storm is slowly brewing over efforts afoot in the Florida Legislature to repeal a ban on offshore drilling in the Gulf of Mexico.

Offshore drilling resolution passes
By Suzette Porter
Tampa Bay Weekly
Despite objections from one Largo resident, the Board of Pinellas County Commissioners approved, 6-1, on Nov. 17, a resolution opposing oil and gas drilling in Florida's waters.

Local elected officials urge opposition to drilling in gulf
By Sara Kennedy
Bradenton Herald
In an effort to counter proposals to allow oil and gas drilling as close as three miles from shore, Manatee County commissioners have written a letter opposing drilling in the Gulf of Mexico, officials said.

Southwest Florida's tourism industry OK with rigs, just not close to beach
By Laura Ruane
Ft. Myers News-Press
Southwest Florida's lifeblood tourism industry, which promotes itself as the "Beaches of Fort Myers & Sanibel," has mixed views about offshore drilling.

Florida's gulf drilling debate
Editorial
Northwest Florida Daily News
In a few months, the Florida Legislature will debate whether to allow drilling for oil and natural gas as close as three miles from Gulf Coast beaches.

It's just not worth it
Editorial
Pensacola News Journal
The News Journal Editorial Board has long opposed drilling within 100 miles of Gulf Coast beaches — even 150 miles, as proposed during congressional negotiations in 2006. Certainly not in state waters, within 10 miles of the coastline.

Atwater rejects rigged deck
Editorial
Palm Beach Post
Fortunately, one of the three people who could stop the oil rush in Florida has done so.

TAKE ACTION NOW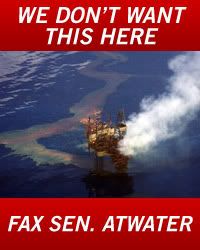 Click the picture above to urge Senate President Jeff Atwater to oppose state legislative efforts that would allow offshore oil drilling off Florida's coast.

LATEST ONLINE ACTIONS
Write Your State Senator: Big Oil's Promises Are "Empty", via Progress Florida.
Let us decide! Petition to Governor Charlie Crist, Senate President Jeff Atwater, and House Speaker Larry Cretul, via Civic Concern.
Contact Your Officials About New Drilling Off Florida's Coasts, via Civic Concern.

MORE ONLINE ACTIONS
Ask your state legislators to keep the rigs out, via Save the Manatee Club.
Write a letter to the editor, via Audubon of Florida.
Write your state legislators, via Audubon of Florida.
Tell Sen. Atwater Not To Allow Oil Drilling In Special Session, via Audubon of Florida.
Sign the petition against oil drilling, via Protect Florida's Beaches.
Tell Salazar: No drilling off Florida's Coast, via Environment Florida.
Tell new Senator LeMieux to Repower America, via Environment Florida.
Related action: Don't go drill crazy in the Everglades, via Center for Biological Diversity.
Related action: Keep oil drilling out of climate change legislation, via Oceana.

ADDITIONAL RESOURCES OF NOTE
Protect Florida's Beaches, recently launched coalition website.
Protect Florida's Beaches on Facebook.
Think, Baby, Think blog via Protect Florida's Beaches.
Don't Drill Florida website.
Don't Drill Florida Facebook page.
Hands Across The Sand website.
Environment Florida offshore drilling page.
Skytruth blog, an excellent source of info.
Not the Answer blog, courtesy Surfrider Foundation.
EnergyFLA.com, online hub of drilling proponents; their Twitter page is here.

MORE GREEN NEWS

Florida CFO Sink announces "paperless" initiative
By Bruce Ritchie
FloridaEnvironments.com
Florida CFO Alex Sink says her department's efforts to reduce the use of paper and printing have saved state taxpayers $1 million since 2007

It's time Florida adopts strong efficiency goals
By Cliff Thaell
Tallahassee Democrat
The Florida Public Service Commission took a step in the right direction when it rejected weak energy efficiency goals its staff had recommended for the state's largest power companies.

Neither utilities nor environmentalists happy with PSC goals
By Fred Hiers
Ocala Star-Banner
The Florida Public Service Commission's new 10-year energy conservation goals for the state's five investor-owned utility companies have garnered mixed reviews.

Florida delegation going to Copenhagen amid climate warnings
By Bruce Ritchie
FloridaEnvironments.com
A group of 25 business and government officials is going to the United Nations climate change conference in Denmark next week to push for green jobs for Florida.

Legislators hold hearing on Everglades Restoration
The Associated Press
Sarasota Herald-Tribune
A hearing has been scheduled to discuss Everglades restoration efforts in Homestead.

Our green lawns not worth loss of sea grass beds in gulf
By Dan DeWitt
St. Petersburg Times
The Weeki Wachee River, with that spectacularly clear water and white-sand bed, is the star, the glamor-puss.

Florida wildlife officials seeking Burmese python hunters for Everglades
By Curtis Morgan
Miami Herald
The python patrol will be back next year.

DEP delays sewage sludge action after business complains
By Bruce Ritchie
FloridaEnvironments.com
Related: Florida commission considers sewage sludge rule changes
The Florida Department of Environmental Protection today delayed action on proposed stricter rules over the land disposal of sewage sludge after one disposal company said the changes could cost it more than $1,000 per day.

Argenziano takes helm of Public Service Commission
By Mary Ellen Klas
St. Petersburg Times/Miami Herald Tallahassee Bureau
Despite outside efforts to derail her appointment as the next Public Service Commission chairwoman, Nancy Argenziano won unanimous approval Tuesday to lead the utility authority for a two-year appointment beginning in January.

Fla. PSC approves renewable energy contracts
The Associated Press
Ocala Star Banner
The Public Service Commission has approved two biomass renewable energy contracts for Progress Energy Florida.

Boss: FPL's image has suffered
By Mary Ellen Klas
Miami Herald/St. Petersburg Times Tallahassee Bureau
Florida Power & Light chief Armando Olivera said Thursday that he was embarrassed to learn earlier this year that his top officials sent personal Blackberry messages and socialized with staff at the Public Service Commission, tarnishing the company's image as it awaits a ruling on its $1.3 billion rate increase request.

State considers protection for lemon sharks
By David Fleshler
South Florida Sun-Sentinel
They are the lords of the reefs, powerful 10-foot sharks that prowl shallow coastal waters, snatching stingrays, crabs and mullet.

Protecting consumers
Editorial
Florida Today
Turns out, it's perfectly legal for Florida's Public Service Commission to cozy up to the utilities the agency regulates, including by communicating off-the-record while critical debates about possible rate hikes are under way.

Springs cleaning
Editorial
Tallahassee Democrat
How can they protect the extraordinary resources of Wakulla Springs and also be fair to homeowners in the region whose dated septic tanks may be in need of replacing for the ecological well-being of one of the world's largest fresh-water springs and, in turn, the Floridan Aquifer.

Toward clean water
Editorial
St. Petersburg Times
A federal judge was right to step in last week and clear the way for the U.S. Environmental Protection Agency to establish limits on pollution in Florida's lakes, rivers and bays.

Slithering toward crisis
Editorial
Orlando Sentinel
A new government report offers chilling evidence that much of Florida could become ground zero for a fresh invasion by huge constrictor snakes.



Editorial cartoon by Ed Beattie, Daytona Beach News-Journal.


Wildwood Preservation Society is a non-profit 501(c)(4) project of the Advocacy Consortium for the Common Good. Click here to learn more.


"it's all connected"