FEATURED STORIES
Bill to Ease Rules on Development Divides Floridians
By Damien Cave
New York Times
More than 300,000 residential units sit empty across Florida, 64,588 properties were in foreclosure last month, second only to Nevada, and real estate prices are still plummeting.
Governor's office mistaken, Crist won't sign bill to lift growth management limits
The Associated Press
Gainesville Sun
Related:
Crist to sign Fla. growth bill Thursday
An announcement by Gov. Charlie Crist's office that he would sign a contentious bill to lift some growth management limits was a mistake.
Bring on the traffic jams
By Joel Engelhardt
Palm Beach Post
Here is a unique way to think about the bill that would gut the state's growth management laws: If mass transit ever is going to work in Florida, the state needs traffic congestion.
Florida's renewable energy efforts have gone nowhere
By John Dorschner
Miami Herald
For a year, while the green movement was at its height, Florida environmentalists, new solar companies, utility lobbyists and state regulators spent thousands of hours trying to determine how much of the state's power supply should come from renewable energy sources like solar and wind.
How gulf coast's wetlands mitigate the force of a hurricane
By Craig Pittman
St. Petersburg Times
Seven years ago, a coalition of Louisiana groups launched a save-our-coast campaign called "America's Wetland" with sponsors that ranged from the NFL's New Orleans Saints to the company that makes Tabasco sauce.
Mulch's dirty little secret
By Craig Chandler
Tampa Tribune
Organic mulch is certainly helpful in the home landscape; it suppresses weeds and helps soil retain moisture. But our gain can be a loss for the overall environment.
As numbers grow, so will controversies
By Bo Petersen
Charleston Post and Courier
For two years, microphones in the icy North Atlantic off Greenland have picked up something nobody expected to hear — the deep mooing of the nearly extinct right whale.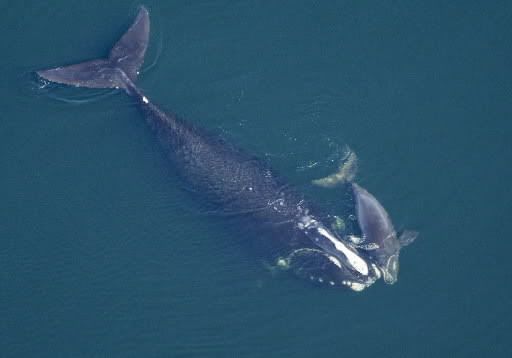 Endangered right whale and calf

MORE GREEN NEWS
Florida's Louisiana Purchase
By Eric Buermann
St. Petersburg Times
Everglades restoration has been a priority at the South Florida Water Management District for more than a decade.
Planning chief says "speculative" development requests filed
By Bruce Ritchie
FloridaEnvironments.com
The head of Florida's land-planning agency said today the state is being kept busy with speculative development proposals because of concerns about a proposed ballot initiative to require voter approval of local land-use plan changes.
Budget leaves little for land-buying
By Dinah Voyles Pulver and Jim Saunders
Daytona Beach News-Journal
As a new budget reality settles in at the state Capitol, environmental advocates wonder what the future holds for land preservation in Florida.
Activist drops lawsuit over Brooker Creek Preserve
By Mike Brassfield
St. Petersburg Times
Mathew Poling, a 19-year-old who sued Pinellas County to try to stop it from building water treatment plants in the Brooker Creek Preserve, has dropped his lawsuit.
Obama vehicle announcement likely ends Fla. debate
By Bruce Ritchie
FloridaEnvironments.com
President Obama's proposal today for a new fuel-economy standard probably ends the debate over whether Florida should adopt California's more stringent standard -- if the Florida Legislature hasn't already killed the issue here.
FEMA's Craig Fugate stresses hurricane preparedness
By Lesley Clark
Miami Herald
Two weeks before the start of hurricane season, Florida's Craig Fugate made his debut as Federal Emergency Management Agency administrator, stressing the importance of disaster preparedness at home.
Water Wars
By Mike Vasilinda
Capitol News Service
A legal battle over water that began in 1990 is closer to ending.
Offshore gas rig in Gulf: Will it silence skeptics of drilling?
Kevin Spear
Orlando Sentinel
One huge symbol of the nation's struggle with global warming is a roaring cube of steel that floats in the Gulf of Mexico south of Florida's Panhandle.
As growth dwindles, can FPL persuade Florida to bet on alternative sources of power?
By Eve Samples
Palm Beach Post
The last time Florida Power & Light Co. built a power plant from scratch at a brand-new site, the country was reeling from an energy crisis.
Hay: FPL will go ahead with applications to build 2 nuke plants at Turkey Point
By Eve Samples
Palm Beach Post
Though nuclear power is not drawing strong support from the new administration in Washington, FPL Group Inc. still hopes to build nuclear plants in the coming years, the company's top executive said Friday.
Floridians need more say in development decisions
By Ron Littlepage
Florida Times-Union
I haven't been a fan of Florida Hometown Democracy, but that's changing.
Crist signs bill giving energy-saving rebates
By Hilary Lehman
The Associated Press
Florida will begin offering rebates on energy-efficient appliances in an environmentally friendly attempt to boost sales under a bill signed into law Monday.
Florida roads rank 3rd in the nation, report says
The Associated Press
South Florida Sun-Sentinel
A new national study says Florida's roads are better than most states.
Everglades invaders targeted
By Lesley Clark and Curtis Morgan
Miami Herald
Water managers dispatched two experts to Washington, D.C., recently to back a controversial congressional bill targeting an Everglades problem that seems to get bigger every year.
Bill would give power over wetlands and water permits to one board
By Craig Pittman
St. Petersburg Times
A bill that would make it easier to rip out thirsty sod and put in landscaping that needs less water and fertilizer might seem like something the state's environmental groups would cheer.
Lawmaker fears bill would have negative effect on growth planning
By Will Brown
Tallahassee Democrat
All the talk of reduced concurrency fees in the city of Tallahassee may change if Senate Bill 360 becomes law.
In Legislature, college 'green fees' fizzled
By Zac Anderson
Sarasota Herald-Tribune
Florida legislators raised fees on just about everything this year -- fishing, driving, divorcing, even dying -- but the one fee that seemed to have wide support never made it to a final vote.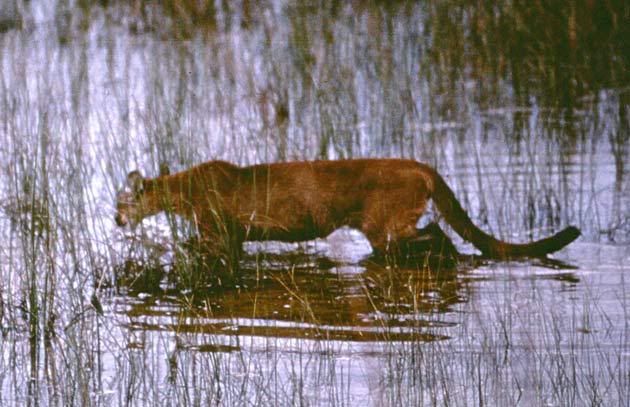 Critically endangered Florida panther
Wildwood Preservation Society is a non-profit 501(c)(4) project of the Advocacy Consortium for the Common Good. Click here to learn more.


"it's all connected"