FEATURED STORIES

Groups call for growth bill veto
By Bruce Ritchie
FloridaEnvironments.com
Related St. Petersburg Times editorial: Enough of this
Related Palm Beach Post editorial: Growth management bill a disaster
Action Alert from Audubon of Florida: Urge Governor Charlie Crist to Veto SB 360
Environmental groups are calling on Gov. Charlie Crist to veto SB 360, a growth management bill that critics say will weaken state oversight of new development projects.

Sorting Through the Wreckage in Tallahassee
Advocate Newsletter
Audubon of Florida
Today the Legislature finally concludes work on the 2009-10 state budget.

Florida's warm-up drill
Editorial
Sarasota Herald-Tribune
Follow-up editorial: The impact of drilling
Proponents of a recent plan to allow oil drilling off Florida's coast came far too close -- in more ways than one.

Manatees in the Midst
By Nick Jans
Defenders Magazine
Are Florida's iconic and endangered marine mammals truly on the rebound?

Endangered Species Day Educates for Protection
Press Release
Environmental News Service
America celebrates Endangered Species Day today and all this weekend at parks, zoos, aquariums, botanical gardens, museums, libraries and schools.

Green Cities: The Best Investment to Grow Business, Save Money and Enhance Community!
May 19-21 Orlando Conference Info
Green Cities Florida
Florida stands on the cusp of a tremendous emergence in clean technology, water conservation, green building, innovative business growth and wise land use planning.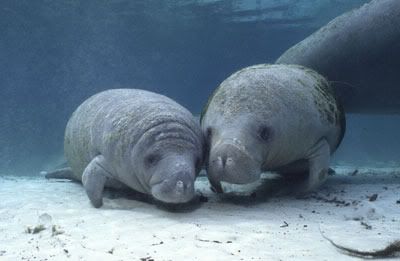 Endangered manatees

MORE GREEN NEWS

Alabama, Florida and Georgia face off over water
The Associated Press
Tampa Tribune
The states of Florida and Alabama are meeting Georgia in federal court in Jacksonville over the allocation of water from Lake Lanier, which is the city of Atlanta's water supply.

Worsening drought leads to second-guessing water decisions
By Andy Reid
South Florida Sun-Sentinel
Like wildfires flaring up in the Everglades, worsening drought conditions Thursday sparked South Florida water fights over new restrictions as well as how to divvy up strained backup supplies.

Gov. Crist declares wildfire state of emergency
The Associated Press
South Florida Sun-Sentinel
Gov. Charlie Crist has declared a state of emergency and has put the Florida National Guard on alert to help forestry officials deal with a wildfire threat across the state.

New emergency manager: Florida must prepare for hurricane season
By Charles Elmore
Palm Beach Post
Ruben Almaguer wants to stop calling the people who make it through hurricanes "victims."

Climate Change Could Affect Inland Fla.
By Tom Palmer
Lakeland Ledger
When you think of the danger of sea level rise caused by climate change in Florida, you usually don't think of its having any effect this far inland.

Clear UDB message: Don't move it
Editorial
Miami Herald
Even though his split-the-baby decision allowed one project outside the Urban Development Boundary to go forward, administrative law Judge Bram D.E. Canter basically sided with the majority of stakeholders in the ongoing battle to manage growth in Miami-Dade County.

Environmentalists find bright spots in gloomy session
By Bruce Ritchie
FloridaEnvironments.com
In a legislative session marked by major environmental losses, environmentalists say there were a few bright spots among the bills that passed.

Cabinet approves $1.3M purchase for Fla. Forever
By Paul Flemming
Tallahassee Democrat
Florida's Cabinet on Wednesday approved the $1.3 million purchase of 575 acres in the Blackwater River State Forest as part of an ongoing Florida Forever project.

Yacht owner fined $150,000 for smuggled exotic animal pelts
By Jose Pagliery
Miami Herald
Inside the $26 million yacht: a striped pelt of zebra lined a child's bed, heavy cigar boxes were wrapped in elephant hide and large carved ivory tusks lined the entrance to main quarters.

Jacksonville man charged in bear killing
The Associated Press
Miami Herald
A Jacksonville man has been charged with killing a Florida black bear in the Osceola National Forest.

U.S. Sugar OK's land sale for Everglades restoration
By Paul Quinlan
Palm Beach Post
The board of U.S. Sugar Corp. voted Friday in favor of Gov. Charlie Crist's latest proposal to buy much of its farmland for use in Everglades restoration.

Water managers approve historic $536 million land buy for Everglades restoration
By Paul Quinlan
Palm Beach Post
South Florida water managers today approved Gov. Charlie Crist's twice-downsized but still monumental deal to buy farmland from the U.S. Sugar Corp. for future use in Everglades restoration.



The River of Grass

Wildwood Preservation Society is a non-profit 501(c)(4) project of the Advocacy Consortium for the Common Good. Click here to learn more.


"it's all connected"