FEATURED STORIES
Crist budget includes land-buying, Everglades restoration
By Bruce Ritchie
FloridaEnvironments.com
Related: Gov. candidates warm on land-buying, but not House speaker
Gov. Charlie Crist today included $50 million for the Florida Forever land-buying program and $50 million for Everglades restoration in a $2.1-billion fiscal year 2010-11 environmental budget request.
Land-buying falls short in House committee
By Bruce Ritchie
FloridaEnvironments.com
Florida's conservation land-buying program was not included among 38 priorities identified by members of a House panel.
Miami Herald
Environmentalists spent eight years in court arguing that federal regulators should never have approved plans to blast and dredge limestone from 5,600 acres of Northwest Miami-Dade wetlands bordering a well field supplying drinking water to more than 1 million people.
Rock Mines threaten Everglades Restoration Plans (includes audio)
By Joshua Lee Holton
WMNF Community Radio Tampa
Related:
Rock Mining: An economic asset, or environmental hazard?
Limestone rock mining in Florida provides critical components for housing and highway construction. But environmentalists have some concrete concerns as rock mining impacts the Florida Aquifers and Everglades restoration.
State backs down, won't ban throwaway bags
By Kevin Spear
Orlando Sentinel
No problem. That regular greeting at checkout counters doesn't look to go extinct in Florida's grocery and retail stores anytime soon after all.
FL Winter: "Expect the Unexpected" from Global Warming
By Gina Presson
Public News Service Florida
Record-breaking cold and frost in Miami, sinkholes caused by farmers watering crops to protect them from freezing in Central Florida, and extensive flooding near Tallahassee
EPA Forces Numeric Limits on Florida Polluters
By Gina Presson
Public News Service Florida
In what is being touted as a landmark decision, the Environmental Protection Agency has set numeric limits on the amount of sewage, animal manure and fertilizer pollution that can be dumped into Florida waters.
Brace for an ad blitz over Florida growth amendment
By Aaron Deslatte
Orlando Sentinel
Get ready for a Super Bowl-like showcase of corporate-sponsored political advertising in the fall elections.
Senators hear plight of Wakulla Springs
By Bruce Ritchie
FloridaEnvironments.com
Eight Florida senators today heard from Wakulla Springs State Park supporters about their efforts to fight increasing nitrogen levels that have caused the springs to become choked with weeds and algae.
Cold contributes to mass die-off of manatees
By Paul Quinlan
Palm Beach Post
The New Year's cold snap devastated the state's manatee population, with more than 100 carcasses showing up in state waters in the first three weeks of 2010, state wildlife officials said.
Record Cold Temps Keep Manatees Huddled at Warm Water Refuges
Save the Manatee Club
At the beginning of the year, the weather turned cold in Florida, — brr! — resulting in freezing temperatures at night and during the early morning hours.
St. Johns challenge: Fix wetlands but respect graves
By Kevin Spear
Orlando Sentinel
Local tribes began burying their dead along this part of the St. Johns River about 7,000 years ago, and for several millennia left behind animal bones, clam shells, broken pottery, tools and arrowheads.
Will federal pollution rules wash out local water plans?
By Kevin Spear
Orlando Sentinel
The perilous road to the state's water future swerves through Central Florida this week when separate groups look to unify the region to share water, clean up iconic Wekiwa Springs and draft a far-reaching water bill for this year's Legislature.
Getting It Right for Florida's Right Whales
By Glen Gardner
Public News Service Florida
A coalition of conservation groups wants the U.S. Navy to do the "right thing" for the right whales.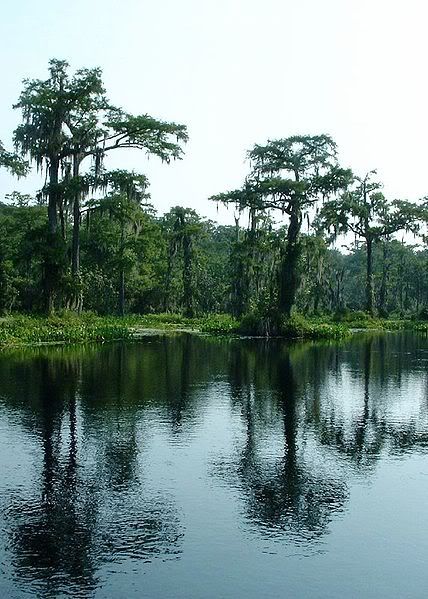 Wakulla Springs as it empties into the Wakulla River.
THE BIG OIL ROUNDUP
The Big Oil roundup: news and information about Big Oil's push to rig Florida's coastline for the period ending 2-5-10:
Save the Date: Hands Across the Sand Happens on February 13th, 2010
The Audubon of Florida Advocate
More info at
HandsAcrosstheSand.org
.
Thousands of Floridians from all walks of life will gather on beaches from Pensacola to Key West and Miami to Jacksonville Feb. 13, 2010, in a statewide coastal protest against legislative proposals to open Florida's waters to offshore oil drilling.
Candidates for governor agree offshore oil drilling a threat
By Bill Cotterell
Florida Today
Competing candidates for governor agreed today that proposed offshore oil drilling is a threat to Florida's beaches but took sharply differing positions on national health care.
Florida CFO Alex Sink opposed to offshore drilling
By Abel Harding
Florida Times-Union
Sink says the biggest question surrounding the offshore drilling debate is knowing who is actually behind it.
Gov. candidates cold toward drilling -- but not Crist, Rubio
By Bruce Ritchie
FloridaEnvironments.com
The three major candidates for governor on Wednesday largely rejected the idea of allowing drilling off Florida's Gulf coast during remarks at the 2010 Associated Press Legislative Planning Session at the Capitol.
Candidates Cold to Near-Shore Drilling
By Lloyd Dunkelberger
Lakeland Ledger
Although they may differ on other issues, Florida's top three contenders for governor appear united in their skepticism over plans to bring oil drilling rigs close to the state's beaches.
McCollum says oil drilling could 'terrorize our beaches'
By Mary Ellen Klas
Miami Herald
Attorney General Bill McCollum told reporters that oil drilling three to 10 miles out "is very close,'' could interfere with the tourism economy, "It would just completely terrorize our beaches.….That's a risk I would not be willing to take.''
Researchers warn of drilling dangers at symposium
By Jim Ash
Tallahassee Democrat
Seismic testing associated with offshore oil and gas drilling could harm Florida's $6 billion commercial and recreational fishing industry, a Florida State University researcher warned on Monday.
Understanding of Gulf ecology lacking in drilling debate
By Bruce Ritchie
FloridaEnvironments.com
Scientists' lack of understanding about the complex relationships between marine organisms should be considered in the debate about oil drilling in the Gulf of Mexico, Florida State University researchers said today.
Cannon says oil lobby group's funding unimportant
By Bruce Ritchie
FloridaEnvironments.com
Rep. Dean Cannon, chairman of a House council that is holding hearings on whether to allow oil drilling within 10 miles of Florida's Gulf coast, said today that he isn't interested in who's behind the firm that's been pushing for drilling legislation.
Sub-sea drilling technology shown to House
By Bruce Ritchie
FloridaEnvironments.com
Members of a House panel today were told that oil and gas production platforms built more than 13 miles offshore would not be visible from the coast.
Offshore drilling could hurt military operations in Florida, group says
By Judson Parker
Tallahassee Environmental News Examiner
The risk offshore drilling poses to Eglin Air Force Base Ranges is real enough to warrant careful consideration. When that risk is paired with the meager reward that exists off Florida's shores, the idea of even potentially impairing military exercises in the Gulf becomes completely unthinkable
Offshore drilling resolution delayed again
By Drew Harwell
St. Petersburg Times
City commissioners Thursday night discussed for the second time their position on offshore drilling in the Gulf of Mexico, a proposal opposed last year by nearly every coastal city across Tampa Bay.
Crews try to protect wildlife from Texas oil spill
By Schuyler Dixon
The Associated Press
Crews worked Sunday to protect two sensitive wildlife areas after a crude oil spill shut down parts of a major southeast Texas port, state Land Commissioner Jerry Patterson said.
Oil drilling: Protect state's beaches, economy
By Sarah Owen Gledhill
Florida Times-Union
Florida's beaches and coastlines define and unite us as Floridians. They are what brought us here and they are what keep us here.
Oil drilling bill must balance our interests
Editorial
Ft. Myers News-Press
Legislators have been moving forward with hearings on the costs and benefits of lifting the 20-year-old ban on oil drilling off Florida's coast and a bill could be filed this year.
Big Oil's idea of job creation?
TAKE ACTION NOW
Write Your State Senator: Big Oil's Promises Are "Empty"
Big Oil and their hired hands in Tallahassee have sworn that drilling Florida's coast would be "invisible" – that there would be no unsightly rigs just a few miles off our coast. We know different – and a recent eye opening story in the
Sarasota Herald-Tribune
has proven Big Oil's promises completely "empty." Click the picture above – keeping the pressure on by letting our State Senators know people like you are paying attention is how we'll beat Big Oil.
MORE ONLINE ACTIONS
Tell Obama: Offshore Drilling is NOT the Answer to Energy Crisis, via Oceana.
Help Drill for Solutions Not for Oil
, via
Southern Alliance for Clean Energy
.
Let us decide! Petition to Governor Charlie Crist, Senate President Jeff Atwater, and House Speaker Larry Cretul, via Civic Concern.
Contact Your Officials About New Drilling Off Florida's Coasts
, via
Civic Concern
.
Ask your state legislators to keep the rigs out, via Save the Manatee Club.
Write a letter to the editor
, via
Audubon of Florida
.
Write your state legislators, via Audubon of Florida.
Urge Senate President Jeff Atwater to oppose offshore oil drilling
, via
Progress Florida
.
Tell Sen. Atwater Not To Allow Oil Drilling In Special Session, via Audubon of Florida.
Sign the petition against oil drilling
, via
Protect Florida's Beaches
.
Tell Salazar: No drilling off Florida's Coast, via Environment Florida.
Tell new Senator LeMieux to Repower America
, via
Environment Florida
.\
Related action: Don't go drill crazy in the Everglades, via Center for Biological Diversity.
Related action
:
Keep oil drilling out of climate change legislation
, via
Oceana
.
ADDITIONAL RESOURCES OF NOTE
Hands Across The Sand
website; their Twitter page is
here
.
Protect Florida's Beaches, recently launched coalition website.
Protect Florida's Beaches
on Facebook.
Think, Baby, Think blog via Protect Florida's Beaches.
Don't Drill Florida
website.
Don't Drill Florida Facebook page.
Save Our Shores Florida
website; their
Twitter
page is here.
Save Our Shores Florida Facebook page.
Environment Florida
offshore drilling page.
Southern Alliance for Clean Energy offshore drilling page.
Skytruth blog
, an excellent source of info.
Not the Answer blog, courtesy Surfrider Foundation.
Eye-opening map
of oil and gas leases and infrastructure in Gulf of Mexico, via MMS.
EnergyFLA.com, online hub of drilling proponents; their Twitter page is here.
MORE GREEN NEWS
Manatee count much larger this year
By Victoria Phillips
Gainesville Sun
As January's temperatures continue to drop, there is one thing steadily on the rise - the number of manatees in warm waters.
Canal work begins in Everglades project
By Curtis Morgan
Miami Herald
Water managers and environmentalists Tuesday celebrated breaking ground on a $30 million overhaul of a canal cut across the southern Everglades in the 1960s -- the third Everglades restoration project to begin this year.
Land bank for Florida panthers could be worth millions to family
By Craig Pittman
St. Petersburg Times
Last month a South Florida family announced it was setting aside 4,000 acres of ranch land for saving the Florida panther, making headlines across the state.
Bennett says DCA won't be eliminated "on my watch"
By Bruce Ritchie
FloridaEnvironments.com
Sen. Mike Bennett, R-Bradenton, today said elimination of the Florida Department of Community Affairs "is not going to happen on my watch."
During record cold, farmers used 1 billion gallons of water daily, causing 85 sinkholes
By Craig Pittman
St. Petersburg Times
Farmers in Hillsborough and Polk counties pumped nearly 1 billion gallons of water a day out of the aquifer during the 11-day cold snap this month, causing 85 sinkholes in the region and about 700 complaints of dried-up or damaged residential wells, according to figures released Tuesday by the Southwest Florida Water Management District.
Right whale sightings wow Flagler beachgoers
By Dinah Voyles Pulver
Daytona Beach News-Journal
A pod of at least a half-dozen North Atlantic right whales frolicking in the Atlantic Ocean on Friday delighted people along the shore in Flagler County.
DEP questions proposed federal water standards
By Bruce Ritchie
FloridaEnvironments.com
Some healthy streams and preserved streams in state parks and forests apparently won't meet new federal criteria for nitrogen and phosphorus, according to the Florida Department of Environmental Protection.
Water coalition to EPA: Provide data, or extend deadline
By Bruce Ritchie
FloridaEnvironments.com
A coalition of industry groups, utilities and other regulated interests is calling on the U.S. Environmental Protection Agency to provide the detailed science behind its proposed phosphorus and nitrogen limits for Florida lakes, springs and rivers.
Panel issues growth recommendations, struggles for money
By Bruce Ritchie
FloridaEnvironments.com
A state panel created by the Legislature to make recommendations on growth management and quality of life issues has produced its fourth annual report while it struggles with lack of state funding.
Crystal River nuclear plant to be repaired by midyear, Progress Energy says
By Richard Danielson
St. Petersburg Times
Repairs to a cracked reactor building containment wall could keep the Crystal River nuclear plant off line until midyear, Progress Energy says.
Florida Supreme Court to hear case over U.S. Sugar land deal
By Curtis Morgan
Miami Herald
Even before its justices rule, the Florida Supreme Court has erected a potential legal hurdle to Gov. Charlie Crist's $536 million land deal with the U.S. Sugar Corp.
Area in Everglades Park closed to protect nesting birds
Staff Report
Miami Herald
Everglades National Park closed Paurotis Pond and the nearby area beyond the parking to protect the endangered Wood Stork and other nesting birds.
Florida Senate panel OK's PSC ethics bill
By Mary Ellen Klas
Miami Herald/St. Petersburg Times Tallahassee Bureau
A Florida Senate committee unanimously approved a bill Tuesday that would tighten the ethics requirements on the Public Service Commission, but the measure was immediately criticized as too soft on the companies the commission regulates.
Judge recommends issuing International Paper permit
By Bruce Ritchie
FloridaEnvironments.com
A state hearing officer late Wednesday issued a recommended order favoring International Paper and the Florida Department of Environmental Protection in a challenge to DEP's proposed permit for the company's paper mill near Contanment in Escambia County.
State-ordered FPL refund in year's first bills may ease heating costs' sting
By Jim Turner
TC Palm
All that extra electricity needed from Florida Power & Light to heat you through the brisk first part of January could have saved you a few dollars.
EPA to step up NO2 monitoring in Florida
By Bruce Ritchie
FloridaEnvironements.com
The U.S. Environmental Protection Agency on Monday established a new hourly nitrogen dioxide standard and proposed additional monitoring requirements for the pollutant.
Public Service Commission chooses director
By Mary Ellen Klas
Miami Herald
The Florida Public Service Commission on Monday named Tim Devlin, 58, to be its new executive director and steer the agency into an era of reform.
Growth amendment scares growth vision leaders
By Tom Palmer
Lakeland Ledger
Polk County commissioners have been involved in some of the regional planning ventures, most of them controlled by various chambers of commerce.
Crist Seeking $2.1 Billion for the 2010 Environmental Budget
By Michael Peltier
Lakeland Ledger via News Service of Florida
Unveiling the first in a series of disclosures, Gov. Charlie Crist outlined a $2.1 billion environmental budget request for 2010 that includes $50 million each for scaled back Florida Forever and Everglades restoration programs.
Private land to be set aside for panthers
The Associated Press
Palm Beach Post
U.S. Fish and Wildlife Service has approved the conservation of a 4,000-acre chunk of private land for Florida panther habitat.
Will longleaf pines help economy and environment in warmer future? (audio story)
By Sean Kinane
WMNF Community Radio Tampa
A new report from the National Wildlife Federation finds that a common Florida tree holds ecological and economic promise in a warmer future.
Counterpunch
It was a gamble what time to leave Coral Gables. I would either make the meeting on the other side of the state or waste the day missing it.
Crist pushes to restore funding for Florida Forever
By Betty Parker
Tallahassee Democrat
With mangrove-shaded waterways as a backdrop and plenty of bright sun overhead, Gov. Charlie Crist used the opening of new visitor facilities at Rookery Bay National Estuarine Research Preserve on Friday to announce his push for new environmental funding in next year's state budget.
Governor proposes reviving land-buying fund in Florida environmental budget
By Paul Quinlan
Palm Beach Post
Gov. Charlie Crist has proposed a relatively modest $2.1 billion environmental budget for 2010 that drew a tepid response from environmentalists for all but one component: the resurrection of Florida Forever.
Crist: Land-buying is an investment in economy
By Bruce Ritchie
FloridaEnvironments.com
Gov. Charlie Crist today paired environmental spending with education as both being necessary investments for moving Florida forward in tough economic times.
Judge rules against Rivers Coalition on Lake Okeechobee discharges
By Tyler Treadway
TC Palm
A federal court judge ruled Friday that the Rivers Coalition did not prove its case seeking to force the U.S. Army Corps of Engineers to stop discharges from Lake Okeechobee into the St. Lucie Estuary.
Wildlife safety concerns could boost costs of Everglades reservoirs
By Andy Reid
South Florida Sun-Sentinel
Reservoirs planned to help restore the Everglades might need costly redesigns to avoid trapping and killing wildlife drawn to the vast pools of water.
FP&L customers to see net 99-cent rate reduction
The Associated Press
Tampa Tribune
The net price of power is going down for Florida Power & Light customers.
PSC questions FPL's choice of words after rate case
By Mary Ellen Klas
St. Petersburg Times/Miami Herald Tallahassee Bureau
Did Florida Power & Light mislead state regulators when it announced Jan. 13 that it would be forced to suspend projects because it didn't win a 30 percent rate increase?
Refuge offers bird, wildlife tours
By Francesca Donlan
Ft. Myers News-Press
One of the best things about living in Southwest Florida is bird watching.
2010 PCEC Rally for the Rivers is Feb. 12-14
Event Schedule
Putnam County Environmental Council
Activists and interested citizens dream of consolidated efforts to accomplish shared goals and that's what you get at PCEC's three-day Rally for the Rivers.
Florida springs rally slated for Capitol for Feb. 16
By Bruce Ritchie
FloridaEnvironments.com
A rally for Florida springs protection to be held at the Capitol on Feb. 16, the Florida Wildlife Federation announced Monday.
Everglades dollars make jobs, aid nature
Editorial
St. Petersburg Times
Nearly half a billion dollars is flowing through the Florida economy like fresh rain on saw grass, with long-overdue federal funds reviving efforts to restore the Everglades.
Water Conservation: Good Politics - Save Water
Editorial
Lakeland Ledger
As 2010 moves along, Floridians can expect the campaigns for state offices to begin heating up.
Gainesville Sun
Gov. Charlie Crist's "green agenda" for the upcoming legislative session is a relatively modest one, but it recognizes the value of investing in Florida's preservation and in clean energy-generated jobs.
Land deal is a loser for Florida panther
Editorial
St. Petersburg Times
In theory, the way the U.S. Fish and Wildlife Service preserved 4,000 acres of raw land east of Fort Myers for the endangered Florida panther seems reasonable.
Critically endangered North Atlantic Right Whale.
Wildwood Preservation Society is a non-profit 501(c)(4) project of the Advocacy Consortium for the Common Good. Click here to learn more.
"it's all connected"