FEATURED STORIES

EPA to provide pollution limits for Florida waters
By John Frank
St. Petersburg Times/Miami Herald Tallahassee Bureau
In a move cheered by environmental groups, the federal government Friday proposed stringent limits on "nutrient" pollution allowed to foul Florida's waterways.

New EPA water rules worth every penny
Editorial
Miami Herald
Few things are more deadly to a healthy watery ecosystem than algae, much of which comes from nutrients in fertilizers and pollutants that wash from the land into waterways during rainstorms.

Rising Tide: Sea-level rise affects the Keys now
By George Neugent
South Florida Sun-Sentinel
Let me start by saying that I'm not trying to take a Chicken Little approach by saying the sky is falling.

Record number of manatees counted
By Curtis Morgan
Miami Herald
An annual aerial survey recorded a record high number of endangered manatees this year — 5,067.

DEP warns that Florida springs are being degraded
By Bruce Ritchie
FloridaEnvironments.com
A Florida Department of Environmental Protection official on Wednesday warned a Senate panel that waiting to protect Florida's springs could cost more in the long run.

Cold killed record number of sea turtles
By Kate Spinner
Sarasota Herald-Tribune
Volunteers, state biologists and conservation groups across Florida mounted an unprecedented rescue effort to save most of the 5,000 endangered sea turtles found near death during this month's cold snap.

Statewide turtle rescue hits historic proportions
By Dinah Voyles Pulver
Daytona Beach News-Journal
Hundreds more endangered green sea turtles were plucked from the frigid waters of the Indian River Lagoon on Tuesday and delivered to temporary turtle hospitals statewide during what could be the largest turtle rescue in history.

Florida's least wanted: invasive plants
By Craig Pittman
St. Petersburg Times
Some of them, like fire ants and water hyacinths, have been around so long they seem like a natural part of the landscape.

Federal stimulus money injects new life into Everglades restoration
By Craig Pittman
St. Petersburg Times
The multibillion-dollar Everglades restoration program, which for 10 years has moved with the speed of a tortoise with a broken leg, suddenly turned into a jackrabbit over the past two months.

Hundreds of risky fuel tanks go unrepaired despite state deadline
David DeCamp
St. Petersburg Times
Despite 19 years notice, hundreds of gas stations, governments and businesses failed to upgrade risky fuel storage tanks before a New Year's deadline.

State planners enforcing climate, energy requirements
By Bruce Ritchie
FloridaEnvironments.com
State planners increasingly are requiring cities and counties to show that proposed new developments include features to reduce greenhouse gas emissions from motor vehicles, a Department of Community Affairs official said today.

Giving voters the say on development plans
By Tom Lyons
Sarasota Herald-Tribune
Related: Manatee's McClash favors amendment
As amendment titles go, "Hometown Democracy" is the apple pie kind that usually makes me suspicious.

Stimulus funds help Red Hills ecosystem
By Dave Hodges
Tallahassee Democrat
Federal stimulus dollars have found their way to Tallahassee yet again with the start of an environmental project designed to improve pine forest habitat for endangered species living in the Red Hills region.

House panel considers Florida Forever funding
By Bruce Ritchie
FloridaEnvironments.com
A House committee's budget exercise includes proposed new money for Florida Forever but the land-buying program may still face an uphill battle to get funded for the 2010-11 fiscal year.

Fund Florida Forever
By Charles Pattison
Miami Herald
The nation's biggest land-conservation program has another chance before the 2010 Legislature to renew itself and change course from the 2009 majority decision not to fund this very popular and successful effort.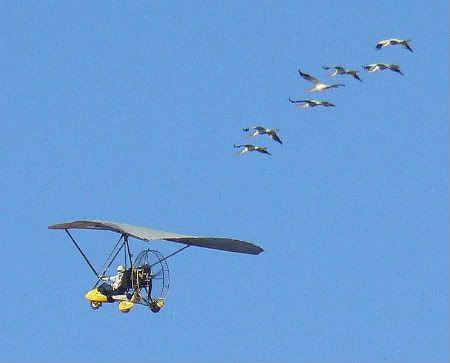 Operation Migration in action.

THE BIG OIL ROUNDUP

The Big Oil roundup: news and information about Big Oil's push to rig Florida's coastline for the period ending 1-22-10:




Eglin commander: Offshore drilling could affect bases
By Jim Ash
Tallahassee Democrat
In an unusually candid acknowledgement, the commander of Eglin Air Force Base told lawmakers Wednesday that oil and gas drilling in Florida waters could pose a threat to military operations.

Florida oil drilling opponents challenge report
By Mary Ellen Klas
Miami Herald/St. Petersburg Times Tallahassee Bureau
Related: Nelson: Oil drilling is incompatible with military training
Oil drilling opponents attempted to refute one of the most potent arguments against drilling off Florida shores Tuesday with a new report that suggests that weapons testing and pilot training is compatible with oil rigs and pipelines.

Is oil drilling safe in the Gulf of Mexico? SAFE says so – or do they?
By Cathy Harrelson
Creative Loafing Tampa
On January 19th, a report was issued by a corporation called SAFE (Securing America's Future Energy)…They are not energy specialists but have military backgrounds.

Military Is 'No Go' on Oil Drilling
By Mark Pafford
YouTube video
January 13, 2010 testimony before the Florida Legislature's Military and Local Affairs Policy Committee by Eglin Air Force Base Col. Bruce McClintock regarding what impact oil drilling and exploration off Florida's Gulf Coast would have on United States Air Force operations in Florida.

Drilling bad for Eglin
Editorial
Pensacola News-Journal
It's about time that area military leaders realized that many Panhandle legislators are simply looking for an excuse to vote in favor of putting drilling rigs off Northwest Florida's coast.

Oil lobby scaling back its presence in Tally
By John Kennedy
The News Service of Florida via Orlando Sentinel
Florida Energy Associates, the group spearheading the effort to open the state's Gulf waters to offshore oil-drilling, is scaling back its once dominant presence at the state Capitol.

House panel debates offshore drilling
By Jim Ash
Tallahassee Democrat
A House panel took up offshore drilling on Thursday at a time when supporters are scaling back their legislative push and opponents are building momentum.

Join the 'Hands Across the Sand' event to help protect Florida's coast against oil drilling
By Cathy Harrelson
Creative Loafing Tampa
On Saturday February 13, 2010, Florida residents and tourists will be going to a number of beaches across the state to do a beach clean up and hold hands to show a united front to protect Florida's beaches against oil drilling during the 'Hands Across the Sand' event.

Offshore drilling remains hot topic at Tallahassee debate
By Paul Flemming
Tallahassee Democrat
The proposal to drill for oil or natural gas in Florida state waters may be on simmer, but debate remains heated.

House panel working on new state energy policy
By Bruce Ritchie
FloridaEnvironments.com
The House Energy & Utilities Policy Committee Wednesday heard from speakers on what a new state energy policy should include.

Why Offshore Drilling is a Bad Idea for Florida
Interview with John Jelks
Not the Answer
John is a marine geologist who spent over 10 years in the 1980s and early 1990s working as a Houston-based contractor for major oil companies on oil drilling platforms in the Gulf of Mexico.

Oil Drilling Debate Has Begun Again
By John Kennedy
News Service of Florida
Officials from the federal Interior Department, Shell Oil Co. and an industry association touted the technology and safety history of offshore oil-drilling last week before a panel in the drill-friendly House.

Forum to discuss oil, gas drilling in Gulf
Staff Report
Pensacola News Journal
The E. O. Wilson Biophilia Center will be sponsoring a public forum on the proposal to allow oil and gas drilling in Florida state waters.

A message on drilling
Editorial
Pensacola News Journal
Northwest Florida's Legislative Delegation got a clear message last week from the area's business community: protecting tourism and — especially — the mission of Panhandle military bases far outweighs the value of offshore drilling.

Capping offshore drilling
Editorial
Orlando Sentinel
Offshore drilling may not be coming to Florida's Gulf Coast, thanks, it appears, to Senate President Jeff Atwater.




TAKE ACTION NOW


Write Your State Senator: Big Oil's Promises Are "Empty"
Big Oil and their hired hands in Tallahassee have sworn that drilling Florida's coast would be "invisible" – that there would be no unsightly rigs just a few miles off our coast. We know different – and a recent eye opening story in the Sarasota Herald-Tribune has proven Big Oil's promises completely "empty." Click the picture above – keeping the pressure on by letting our State Senators know people like you are paying attention is how we'll beat Big Oil.

MORE ONLINE ACTIONS
Help Drill for Solutions Not for Oil, via Southern Alliance for Clean Energy.
Let us decide! Petition to Governor Charlie Crist, Senate President Jeff Atwater, and House Speaker Larry Cretul, via Civic Concern.
Contact Your Officials About New Drilling Off Florida's Coasts, via Civic Concern.
Ask your state legislators to keep the rigs out, via Save the Manatee Club.
Write a letter to the editor, via Audubon of Florida.
Write your state legislators, via Audubon of Florida.
Urge Senate President Jeff Atwater to oppose offshore oil drilling, via Progress Florida.
Tell Sen. Atwater Not To Allow Oil Drilling In Special Session, via Audubon of Florida.
Sign the petition against oil drilling, via Protect Florida's Beaches.
Tell Salazar: No drilling off Florida's Coast, via Environment Florida.
Tell new Senator LeMieux to Repower America, via Environment Florida.
Related action: Don't go drill crazy in the Everglades, via Center for Biological Diversity.
Related action: Keep oil drilling out of climate change legislation, via Oceana.

ADDITIONAL RESOURCES OF NOTE
Hands Across The Sand website; their Twitter page is here.
Protect Florida's Beaches, recently launched coalition website.
Protect Florida's Beaches on Facebook.
Think, Baby, Think blog via Protect Florida's Beaches.
Don't Drill Florida website.
Don't Drill Florida Facebook page.
Save Our Shores Florida website; their Twitter page is here.
Save Our Shores Florida Facebook page.
Environment Florida offshore drilling page.
Southern Alliance for Clean Energy offshore drilling page.
Skytruth blog, an excellent source of info.
Not the Answer blog, courtesy Surfrider Foundation.
Eye-opening map of oil and gas leases and infrastructure in Gulf of Mexico, via MMS.
EnergyFLA.com, online hub of drilling proponents; their Twitter page is here.

MORE GREEN NEWS

Florida panther found dead in Lee County; first reported death of year
By Eric Staats
Naples News
Florida wildlife officials reported this morning the first death of an endangered Florida panther in 2010.

Private land to be set aside for panthers
The Associated Press
Miami Herald
The U.S. Fish and Wildlife Service has approved the conservation of a 4,000-acre chunk of private land for Florida panther habitat.

Florida Panther: More Than Hope
Editorial
Lakeland Ledger
On New Year's Eve, a Florida panther kitten was run over by a car on a road in Naples. That brought the number of panther road kills in 2009 to a record high of 17.

Whooping crane flock makes it to Florida — finally
By Barbara Behrendt
St. Petersburg Times
The 20 whooping cranes that make up the Class of 2009 have finally made it to Florida.

Operation Migration - Whooping Cranes Arrive in North Florida!
By Rich Leighton
Florida Nature Photography
For the first three days of this week, an event was happening in St. Marks, Florida area that held the riveted attention of birders and other wildlife enthusiasts around the North America.

Whooping cranes make annual flyover
Staff Report
Ocala Star-Banner
Printed on the side of a white Operation Migration truck are these words: "Fewer than 500 Whooping Cranes remain between survival and ... extinction."

Riverkeeper not consulted as judge grants confidentiality
By Bruce Ritchie
FloridaEnvironments.com
The talks among Alabama, Florida and Georgia over water-sharing are confidential now under an order entered last week by a federal judge -- despite an objection from an environmental group involved in the litigation.

Controversy surrounds seagrass project
By Cammy Clark
Miami Herald
On 95 acres of ocean floor near the Seven Mile Bridge, a seagrass meadow damaged by boaters is Exhibit A in an environmental group's controversial quest to start a new marine mitigation fund for Florida.

State studies tax, eventual ban of paper, plastic bags
By Jim Ash and Jim Waymer
Florida Today
When he reaches the register, Drew Martin always has to explain

PSC rejects Progress Energy rate hike request
By Jim Saunders
Daytona Beach News-Journal
West Volusia homeowners and businesses will avoid a hefty increase in electric bills after regulators Monday scuttled a Progress Energy Florida proposal to raise base rates.

Up against the law, fuel pumps go dark
By Kim Hackett
Sarasota Herald-Tribune
Hundreds of Florida gas stations, including 39 in Southwest Florida, have closed since Dec. 31 because of an environmental protection law intended to protect drinking water resources.

New laws aim to rid South Florida of `injurious' snake species
By Curtis Morgan
Miami Herald
Federal wildlife managers said Wednesday they will pursue a ban on the import of Burmese python and eight other giant exotic snakes that threaten the Everglades.

Lake Okeechobee water once again tapped for Gulf coast
By Andy Reid
South Florida Sun-Sentinel
Lake Okeechobee water, relied on to back up South Florida supplies, will once again be siphoned off to protect west coast fishing grounds.

11th Circuit allows Georgia water appeal to proceed
By the News Service of Florida
FloridaEnvironments.com
As Gov. Charlie Crist continues to try to navigate a long-standing water dispute with Georgia and Alabama, a federal appeals court has ruled that Georgia can move forward with an appeal.

Red snapper may be in short supply
By Chris Phillips
Pensacola News Journal
The new year has arrived and once again everyone is left wondering what will happen with the upcoming red snapper season.

Regulators slash FPL's rate hike request
By Julie Patel
South Florida Sun-Sentinel
The Florida Public Service Commission approved a $75.5 million base-rate increase for Florida Power & Light Wednesday, all but rejecting the utility's request for a record hike of $1.27 billion.

African rock pythons add to worries about snakes in Everglades
By Andy Reid
South Florida Sun-Sentinel
Fears of a new "super snake" emerging in the Everglades grew this week during a hunt to track South Florida's invasive python population.

Progress Energy rate hike rejected; will FPL lose too?
By Mary Ellen Klas
Miami Herald/St. Petersburg Times Tallahassee Bureau
The Public Service Commission did Monday what many consumer groups and industry watchers never expected -- it voted down a rate increase for one of the state's largest utility companies, Progress Energy.

Consumer victory
Editorial
Florida Today
You won big Wednesday in Tallahassee when the Public Service Commission rejected almost all of a huge rate hike request by Florida Power & Light.

Finally, the 'River of Gra$$'
By Sally Swartz
Palm Beach Post
It looked like a ho-hum gathering of environmentalists at last weekend's recent Everglades Coalition Conference at PGA National Resort. But it was historic, even exciting.

County prevails in watter bottling case
By Bill Thompson
Ocala Star-Banner
A local judge has rejected arguments that the Marion County Commission wrongfully denied a proposed land-use change that would have green-lighted the pumping of nearly a half-million gallons of water a day for bottling.

Cold inflicted major toll on fish in Florida
By Curtis Morgan
Miami Herald
Everywhere he steered his skiff last week, Pete Frezza saw dead fish.

Bill would require permit votes again
By Bruce Ritchie
FloridaEnvironments.com
SB 142 by Sen. Carey Baker, R-Mount Dora, would reverse the Legislature's elimination last year of a requirement that water-management district boards vote to approve water-use permits.

Florida has a few fixes for Lee plan
By Gabriella Souza
Ft. Myers News-Press
Lee County will look at state-recommended changes in the next few weeks to a plan to protect 83,000 acres in southeast Lee County.

Breathing easier
Editorial
St. Petersburg Times
The U.S. Environmental Protection Agency's proposed new limits on smog will vastly improve the quality of life for millions who suffer from heart, lung and other serious health problems.

EPA to Florida: No more rivers green as grass
Editorial
Daytona Beach News-Journal
Here's Florida's standard for clean water: "In no case shall nutrient concentrations of a body of water be altered so as to cause an imbalance in natural populations of aquatic flora or fauna."

As farmers pump, neighbors go dry
Editorial
St. Petersburg Times
This month's freeze underscores why Florida needs to better balance the interests of farmers and their suburban neighbors.

Recycling will pay off, if Tallahassee gets onboard
Editorial
South Florida Sun-Sentinel
Florida lags in recycling efforts, and lawmakers have been loathe to do anything about it.

Glades menace
Editorial
Miami Herald
A hunt for Burmese pythons in the Everglades turned up an even scarier predator: the African rock python.

Everglades momentum
Editorial
Miami Herald
Nothing talks quite like money. This helps explain the optimism at the annual Everglades Coalition's 29th annual conference this past weekend in Palm Beach Gardens.



Endangered green sea turtle.


Wildwood Preservation Society is a non-profit 501(c)(4) project of the Advocacy Consortium for the Common Good. Click here to learn more.


"it's all connected"