FEATURED STORIES
Looking back on 2009, and ahead to 2010
By Bruce Ritchie
FloridaEnvironments.com
Here's a look at the Top 10 environmental stories from around Florida's Capitol in 2009 and a look at how those issues may play out in 2010.
Destroying the Everglades at 25 Cents Per Ton
By Alan Farago
Counterpunch
In early December, on an unseasonably hot and humid Florida day, I sat under a large tent in a crowd of hundreds at the edge of a man-made canal draining the Everglades.
Sugar's sweet deal sours Glades' prospects
By Mike Thomas
Orlando Sentinel
The world's largest empty swimming pool, a massive 26-square-mile reservoir two years in the making, sits high and dry in the middle of the Everglades, abandoned after taxpayers invested $280 million building it.
It's manatee vs. military in pending habitat ruling
By David Fleshler
Los Angeles Times
Reporting from Fort Lauderdale, Fla. - Manatees may rank lower than traditional military menaces like torpedoes or air-to-sea missiles.
Manatees dying at a record pace
By Jim Waymer
Florida Today
A record 105 manatees died in Brevard County this year, almost twice as many as the next highest county and a quarter of the manatees to perish statewide.
Will Florida's growth-a-holic tendencies change with new reality?
By Jim Stratton
Orlando Sentinel
In a state hooked on development, Flagler County became a junkie.
Groups threaten suit over panther habitat
By Bruce Ritchie
FloridaEnvironments.com
Two environmental groups served notice today that they plan to sue federal officials for failing to take steps to protect the Florida panther.
Die-offs multiply as humans push '6th extinction'
By Jeff Corwin
Daytona Beach News-Journal
There is a holocaust happening. Right now. And it's not confined to one nation or even one region. It is a global crisis.
Crist meets with Ala., Ga. governors on water-sharing
Staff Report
News Service of Florida via FloridaEnvironments.com
Gov. Charlie Crist met with his two neighboring governors today in Alabama to renew efforts to resolve a dispute over water usage and the three emerged confident they'll resolve the dispute rather than let a federal judge's solution stand.
Developers Rush to Get Ahead of Amendment 4
Staff Report
News Service of Florida via WBOB Radio Jacksonville
The prospect of land-use changes going before voters if constitutional Amendment 4 is approved next year, is sparking an unprecedented crush of proposals being sent to state planning officials.
Amendment 4 is the Floridians' Declaration of Independence
By Greg Gimbert
Destin Log
Florida voters should be on the lookout for the politicians and speculators who are ramping up their Founding Fathers spin against the Florida Hometown Democracy Amendment.
A Worsening climate: Political pressures on Crist place the environment at risk.
Editorial
Orlando Sentinel
Florida's ban on offshore drilling may be history. So too its claim to being in the forefront of states on clean energy. We're convinced of that because of what Gov. Charlie Crist said.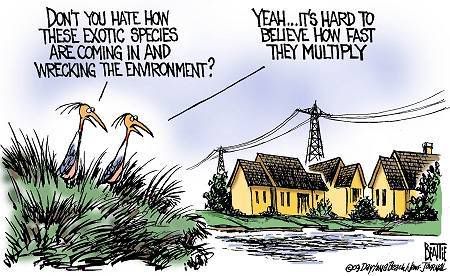 Editorial cartoon by Bruce Beattie, Daytona Beach News-Journal.
THE BIG OIL ROUNDUP
The Big Oil roundup: recent news and information about Big Oil's push to rig Florida's coastline:
Statewide gulf oil drilling protest planned for February
By Kari C. Barlow
Northwest Florida Daily News
Related: Drilling in the Gulf or Hands Across the Sand?
Restaurateur Dave Rauschkolb has surfed the Gulf of Mexico for more than 30 years.
Commissioner Ken Welch on Offshore Drilling
Video Interview
Civic Concern
In this interview with CIVIC Concern, Pinellas County Commissioner Ken Welch explains why he opposes new drilling off Florida's coasts and urges Floridians to take a stand.
By Scott Maddox
Tampa Tribune
In 2008, a super-modern, hi-tech, state-of-the-art oil drilling rig was installed 250 miles off the Coast of Australia.
Drilling won't give us what proponents promise
By Scott Maddox
Tallahassee Democrat
There are some very good reasons for Floridians to consider drilling for oil off our coast, but there are probably more reasons to reject such an idea.
Environmentalists Fight Effort To Allow Oil Drilling Closer To Florida's Coastline (audio story)
By Robert Lorei
WMNF Community Radio Tampa
There's a move by a group in Tallahassee to get the legislature to allow oil and gas drilling in state waters, 3-10 miles off Florida's coast.
Love tourists, not drilling: Stop near shore drilling off Florida's coast
By Sharon Joy Kleitsch
Creative Loafing Tampa
Grass roots are growing along Tampa Bay beaches to halt off shore drilling. They "love tourists, not drilling".
Captiva official urges SW Florida legislators to oppose offshore drilling
Staff Report
Ft. Myers News-Press
The Captiva Erosion Prevention District urged local state legislators this afternoon to oppose oil drilling off Lee County's shores.
Largo commission opposes oil drilling
By Tom Germond
Largo Leader
Most Largo commissioners are opposed to offshore oil drilling in areas of the Gulf of Mexico that are controlled by the state.
Dunedin City Commission delays vote on resolution opposing offshore drilling
Staff Report
St. Petersburg Times
City commissioners voted Thursday to postpone until January a resolution opposing offshore drilling, saying statewide protesting and political maneuvering had obscured the facts of drilling's hazards and benefits.
Near-Shore Oil Drilling: Deep-Sea Tech Wrong for Florida
Editorial
Lakeland Ledger
Floridians and their legislators have had many reasons to be skeptical since proposals surfaced rapidly to open near-shore waters to exploration and drilling for oil.
Facts sink new drilling technology
Editorial
Tampa Tribune
It is becoming increasingly evident that the shadowy group promoting oil drilling immediately off Florida's shores is playing fast and loose with the facts.
Editorial
Palm Beach Post
Great. If the Senate tries to rekindle its romance with bipartisanship, there might be no love for Florida.
TAKE ACTION NOW
Write Your State Senator: Big Oil's Promises Are "Empty"
Big Oil and their hired hands in Tallahassee have sworn that drilling Florida's coast would be "invisible" – that there would be no unsightly rigs just a few miles off our coast. We know different – and a recent eye opening story in the Sarasota Herald-Tribune has proven Big Oil's promises completely "empty." Click the picture above – keeping the pressure on by letting our State Senators know people like you are paying attention is how we'll beat Big Oil.
MORE ONLINE ACTIONS
Help Drill for Solutions Not for Oil, via Southern Alliance for Clean Energy.
Let us decide! Petition to Governor Charlie Crist, Senate President Jeff Atwater, and House Speaker Larry Cretul, via Civic Concern.
Contact Your Officials About New Drilling Off Florida's Coasts, via Civic Concern.
Ask your state legislators to keep the rigs out, via Save the Manatee Club.
Write a letter to the editor, via Audubon of Florida.
Write your state legislators, via Audubon of Florida.
Urge Senate President Jeff Atwater to oppose offshore oil drilling, via Progress Florida.
Tell Sen. Atwater Not To Allow Oil Drilling In Special Session, via Audubon of Florida.
Sign the petition against oil drilling, via Protect Florida's Beaches.
Tell Salazar: No drilling off Florida's Coast, via Environment Florida.
Tell new Senator LeMieux to Repower America, via Environment Florida.
Related action: Don't go drill crazy in the Everglades, via Center for Biological Diversity.
Related action: Keep oil drilling out of climate change legislation, via Oceana.
ADDITIONAL RESOURCES OF NOTE
Hands Across The Sand website; their Twitter page is here.
Protect Florida's Beaches, recently launched coalition website.
Protect Florida's Beaches on Facebook.
Think, Baby, Think blog via Protect Florida's Beaches.
Don't Drill Florida website.
Don't Drill Florida Facebook page.
Save Our Shores Florida website; their Twitter page is here.
Save Our Shores Florida Facebook page.
Environment Florida offshore drilling page.
Southern Alliance for Clean Energy offshore drilling page.
Skytruth blog, an excellent source of info.
Not the Answer blog, courtesy Surfrider Foundation.
EnergyFLA.com, online hub of drilling proponents; their Twitter page is here.
MORE GREEN NEWS
2009 Made for Interesting Year
By Tom Palmer
Lakeland Ledger
Another interesting year in the environment.
Florida's future bright with clean energy
By Eric Draper
South Florida Sun-Sentinel
Whether the goal is economic recovery or environmental protection, investing in energy efficiency is one of the most important actions a business can take.
Everglades once again will make headlines
By Kevin Lollar
Ft. Myers News-Press
During last year's look-ahead series, The News-Press said Everglades restoration would be a big story in 2009, and it was with the South Florida Water Management District's plans to buy 73,000 acres of U.S. Sugar land.
Feds Under Fire from Three Environmental Groups to Protect Panthers
By Kate Spinner
Lakeland Ledger
While the state's largest cats teeter on the edge of extinction, federal regulators are accused of hastening the Florida panther's demise over the past few years by allowing some of their best habitat to be bulldozed.
Rock mine expansion proposed for panther habitat in west Broward
By David Fleshler
Orlando Sentinel
The Seminole Tribe has applied for a permit to expand a rock mine in a remote corner of northwest Broward County, in a proposal that could generate opposition from environmentalists concerned about the Florida panther.
Report finds pollutants lurking in S. Florida tap water
By Curtis Morgan
Miami Herald
More than 100 pollutants, from farm herbicides to factory solvents, have shown up in Florida tap water during the last five years -- many barely detectable, but more than a quarter exceeding federal standards at least once, according to a report compiled by an environmental group.
Florida officials look at bag ban
By Jim Ash
Tallahassee Democrat
When he gets to the register, Drew Martin always has to explain.
Ocean Foundation makes dubious claims in sea grass proposal
By Craig Pittman
St. Petersburg Times
Related editorial: Sea grass plan doesn't cut it
A Washington-based foundation has teamed up with a controversial local company to propose a radical change in the way Florida deals with the destruction of its sea grass beds.
Pols, voters abandon go-green positions
By Aaron Deslatte
Orlando Sentinel
This is not a good time to go green in Florida politics.
New South Florida water rules dodge appeals, but face test in Tallahassee
By Andy Reid
South Florida Sun-Sentinel
Opponents of South Florida's new year-round watering rules are taking their fight to the Legislature, opting for legislative muscle over courtroom battles.
EPA proposes new greenhouse gas regulations
By Joshua Lee Holton
WMNF Community Radio Tampa
The U.S. Environmental Protection Agency (EPA) has proposed a rule change in the Clean Air Act, such that only the biggest polluters will be subject to regulations for greenhouse gas emissions.
EPA: UF will pay a $175,000 fine
By Thomas Stewart
Gainesville Sun
The University of Florida has agreed to pay a fine of $175,000 for alleged environmental violations that include illegally disposing of hundreds of gallons of a toxic chemical on campus over almost two decades, the U.S. Environmental Protection Agency announced Monday.
Amendment 4 would restore proper balance of power
By Richard T. Walker
Panama City News Herald
I believe that the citizens originally had the power to begin with, but was slowly and shrewdly usurped by our local elected officials and misused for their and the developers' gains.
While Florida's G.O.P. kick at each other, Florida Dems kick dirt
By Gimleteye
Eye on Miami
Back in the days when I coached pee-wee soccer, I called them dirt-kickers.
FPL can live with less, report advises
By Mary Ellen Klas
Miami Herald/St. Petersburg Times Tallahassee Bureau
Florida Power & Light should be allowed to raise its base rate $357 million next year, not the $1.3 billion the company seeks, the staff of the Public Service Commission recommended Wednesday in a report that also says the utility should be forced to cut its executives' pay.
By Catherine Whittenburg
Tampa Tribune
State wildlife officials are reporting that a record number of manatees were found dead in state waters this year, due partly to cold weather in early 2009.
Alabama, Georgia, Florida governors talk water
The Associated Press
Miami Herald
The governors of Alabama, Georgia and Florida are meeting for the first time in two years to discuss a water sharing dispute that has been going on for two decades.
State advises Volusia to kill massive growth plan
By Dinah Voyles Pulver
Daytona Beach News-Journal
State officials scooted under a legal deadline on Christmas Eve, delivering a bah humbug message to a request from Volusia County and the Miami Corp, the county's largest private landowner.
Kissimmee River making comeback
By Kevin Lollar
Ft. Myers News-Press
An almost day-and-night biological change met passengers last week as the pontoon boat entered the restored section of the Kissimmee River from the C-38 canal.
Navy expresses concern about proposed manatee protections
By David Fleshler
South Florida Sun-Sentinel
Having defeated the Japanese fleet and faced down the Soviets, the U.S. Navy faces a new obstacle, one that hides behind a deceptively gentle, seagrass-munching facade.
Seminole withdraws proposed Putnam County coal plant
By Bruce Ritchie
FloridaEnvironments.com
Environmental groups are applauding Seminole Electric Cooperative Inc.'s decision not to build a new coal-fired power unit at its generating in Putnam County.
By John H. Rogers Jr.
Orlando Sentinel
Mary Hurley's recent My Word, "Why I'll vote no on Amend. 4," brought tears to my eyes and enlightened my mind with her impassioned defense of all that is good, right and constitutional about rejecting Amendment 4.
Senate Climate Roadmap Caters to Nuclear, Offshore Drilling Proponents
By Robin Bravender
New York Times
Architects of Senate energy and climate legislation reiterated their support for nuclear power and offshore drilling yesterday in an effort to garner the support of moderate Democrats and Republicans.
By Dinah Voyles Pulver
Daytona Beach News-Journal
Florida's problems with exotic, invasive plants and animals developed over a long period and won't be resolved quickly.
Snakes Alive! Senate Comte. Acts to Stop Spread of Fla. Constrictor Snakes (includes audio)
By Gina Presson
Public News Service Florida
The picture of 400-pound snakes taking over the Everglades may sound like something out of a movie, but a U.S. Senate committee spearheaded by Florida Senator Bill Nelson is taking action to prevent that picture from becoming reality.
Regulators set to release opinion on FPL rate hike
By Susan Salisbury
Palm Beach Post
Another step along an unexpectedly bumpy road for Florida Power & Light Co.'s proposed $1.4 billion rate hike is due Wednesday.
FGCU solar field switched on to provide power to part of campus
By Leslie Williams Hale
Naples News
There was no flip of a giant switch or flickering of lights.
Businesses leaders plan Amendment 4 fight
By Scarlet Sims
Panama City News Herald
Business community leaders last week took the first step toward organizing to fight an amendment that would allow residents to vote on all zoning changes to city and county comprehensive land-use plans.
Judge tosses out Seminole demand for cash over river fight
By Steve Patterson
Florida Times-Union
A state administrative judge has rejected a utility's request to make Jacksonville and the Johns Riverkeeper pay attorney fees the utility spent on a court fight to take drinking water from the St. Johns River.
Brevard Commission OKs 13K new homes
By Rick Neale
Florida Today
Developers can create new communities containing more than 13,300 homes across 36 square miles of Space Coast woodland and cattle pasture, the Brevard County Commission ruled Tuesday.
South Florida water fights resurface with dry weather
By Andy Reid
South Florida Sun-Sentinel
A return to dry weather is reigniting long-smoldering South Florida water fights, worsened by new strains on backup supplies that leave less water to go around.
Area agency wants to take state's control of local growth
By Steve Patterson
Florida Times-Union
A Jacksonville-based council of local governments wants to take over the state's job of regulating development in Northeast Florida.
Editorial
Gainesville Sun
The conference on climate change in Copenhagen has been somewhat tainted by the publication of hacked e-mails from scientists at the Climatic Research Unit of England's University of East Anglia.
Waging a global war on climate change
Editorial
Miami Herald
Was the climate summit in Copenhagen worth the two years of preparation and expense, or just another wasted exercise in over-hyped bloviating by bureaucrats and their heads of state?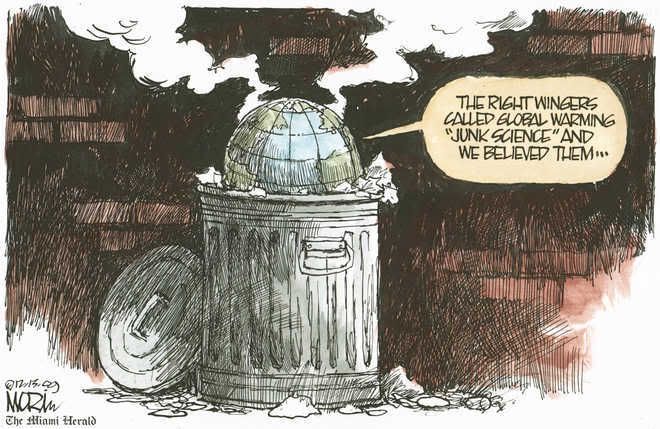 Editorial cartoon by Jim Morin, Miami Herald.
Wildwood Preservation Society is a non-profit 501(c)(4) project of the Advocacy Consortium for the Common Good. Click here to learn more.
"it's all connected"