FEATURED STORIES
Manatee death rate hit record high in '09
By Curtis Morgan
Miami Herald
Related editorial: Boats, cars take high toll on Florida's creatures
It was a landmark year, good and bad, for Florida manatees.
Florida's big chill stuns sea turtles, send manatees in search of balmy waters
By Tamara Lush
The Associated Press
More than 200 manatees are wintering in a balmy canal outside a power plant, the latest exotic Florida animals seeking refuge from the state's frigid temperatures.
Tragic year in Florida for panthers
By Bill Sargent
Florida Today
For the endangered Florida Panther, 2009 will be remembered as a tragic year for road kills that went down to the last day.
Wading bird population soars in 2009
By Erika Pesantes
South Florida Sun Sentinel
Wading bird populations, specifically the endangered wood stork, soared in 2009, according to a South Florida Water Management District report.
Navy faces lawsuit over submarine training range near Jacksonville
By Ludmilla Lelis
Orlando Sentinel
With the U.S. Navy intent on building a new anti-submarine training range off the Florida coast, a group of environmentalists announced it would file a lawsuit to halt the plans, saying the range poses a risk to the world's most endangered whale.
Court records reveal trouble at Turkey Point
By John Dorschner
Miami Herald
When Coleen Ware walked into Turkey Point, she was shocked to see that the indicators showing control rod positions looked like something out of an early '70s sci-fi movie.
Florida officials look at bag ban
By Jim Ash
Tallahassee Democrat
When he gets to the register, Drew Martin always has to explain.
Historic Everglades restoration project starts in Picayune Strand
By Eric Staats
Naples News
Bulldozers carved up 55,000 acres south of Interstate 75 in rural Collier County with roads and canals, slicing through wildlife habitat and cutting off water flows.
Everglades Coalition conference to discuss restoration
By Curtis Morgan
Miami Herald
Progress, or the lack of it, on Everglades restoration is the focus of a major environmental conference this weekend in Palm Beach Gardens.
By Jim Waymer
Florida Today
Starting this month, Florida fishermen no longer can keep red snapper or 11 species of shallow-water grouper from the Atlantic.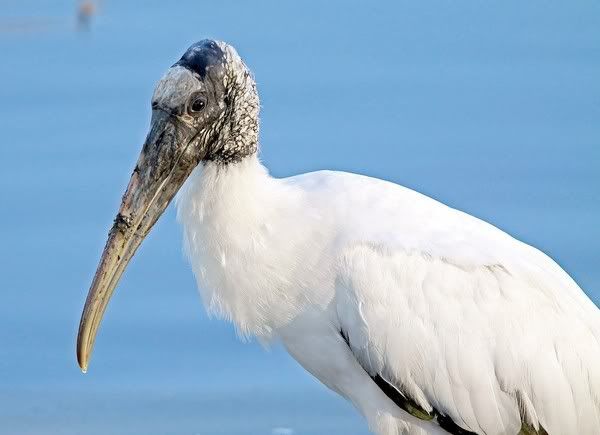 Wading birds like the endangered Wood Stork have been flourishing in Florida's wetlands this year.
THE BIG OIL ROUNDUP
The Big Oil roundup: news and information about Big Oil's push to rig Florida's coastline for the week ending 1-8-10:
Oil drilling researchers face deadline
By Jeremy Wallace
Sarasota Herald-Tribune
A group that stands to have considerable influence over the future of oil drilling off the Florida coast is unlikely to present its findings to the Legislature until the first week of March.
Promises of jobs, revenues from offshore drilling just don't add up
By Scott Maddox
TC Palm
I am strongly opposed to allowing near-shore drilling for oil off Florida's coast. In coming to this conclusion, I considered several questions.
Oil lobby scaling back its presence in Tally
By John Kennedy
The News Service of Florida via Orlando Sentinel
Florida Energy Associates, the group spearheading the effort to open the state's Gulf waters to offshore oil-drilling, is scaling back its once dominant presence at the state Capitol.
Southern Strategy, hit on offshore drilling by Welch, loses bid
By David DeCamp
St. Petersburg Times
Southern Strategy Group, the influential lobbying firm based in Tallahassee, has lost a bid to be Pinellas County's consultant for its latest charter review.
CEPD chairman receives ovation following speech
By Jane Brickley
Sanibel-Captiva Islander
Mike Mullins, chairman of the Captiva Erosion Prevention District received a standing ovation from the audience last Tuesday after he addressed the Lee County Legislative Delegation at Edison State College.
Drilling in the Gulf or Hands Across the Sand?: Debate spills into Destin Chamber of Commerce
By Fraser Sherman
Destin Log
If the beauty of the Emerald Coast doesn't convince you to oppose oil drilling, South Walton's David Rauschkolb says, think of the beauty of the Emerald Coast economy.
Top Dem offshore oil drilling advocate retiring
By Jeremy Wallace
S
arasota Herald-Tribune
One of the U.S. Senate's most vocal pro-oil drilling Democrats has announced he's retiring and won't see re-election in 2010.
A day at the beach
Editorial
Gainesville Sun
Would legislators take notice if tens of thousands of Floridians joined hands on Feb. 13 to protect Florida's beaches? We hope so, right now they only seem to be taking notice of Big Oil's money and influence.
Near-Shore Oil Drilling: Deep-Sea Tech Wrong for Florida
Editorial
Lakeland Ledger
Floridians and their legislators have had many reasons to be skeptical since proposals surfaced rapidly to open near-shore waters to exploration and drilling for oil.
TAKE ACTION NOW
Write Your State Senator: Big Oil's Promises Are "Empty"
Big Oil and their hired hands in Tallahassee have sworn that drilling Florida's coast would be "invisible" – that there would be no unsightly rigs just a few miles off our coast. We know different – and a recent eye opening story in the

Sarasota Herald-Tribune

has proven Big Oil's promises completely "empty."

Click the picture above – keeping the pressure on by letting our State Senators know people like you are paying attention is how we'll beat Big Oil.
MORE ONLINE ACTIONS
Help Drill for Solutions Not for Oil, via Southern Alliance for Clean Energy.
Let us decide!

Petition to

Governor Charlie Crist, Senate President Jeff Atwater, and House Speaker Larry Cretul
, via Civic Concern.
Contact Your Officials About New Drilling Off Florida's Coasts, via Civic Concern.
Ask your state legislators to keep the rigs out

, via Save the Manatee Club.
Write a letter to the editor, via Audubon of Florida.
Write your state legislators

, via Audubon of Florida.
Urge Senate President Jeff Atwater to oppose offshore oil drilling, via Progress Florida.
Tell Sen. Atwater Not To Allow Oil Drilling In Special Session

, via Audubon of Florida.
Sign the petition against oil drilling, via Protect Florida's Beaches.
Tell Salazar: No drilling off Florida's Coast

, via Environment Florida.
Tell new Senator LeMieux to Repower America, via Environment Florida.
Related action:
Don't go drill crazy in the Everglades

, via Center for Biological Diversity.
Related action: Keep oil drilling out of climate change legislation, via Oceana.
ADDITIONAL RESOURCES OF NOTE
Hands Across The Sand website; their Twitter page is here.
Protect Florida's Beaches

, recently launched coalition website.
Protect Florida's Beaches on Facebook.
Think, Baby, Think blog via Protect Florida's Beaches.
Don't Drill Florida website.
Don't Drill Florida

Facebook page.
Save Our Shores Florida website; their Twitter page is here.
Save Our Shores Florida

Facebook page.
Environment Florida offshore drilling page.
Southern Alliance for Clean Energy

offshore drilling page.
Skytruth blog, an excellent source of info.
Not the Answer blog, courtesy Surfrider Foundation.
Eye-opening map of oil and gas leases and infrastructure in Gulf of Mexico, via MMS.
EnergyFLA.com

, online hub of drilling proponents; their Twitter page is here.
MORE GREEN NEWS
Species return as Kissimmee River restoration makes progress
By Kevin Spear
Orlando Sentinel
Biologist Lawrence Glenn knows how to sell the concept of spending $1 billion to bring the Kissimmee River and its wetlands back from the dead.
Everglades advocates gathering to push for restoration progress
By Andy Reid
South Florida Sun-Sentinel
Flying low over the southern shore of Lake Okeechobee, Everglades advocates look out the window and visualize the time before sugar cane fields and cities blocked the life-giving flow of lake water that once drifted slowly south.
Obama environment officials to visit Fla.
The Associated Press
Tampa Tribune
Officials from the Obama Administration plan a visit to Florida this week for events related to ongoing Everglades restoration.
Florida joins with Ala., Ga. in seeking closed water talks
By Bruce Ritchie
FloridaEnvironments.com
Alabama, Florida and Georgia have agreed to at least one issue in their dispute over water -- that their talks on a water agreement should remain confidential.
Talks in works to protect more corridor land
By Dinah Voyles Pulver
Daytona Beach News-Journal
When two local officials proposed preserving a wildlife corridor through the center of Volusia and Flagler counties in 1998, it seemed to some an impossible dream.
Despite cold, right whales still flocking to First Coast
By Marcia Lane
St. Augustine Record
A week of cold weather isn't discouraging the annual North Atlantic right whale migration to Florida; in fact, the mammals couldn't be happier.
93 "cold-stunned" sea turtles found floating
The Associated Press
Miami Herald
Ninety-three sea turtles found floating in the Mosquito Lagoon along Florida's Atlantic coast were rescued after the cold water shocked their tropically inclined systems.
Activists decry elephant suit dismissal
Staff Report
UPI News
Animal rights activists say they disagree with the dismissal of a lawsuit against a Florida-based circus by a federal judge this week.
FPL is accused of not sharing its tax break
By Mary Ellen Klas
Miami Herald/St. Petersburg Times Tallahassee Bureau
The Florida Public Service Commission said Tuesday it is looking into anonymous allegations that Florida Power & Light's parent company took an estimated $1 billion in tax credits -- and didn't pass the savings on to customers.
New leader of PSC to take on FPL's requested $1.2B rate hike
By Dara Kam
Palm Beach Post
Public Service Commission Chairwoman Nancy Argenziano, who earned a reputation as a maverick lawmaker unwilling to cede to leaders' demands, took over as head of the regulatory panel today in advance of a decision on Florida Power & Light Co.'s requested $1.2 billion-a-year rate hike.
3 states in water wars ask for confidentiality
The Associated Press
Tampa Tribune
Georgia, Alabama and Florida have asked a judge to keep their negotiations in the long-running regional legal fight over water rights confidential.
Sea grass plan doesn't cut it
Editorial
St. Petersburg Times
Boat propellers have sliced up underwater sea grass beds all around Florida, impairing the environment needed to nurture marine wildlife.
U.S. Sugar shareholder suit ends in $15.9M settlement
By Paul Quinlan
Palm Beach Post
If there was any doubt that U.S. Sugar Corp. was worth as much as its brass claimed, those doubts dissipated in June 2008 when Gov. Charlie Crist unveiled his extraordinary, $1.75 billion bid to buy the company and its land to restore the Everglades.
DEP says incineration, innovation can help reach 75-percent recycling goal
By Bruce Ritchie
FloridaEnvironments.com
Florida can increase its recycling rate to 75 percent within 10 years by requiring more recycling at construction-waste landfills, implementing innovative new programs to reduce waste disposal and by counting waste-burning as recycling, according to a state report issued today.
Florida report wants deposits on bottles, business recycling
By Steve Patterson
Florida Times-Union
Dime deposits on reusable bottles and extra fees on tires, light bulbs and landfill dumping should all be on the table to meet Florida lawmakers' goal of recycling more trash, a state agency report released Monday says.
SRWMD purchases 6,350 acres for water conservation
By Karen Voyles
Gainesville Sun
The Suwannee River Water Management District spent $635,000 at the end of December to buy a 6,350 acre conservation easement in Suwannee and Columbia counties.
Tests find antibiotic, other contaminants in Tampa's drinking water
By Christian M. Wade
Tampa Tribune
The tap water that Tampa residents consume is contaminated with low levels of antibiotics, nicotine byproducts and a chemical used to produce firefighting foams.
Seize the sunshine, save the environment
Editorial
Miami Herald
While the economic slump has had a negative effect on almost every aspect of life in South Florida, it has given our natural world a breather.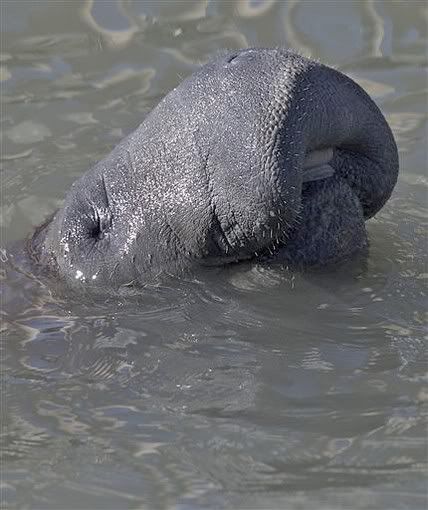 A Florida manatee sticks it's head out of the water at the Tampa Electric Company manatee viewing site Thursday, Jan. 7, 2010 in Apollo Beach, Fla. An outflow of warm water from the power plant attracts the gentle sea creature as they seek refuge from the cold temperatures

.
Wildwood Preservation Society is a non-profit 501(c)(4) project of the Advocacy Consortium for the Common Good. Click here to learn more.
"it's all connected"