FEATURED STORIES
Save Our Shores Florida
Fred George Basin is a local aquifer recharge area. Water that flows through the basin percolates down into the Floridan aquifer and enters local springs as well as our drinking water.
Lawsuit accuses Obama administration of failing to protect Florida panther
By Craig Pittman
St. Petersburg Times
A coalition of environmental and civic groups sued the Obama administration Thursday over its refusal to declare 1.3 million acres as critical habitat for the endangered Florida panther.
Tell your representative: Save the Florida panther
Action Alert
Environment Florida
Experts say our government can save our last 100 Florida panthers by putting 3,548 square miles of South Florida wetlands out of the reach of big developers, miners and road-builders.
Rubio questions climate change
By William March
Tampa Tribune
Senate candidate Marco Rubio said Friday that he doesn't accept the scientific evidence for global warming - a stance Rubio has hinted at before, but which the campaign of Gov. Charlie Crist said is a switch for Rubio.
Springs rally at Capitol attracts about 400
By Bruce Ritchie
FloridaEnvironments.com
The upcoming legislative session will be crucial to winning passage of springs legislation, speakers on Tuesday told a crowd of more than 400 at a springs rally outside the state Capitol.
Cold is killing manatees in unprecedented numbers
By Craig Pittman and Barbara Behrendt
St. Petersburg Times
So many manatees are turning up stressed from the extreme cold temperatures this winter that it's putting a strain on the statewide system for caring for the injured marine mammals.
Farmers and industry groups blast EPA proposal
By Bruce Ritchie
FloridaEnvironments.com
Farmer Rod Land of Lafayette County on Tuesday told federal officials at a hearing in Tallahassee that he is a fifth generation farmer and may be the last in his family if proposed a proposed federal water rule is adopted.
EPA holding hearing on Fla. water rules
The Associated Press
Tampa Tribune
Environmentalists say a proposal that would set numeric limits on farm and urban runoff is needed to clean up Florida's polluted water bodies and is long overdue.
Editorial
Daytona Beach News-Journal
In 2006, the Florida Legislature approved a scheme that enables electric utilities to charge their customers up-front for development and construction costs of nuclear power plants.
Fox returning from a successful hunt in Fred George Basin, summer 2009.
THE BIG OIL ROUNDUP
The Big Oil roundup: news and information about Big Oil's push to rig Florida's coastline for the week ending 2-19-10:
Hands Across the Sand at St. Pete Beach.
Hands Across The Sand coverage
Hundreds line Pinellas County beaches to protest near-shore oil drilling
By Curtis Krueger
St. Petersburg Times
Hundreds lined Pinellas County's beaches and many more came to more than 70 coastal locations around Florida to protest the idea of drilling close to the state's shoreline.
Protesters across Florida rally against offshore oil drilling
By Maria Herrera
South Florida Sun-Sentinel
Related video: Raging Grannies at Hands Across the Sand, Delray Beach
They looked like dark spots of tar freshly washed upon the shore.
Protesters draw line in sand over oil drilling
By Sarah Owen
Panama City News Herald
Chains of hand-holding Floridians stretched across shorelines from Pensacola to Key West to show solidarity in their opposition of offshore oil drilling.
Hundreds hold 'Hands Across the Sand' to protest oil drilling off Florida's coast
By Adam Playford
Palm Beach Post
The man on the stage says it's time, and Ian, who is 8, is ready.
Protesters gather at the beach
By Todd Ruger
Sarasota Herald-Tribune
More than 250 people joined hands on the famous powdery sands of Siesta Public Beach on Saturday to show opposition to oil drilling as close as three to 10 miles offshore.
Floridians protest offshore oil drilling
By Robert Green
Reuters
Thousands of Floridians demonstrated against moves to allow offshore oil drilling on Saturday along the east and west coasts of the state in a protest dubbed "Hands Across the Sand."
Hundreds say 'no' to offshore drilling
By Rebecca Ross
Pensacola News Journal
The line of black-clad protesters was stark against the
sugar-white sand. Hands clasped, they stood shoulder-to-shoulder, staring out to sea.
Activists unite on beach in protest against oil drilling
By Cammy Clark and Robert Samuels
Miami Herald
Dressed in black, some 200 people stood hand in hand on South Beach on Saturday afternoon, raising and lowering their arms as surfers behind them rode the waves.
Offshore drilling protesters join hands
By Richard Dymond
Bradenton Herald
An event didn't take place Saturday at Manatee Public Beach — officially — because there was no permit for one.
Floridians join hands to protest offshore drilling
By Jeff Barker
Northwest Florida Daily News
Hundreds of people clasped hands along the beach Saturday to show their opposition to proposed offshore oil drilling.
Naples protesters drill home the message: No oil rigs off Florida's Gulf coast
By Sarah Donovan
Naples News
Despite biting winds, a small group of protesters held Hands Across the Sand at a Naples beach Saturday to send a message to Florida lawmakers and coastal communities statewide.
1,000 strong at 'Hands Across the Sand' on St. Pete Beach
By Cathy Harrelson
Creative Loafing
Our experience with the three 'Hands Across the Sand' locations on St. Pete Beach, from the public beach to the Sirata Beach Resort and past the Tradewinds Resort, was thrilling.
Surfers, Scientists Say No to Oil Drilling Off Florida Coast
By Natalie O'Neill
Miami New Times
​Jesse Bull, a surfer with a tidy goatee, rides a four-foot wave to shore on a blustery South Beach day.
"Hands Across the Sand" Protest of Oil Drilling off Florida's Coast
By Geniusofdespair
Eye on Miami
The protest went on all over Florida yesterday. People dressed in black, to signify an oil slick, joined hands at about 2pm in solidarity against oil drilling off Florida's Coast. Thank you Miami Surfriders and Progress Florida for bringing Hands Across the Sand to my attention.
Hands Across the Sand Was A Huge Success: Human Chain Creates Line Around State to Protect Florida's Beaches
Audubon of Florida Advocate
Thousands of people at scores of locations throughout Florida showed up to hold hands and form a human chain to protect Florida's beaches.
Oil drilling could change Florida for the worse
Editorial
TC Palm
The Treasure Coast chapter of Surfrider and others concerned with the environment got together Saturday at Stuart Beach for "Hands Across the Sand," a statewide protest of efforts to open Florida waters to offshore oil drilling.
Editorial cartoon by Andy Marlette, Pensacola News Journal
Other drilling news
Rep. Seth McKeel Pushes For End To Off-Shore Drilling Moratorium
By Bill Rufty
Lakeland Ledger
Legislation sponsored by state Rep. Seth McKeel, R-Lakeland, asking the U.S. Congress to remove the moratorium on oil drilling in federal waters surrounding Florida, cleared the House General Government Policy Council on Wednesday.
Experts: 2010 may not be make, break for drilling
By Melissa Nelson
The Associated Press
The Florida Legislature has considered for several years changing state law to allow exploration for oil and natural gas but hasn't brought the issue up for a vote. This year may be no different - but it will still weigh heavy in the upcoming session's background.
Oil drilling legislation not likely this year, lawmakers say
By Daniel Carson
Panama City News Herald
Area legislators expressed doubts Friday that the Florida Legislature will pass any offshore oil drilling-related bills in 2010 due to concerns about impacts on military missions, the region's tourism industry and the environment.
Florida lawmakers hear good, bad of Gulf oil drilling
By Brandon Larrabee
Florida Times-Union
Those involved in responding to offshore drilling incidents in the Gulf of Mexico told lawmakers Thursday about the steps that had been taken to minimize the impact of oil spills, as others warned that the consequences of exploring for oil in state waters might not be clear.
League of Women Voters opposes offshore, near-shore drilling
By Clara Anne Graham and Laura Miller
Ft. Myers News-Press
The League of Women Voters is a nonpartisan political organization that encourages informed and active participation in government, works to increase understanding of major public policy issues, and influences public policy through education and advocacy.
TAKE ACTION NOW
Write Your State Senator: Big Oil's Promises Are "Empty"
Big Oil and their hired hands in Tallahassee have sworn that drilling Florida's coast would be "invisible" – that there would be no unsightly rigs just a few miles off our coast. We know different – and a recent eye opening story in the Sarasota Herald-Tribune has proven Big Oil's promises completely "empty." Click the picture above – keeping the pressure on by letting our State Senators know people like you are paying attention is how we'll beat Big Oil.

MORE ONLINE ACTIONS
Pass a Resolution To Protect Florida's Beaches Now, via Audubon of Florida.
Urge President Obama's Ocean Policy Task Force to recommend against offshore drilling within any previously protected coastal waters, via Defenders of Wildlife.
Tell Obama: Offshore Drilling is NOT the Answer to Energy Crisis, via Oceana.
Help Drill for Solutions Not for Oil, via Southern Alliance for Clean Energy.
Let us decide! Petition to Governor Charlie Crist, Senate President Jeff Atwater, and House Speaker Larry Cretul, via Civic Concern.
Contact Your Officials About New Drilling Off Florida's Coasts, via Civic Concern.
Ask your state legislators to keep the rigs out, via Save the Manatee Club.
Write a letter to the editor, via Audubon of Florida.
Write your state legislators, via Audubon of Florida.
Urge Senate President Jeff Atwater to oppose offshore oil drilling, via Progress Florida.
Tell Sen. Atwater Not To Allow Oil Drilling In Special Session, via Audubon of Florida.
Sign the petition against oil drilling, via Protect Florida's Beaches.
Tell Salazar: No drilling off Florida's Coast, via Environment Florida.
Tell new Senator LeMieux to Repower America, via Environment Florida.
Related action: Don't go drill crazy in the Everglades, via Center for Biological Diversity.
Related action: Keep oil drilling out of climate change legislation, via Oceana.

ADDITIONAL RESOURCES OF NOTE
Hands Across The Sand website; their Twitter page is here.
Protect Florida's Beaches, recently launched coalition website.
Protect Florida's Beaches on Facebook.
Think, Baby, Think blog via Protect Florida's Beaches.
Don't Drill Florida website.
Don't Drill Florida Facebook page.
Save Our Shores Florida website; their Twitter page is here.
Save Our Shores Florida Facebook page.
Florida Coastal and Ocean Coalition website.
Environment Florida offshore drilling page.
Southern Alliance for Clean Energy offshore drilling page.
Skytruth blog, an excellent source of info.
Not the Answer blog, courtesy Surfrider Foundation.
Eye-opening map of oil and gas leases and infrastructure in Gulf of Mexico, via MMS.
EnergyFLA.com, online hub of drilling proponents; their Twitter page is here.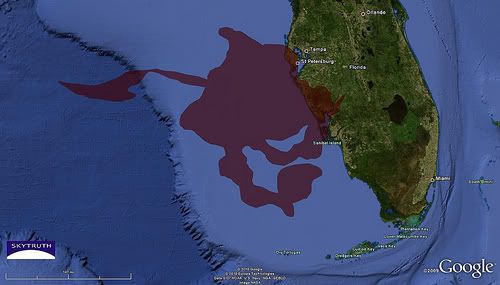 Cumulative oil slick "footprint" resulting from the 10-week Montara oil platform blowout and spill that occurred in the Timor Sea off Western Australia in 2009; superimposed on the Gulf coast of Florida for scale. More info here.
MORE GREEN NEWS
Large crowd mostly hostile to EPA plans for cleaning Florida's lakes and rivers
By Kevin Spear
Orlando Sentinel
A public hearing on a federal plan to clean up Florida's rivers and lakes drew an unexpectedly large crowd of nearly 350 people to a room with only 200 chairs Wednesday.
South Florida officials, farmers lash out at EPA's tough new water pollution rules
By Andy Reid
South Florida Sun-Sentinel
South Florida farmers and local governments alike on Thursday called for federal regulators to back off tough new water pollution rules they argue would cost too much to follow.
Contamination notification bill appears stalled
By Bruce Ritchie
FloridaEnvironments.com
What a difference a year makes -- when it comes to a bill to require that neighbors be notified of groundwater contamination from a pollution site.
Update: Scientist questions springs nitrogen limit
By Bruce Ritchie
FloridaEnvironments.com
State officials for the first time are saying they know at what level of nitrate in groundwater that springs lose their ecological balance.
Bill allows longer limestone mine permits
By Bruce Ritchie
FloridaEnvironments.com
A revised bill that would allow the state to grant state permits to limestone mining operations for the life of the mine was approved by the House Agriculture and Natural Resources Policy Committee.
Econ River polluted? It's in eye of beholder
By Kevin Spear
Orlando Sentinel
The Econlockhatchee River, inky from decaying baldcypress needles and cradled in deep swamp, is intensely studied by biologists who think of the "Econ" as still much like what nature originally created.
Plastic or paper or neither? Florida lawmakers may weigh in
By John Frank
St. Petersburg Times/Miami Herald Tallahassee Bureau
A much-anticipated report from state environmental regulators may spur Florida lawmakers to consider a ban on plastic retail bags.
JEA plan to tap nuclear power moves forward
By David Hunt
Florida Times-Union
The U.S. Energy Department is backing up to $8.3 billion in loans to expand a Georgia nuclear plant, a project that will eventually provide JEA with 5 percent of its power.
Editorial
Gainesville Sun
Washington just experienced a blizzard so heavy that some headline writers termed it "Snowmageddon."
End the inhumane hunting by dogs in pens
Editorial
St. Petersburg Times
Mention hunting dogs and you might think of a bird dog pointing a covey of quail, hounds baying in the woods, or a retriever diving for a duck.
Wildwood Preservation Society is a non-profit 501(c)(4) project of the Advocacy Consortium for the Common Good. Click here to learn more.
"it's all connected"