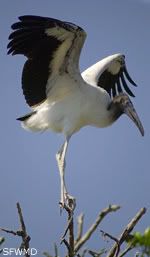 From the National Wildlife Federation
Protect Florida's Everglades from Development

We need your help to protect the Western Everglades and a water flowway called the Cocohatchee Slough!

There are five development projects underway--including two massive golf course communities--which threaten to destroy an estimated 1,140 acres of wetlands, including critical foraging habitat for the wood stork, an endangered wading bird whose U.S. population has plummeted more than 75 percent over the past century.

These developments include...

Mirasol and Saturnia Falls (a.k.a. Terafina): These have been approved by the U.S. Army Corps of Engineers, Environmental Protection Agency and U.S. Fish and Wildlife Service. National Wildlife Federation (NWF) is currently mounting legal challenges to stop these two projects.

Parklands: Originally, this development was approved by the three agencies, but thanks to an NWF-led lawsuit as well as pressure from activists like you, they were forced to take another look at the project. Unfortunately, the revised permit application still doesn't provide adequate safeguards for wetlands, water quality and wildlife.

Urge Col. Paul L. Grosskruger of the U.S. Army Corps of Engineers, Regional Administrator James Palmer of the Environmental Protection Agency and Southeast Regional Director Sam Hamilton of the U.S. Fish and Wildlife Service to deny Parklands and re-think Mirasol, Saturnia Falls and the others.

Click here to stand up for Florida's Everglades and the endangered wood stork!




Wildwood Preservation Society is a non-profit 501(c)(4) project of the Advocacy Consortium for the Common Good. Click here to learn more.

"it's all connected"