Thank you to everyone who signed the petition to stop this misguided proposal. In addition to the press coverage below, the story was covered by WTXL ABC News and Florida Public Radio.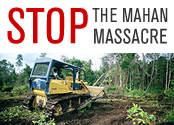 Group delivers petition against Mahan Drive development
By Julian Pecquet
Tallahassee Democrat
August 28, 2008
Department of Community Affairs Secretary Tom Pelham on Thursday received a petition with close to 1,000 signatures opposing a proposed development on Mahan Drive.
Damien Filer, political director for the nonprofit Progress Florida, delivered the petition, which requests that the department oppose allowing up to 500 homes —10 times what's currently allowed — on 509 acres of rural land at the corner of Mahan Drive and Wadesboro Road in eastern Leon County.
The Leon County Commission gave preliminary approval to the land-use change earlier this year despite staff's recommendation to deny it. The state now gets the chance to weigh in before final approval on Oct. 28.
"We hope that (the state) will recognize what the Tallahassee and Leon County Planning Department found —that this is a bad idea," Filer said. "We shouldn't have massive amounts of development in places that are intended to be rural."
Filer said about 930 had signed the petition as of earlier this week, with more people signing on every day.
After meeting with Pelham, Filer took the petition to the county courthouse to share it with commissioners.
Commissioner John Dailey said the commission welcomed the petition and could yet be swayed by residents' concerns.
"We always take citizen input into account," he said. "I look forward to seeing the petition."
WCTV News coverage:RELATED INFO
Support
Hold The Line
if you are in the Miami-Dade area.
Support
Hometown Democracy
if you are in Florida.
Recommend reading:
Green Empire: The St. Joe Company and the Remaking of Florida's Panhandle
by Kathryn Ziewitz and June Wiaz.

Wildwood Preservation Society is a non-profit 501(c)(4) project of the Advocacy Consortium for the Common Good. Click here to learn more.

"it's all connected"