Voters fortify the rural border
By Doug Sword
Sarasota Herald Tribune
May 7, 2008
SARASOTA COUNTY — Anger over years of rapid growth fueled voters' overwhelming approval Tuesday of a ballot question aimed at protecting the county's rural portion from dense development.
Sarasota County commissioners are expected to vote next week to approve issuing bonds to cover the cost of public works projects.
The first round, about $55 million for expanding Fruitville Road to four lanes east of I-75, the extension of Honore Avenue and a bevy of sidewalk projects, is expected to come up for approval in July.
Plans are to borrow money in July and August for two other sets of projects. The first involves borrowing $14 million to pay for road resurfacing projects including one on Swift Road.
The second would be $15.5 million for projects including the remodeling of Elsie Quirk and Selby libraries, and construction of Honore Trail Park. The first projects expected to be completed include replacing the boardwalks at Ken Thompson and Lemon Bay parks, and the replacement of playground equipment at some county parks.
The anti-sprawl vote makes Sarasota County one of the toughest counties in Florida for new development, if not the toughest.
It marks the third time in 14 months that voters have approved a ballot question aimed at making it tougher for developers to bulldoze rural land.
An unprecedented alliance between the business community and slow-growth advocates -- two groups that have been at each other's throats in the past -- got credited with Tuesday's landslide vote.
"At the end of the day, the community really did come together," said Henry Rodriguez, an Osprey developer.
With all precincts reporting, 79 percent of voters approved the growth measure -- which requires unanimous approval from county commissioners for any project that would result in denser development in the county's rural half.
A low turnout determined the election, however, with only 16 percent of registered voters casting ballots.
Voters also overwhelmingly approved a measure promoted as an economic stimulus package for a local economy ailing from the real estate slowdown. Sixty-nine percent of voters approved giving the county the power to borrow up to $300 million to fast-track about 60 projects, which include four-laning Fruitville Road east of Interstate 75 and replacing the county's aging beach bathrooms. Money from a sales tax voters approved in November will pay back the bonds.
In a scene once considered unthinkable, developers, environmentalists, business leaders, county commissioners and neighborhood groups partied and celebrated at a restaurant in downtown Sarasota as Tuesday's results came in.
"Did you ever think you'd see this?" asked a stunned Cheri Luehr, a member of Citizens for Sensible Growth, the political action committee that spearheaded passage of all three slow-growth ballot questions.
Tuesday's vote marked the culmination of a citizen-led campaign to make it tougher for developers to win approval for projects on undeveloped land.
Last March, more than 70 percent of voters approved giving the county power over how North Port and Venice develop land that is annexed.
In November, 61 percent of voters approved a requirement that at least four out of five county commissioners agree on making changes to the county's master plan, which controls whether and how land can be developed.
Bill Earl, one of Citizens for Sensible Growth's founders, called Tuesday's vote "the capstone" of the effort to give neighborhood groups and citizens more clout in fighting big developments.
This latest anti-growth measure tapped into an electorate that worries about worsening congestion on local roads, the region's ability to find enough water to sustain growth and projections that the county's population will double in just a little more than 30 years.
It will be the last time voters will be asked to change the county charter to make growth tougher for a while. Part of the agreement between the two groups was that neither would launch another petition drive to get a growth issue on the ballot for at least six years.
Venice resident Jim Greenwood, 66, blames the current housing market malaise on unchecked growth. On Tuesday, he voted to strengthen the boundary on county land-use maps that separates urban from rural land.
"It's just greed and poor planning," Greenwood said. "I'm tired of it."
Venice resident Charles Ahrens, 83, agreed with Greenwood.
"I've been here 28 years and seen quite enough development," he said.
Even those who say they are not anti-growth complain that Florida's surge of growth during the first half of the decade was not managed well.
"I think we've got to be able to manage growth better than we have before," said Allie Lucas, a Sarasota business owner who also voted in favor of the ballot question.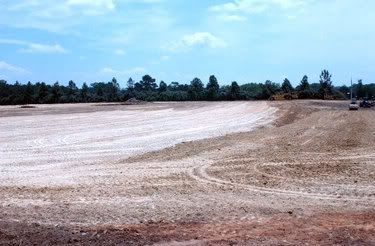 Progress?
MORE INFO
Support
Citizens for Sensible Growth
if you are in the Sarasota area.
Support
Hold The Line
if you are in the Miami-Dade area.
Support
Hometown Democracy
if you are in Florida.
Recommend reading:
Green Empire: The St. Joe Company and the Remaking of Florida's Panhandle
by Kathryn Ziewitz and June Wiaz.

Wildwood Preservation Society is a non-profit 501(c)(4) project of the Advocacy Consortium for the Common Good. For more information click here.

"it's all connected"