If you are in the Tallahassee area, please read the letter below from Tallahassee-Leon County Senior Planner Steve Hodges and consider joining us this Saturday!

This Saturday, July 19th, at 9 a.m., a small group of FSU environmental service students, organized and led by Misty Penton, founder of Wildwood Preservation Society, will gather at the SE corner of Gaines and Lake Bradford to pick up trash along a City-owned trail easement. This easement is intended to be the final trail connection between the City's Lake Elberta Park and the FSU stadium that will connect the St. Marks Trail to FSU.

We're looking for additional volunteers to help clean up this corridor. Following the cleanup, City Parks and Recreation staff will clear and grade the trail, and hopefully put down a hard surface. City staff are working with CSX to clean up a small storage facility along the easement, and other City staff are working to secure additional property that will connect the trail to the crossing at Gaines and Lake Bradford.

This is an important link in the local greenway system, and its opening is closer than it has been in years. Come if you can, and help extend our urban trail system. Bring gloves, closed-toe shoes, bug spray, and drinking water. We'll be done by noon, barring bad weather. Ride your bicycle to this event if you can.



Fred George Sink clean-up crew, February 2008


PS: If you are in the Leon County area and have not signed the Stop the Mahan Massacre petition, please click the picture below and pass the word along to friends and family. Thank you!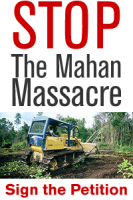 Wildwood Preservation Society is a non-profit 501(c)(4) project of the Advocacy Consortium for the Common Good. Click here to learn more.

"it's all connected"