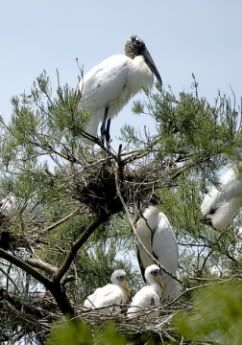 Endangered Wood Storks nesting in Fred George Basin, May 2008

Note: This has been an active wood stork mating season in Fred George Basin. Preliminary estimates for the Wildwood rookery suggest about a 75% nesting success rate. Unfortunately, historically large colonies in the south are being ravaged by drought and overdevelopment as evidenced by the article below. The protection of wood stork nesting and core foraging areas in places like Fred George Basin is more critical now than ever. Read on…


Wood storks in peril
By Jenna Buzzacco
Naples News
July 10, 2008

Here's one first no one is celebrating: For the first time in 50 years, wood storks have not returned to nest at Corkscrew Swamp for two consecutive years.

And with the potential for a third year looming on the horizon, wood stork experts are concerned about what could happen to the species.

"Wood storks are an indicator," said Jason Lauritsen, a science coordinator at the Audubon Corkscrew Swamp Sanctuary. "The wood stork is the gauge. The wood stork lets us know what's going on out there."

What's going on out there is a drought. And that, paired with continuing development throughout South Florida, could be the reason the storks aren't returning to nest.

The water levels in 2007 were about 20 inches below average. Last year was the first time since 2002 that no nests or fledglings were reported. In 2002, according to an annual rainfall report, water levels were less than five inches below average.

There's a correlation between rainfall and the number of wood storks nesting each year, Lauritsen said. That's because the birds depend on having just the right amount of water in marshes, cypress sloughs and pine flatwoods to survive.

Wood stork nesting season can start as early as November, Lauritsen said. In Southwest Florida, though, wood storks have typically begun nesting in January or February.

About 15 to 18 inches of water is deep enough to provide enough small fish for adults and their chicks. It's also shallow enough for the adults to easily wade through to catch food.

But walk down Corkscrew's boardwalk and you'll find that there's not 15 inches of water in sight. The lettuce lakes are empty. And with only about an inch of water in the vast open space, it's hard to even picture it as a swamp.

It's not just Southwest Florida that's seeing a decrease in wood storks, though. Bill Brooks, a wildlife biologist for the U.S. Fish and Wildlife Service in Jacksonville, said nesting appears to be down throughout Central and Southwest Florida.

"It's related to the drought that we have been going through, so conditions won't be right (in some areas)," Brooks said. "But as you move further north, the nesting conditions must be better. There is nesting going on."

Nesting is happening in northern Florida, Georgia and South Carolina. Brooks said Georgia saw a record number of nests this spring. According to the Georgia Department of Natural Resources, birds were found nesting in 24 colonies in 14 Georgia counties, resulting in about 2,225 nests.

In 2006, a record for wood stork nests was set in Georgia when about 1,900 were found.

Lauritsen said Corkscrew saw about 1,550 birds fledge — or leave the nest — in 2006. About 800 nests were reported that year.

"Southwest Florida has historically been the most important (place), but it has also been the most unstable," Lauritsen said. "There's more and more (wood storks) in Georgia and South Carolina. It is possible that those trends will stabilize. We lose them, but at least there are still storks."

Losing the wood stork is a risk. The stork was listed on the federal endangered species list in 1984, but there have been efforts to downgrade the species to threatened. Brooks said a five-year study showed the birds could be considered threatened, not endangered, but said that could change since nesting numbers are lower than expected.

Not only does losing the wood stork mean losing an important gauge on what's going on in the environment, Lauritsen said it also means people will lose an "amazing" creature.

"It's amazing," he said as he talked about the birds learning how to fly. "It's awesome. They're reckless acrobats."

It's too early to tell whether the birds will be back to nest next year, Lauritsen said. But he also said people shouldn't depend solely on the weather to bring the birds back.

"If we're betting on recovering the wood stork and betting on the weather ... (the weather) is something we can't control," he said.



Due to dryness in the past year, moon vine has taken over much of the lettuce lake area of Corkscrew Swamp Sanctuary, a habitat that is normally comfortable nesting ground for wood storks. The species became listed as endangered in 1984, but has generally thrived in southwest Florida until the drought conditions of the last two years. According to biologist Jason Lauritsen, "Southwest Florida has historically been the most important region for wood storks in biologists' minds, but also the most vulnerable due to land use changes."


RELATED INFO
Survival Story- Wood Storks Thriving in Georgia
The Brunswick News
July 9, 2008
Endangered wood storks double number of nests
Florida The Times-Union
July 2, 2008
A rare bird all but vanishes from Everglades
Miami Herald
July 5, 2008




Wildwood Preservation Society is a non-profit 501(c)(4) project of the Advocacy Consortium for the Common Good. Click here to learn more.

"it's all connected"