FEATURED STORIES
Scientists: Development draining St. Johns springs
By Steve Patterson
Florida Times-Union
Some springs that feed the St. Johns River are producing less water, likely because of spreading development around them, a team of federal scientists has found.
Third proposal surfaces for pumping water for public use from St. Johns River
By Kevin Spear
Orlando Sentinel
Orange County and a half-dozen Central Florida cities are getting ready to spend $5 million to draw up what could become another controversial plan to pump water from the St. Johns River.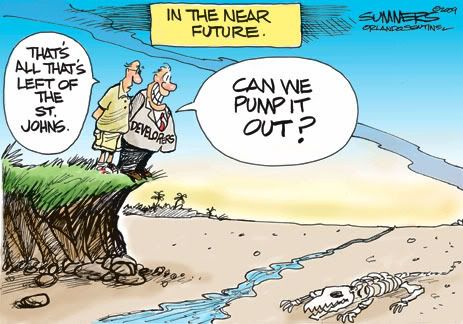 By Dana Summers, Orlando Sentinel.
U.S., Florida reach Everglades restoration deal
By Curtis Morgan
Miami Herald
Water managers and the White House signed a crucial contract Thursday that promises a much-needed infusion of federal dollars for the Everglades.
Crist, Cabinet okay Progress Energy's nuclear power plant in Levy County
By Shannon Colavecchio
St. Petersburg Times
The governor and Cabinet on Tuesday approved Progress Energy's controversial proposal to build a nuclear plant in Levy County, the first such plant approved in Florida in 33 years.
Crist averts GOP heat, tables climate summit
By Michael C. Bender
Palm Beach Post
Gov. Charlie Crist's plans for a third high-profile climate summit have been indefinitely postponed as the Republican weighs the political cost of the event's expensive price tag.
Lehigh Acres: Florida's lesson in unregulated growth
By Kris Hundley
St. Petersburg Times
Hoping to jump start the economy, Florida lawmakers have eased the rules on developers.
Commercial sustainability in North Florida requires collaborative effort
By Will Brown
Tallahassee Democrat
There may be an "I" in sustainability, but the term is certainly not something that can be done by individuals alone or on an isolated basis.
St. Johns River near Blue Spring State Park.

MORE GREEN NEWS
Florida to unveil rules for listing imperiled species
Staff Report
Tampa Tribune
The state will unveil draft rules Monday night for listing imperiled species.
The Future of Florida Bay
By Alan Farago
Counterpunch
Can Florida Bay be restored? Yes.
Florida, federal government declare truce in Everglades money war
By Paul Quinlan
Palm Beach Post
After eight years of wrangling, the state and federal government have come to terms on how to split the multibillion-dollar cost of restoring the Everglades, clearing the way for the money that President Obama has pledged to the effort.
Gov. Crist still upbeat on Everglades deal
By Michael Peltier
Naples News
Despite legal challenges that may stall the project, Gov. Charlie Crist continues to support the $536 million plan with U.S. Sugar Corp. to buy 73,000 acres in the Everglades.
Environmentalists call for more green jobs in Florida
(includes audio)

By Mitch E. Perry
WMNF Community Radio Tampa
Although health care is the raging issue in Washington and across the country, U.S. Senators are also likely to take up climate change when they return from the August recess next month.
Nuclear Plant Protest
By Whitney Ray
Capitol News Service
For the first time in 33 years, the state cabinet approved plans to build a nuclear power plant.
Off-Shore Drilling: Opportunity or Mistake?
By Heather Biance
WCTV CBS News Tallahassee
Floridians guzzle 10.4 billion gallons of gas and diesel each year, making the Sunshine State the third largest consumer in the nation.
Enviros, utility reps clash over RIM test
By Bruce Ritchie
FloridaEnvironments.com
Representatives of utilities and environmental groups disagreed today on whether the Florida Public Service Commission now is required to use a new test to analyze utility conservation programs.
Florida lawmakers could force ban of Burmese pythons
By Catherine Dolinski
Tampa Tribune
Lawmakers may force the state Fish and Wildlife Conservation Commission to ban sales of Burmese pythons and other dangerous reptiles if the agency fails to act on its own.
U.S. regulators cut longline grouper fleet by 50%
By Stephen Nohlgren
St. Petersburg Times
Federal regulators decided Thursday to cut Florida's longline grouper fleet in half to protect loggerhead turtles.
Cockaded woodpeckers need your help
By Terry Pelican
Pensacola News Journal
Liz Langston is looking out for a few of our feathered friends.
Nesting numbers continue to decline for loggerhead sea turtle
By Whitney Bryen
Naples News
At 6:30 a.m., the sand on Vanderbilt Beach is void of yesterday's footprints and sand castles as the sun rises over downtown Naples to the south.
Sea Turtle Workshop
(includes video)
Georgia is preparing to step up its offensive in the long-running battle with its neighbors over federal water rights by focusing on Florida's environmental record and dredging up a 150-year-old ruling that could give Alabama less control of a key river, Gov. Sonny Perdue said last week.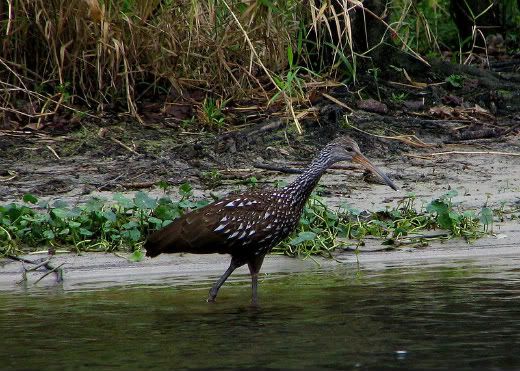 Limpkin on the St. Johns River near Blue Spring State Park.

Wildwood Preservation Society is a non-profit 501(c)(4) project of the Advocacy Consortium for the Common Good. Click here to learn more.


"it's all connected"