`

FEATURED STORIES
Fla. could run out of land-buying money by Oct. 1
By Bruce Ritchie
FloridaEnvironments.com
Related:
Ranking system urged to save nation's largest land-buying program
Florida could be out of money for buying conservation lands by Oct. 1 unless new bonds are issued to allow purchases.
Fla. Governor's Moves Scrutinized for Clues to U.S. Climate Debate
By Alex Kaplun
New York Times
Florida Gov. Charlie Crist (R) is getting intense heat from his party's right wing over his support of climate legislation, fueling speculation that the popular politician may move away from "pro-green" positions that have been praised by top Democrats and environmentalists.
Activists criticize pro-oil rallies
(includes audio)

By Mitch E. Perry
WMNF Community Radio Tampa
Next Thursday in Ybor City, a rally is being organized by Energy Citizens, a pro-oil, anti-cap-and-trade group.
Forget Russians; fear Texas oilmen
By Eric Draper
TC Palm
In the 1960s comedy "The Russians are Coming, the Russians are Coming," coastal villagers and hapless sailors almost start a war as their imaginations get the best of them.
FWC invites public comments on endangered and threatened species listing changes
Staff Report
Foster Folly News
The Florida Fish and Wildlife Conservation Commission (FWC) will hold a meeting for the public to comment on draft rules for the state's imperiled species listing process.
Florida's utilities want to build, not conserve
By Stephen Smith
Tallahassee Democrat
Last week was a big one for Florida utilities in Tallahassee.
Sea turtle hatchlings get running start to a life full of peril
By Terry Tomalin
St. Petersburg Times
This evening, shortly after sunset, Jim Wilson plans to dig a hole in the sand and look for stragglers in nest No. 22.
So long, Gov. Green, vanishing in political smog
Editorial
Daytona Beach News-Journal
Two years ago, Gov. Charlie Crist looked more green than tanned. In a single day, he signed three executive orders that set Florida on an environmental course as progressive as California's.
Sea turtle hatchling looking to beat the odds.
MORE GREEN NEWS
Ruling on Longline Fishing Aids Turtles
By Cornelia Dean
New York Times
When a federal panel that regulates fishing in the Gulf of Mexico voted last week to limit the use of longlines to catch grouper because the lines can snag and drown threatened loggerhead sea turtles, no one was completely satisfied with the decision.
One Person's Boondoggle, Another's Necessity
By Michael Cooper
New York Times
The $14.7 million for a new airport on an Alaskan island that averages only 42 flights a month.
Land swap helps St. Johns River stay wild
By Kevin Spear
Orlando Sentinel
Authorities are on the verge of finally assembling a vast sanctuary along a Central Florida stretch of the biggest and most beleaguered river within the state.
We can protect turtles and fishermen
By Sen. Bill Nelson
Tallahassee Democrat
One of the things I've tried to do in the U.S Senate is to protect Florida's marine resources, upon which many livelihoods depend.
Lobbyist hisses: Give snakes fair shake
By Frank Cerabino
Palm Beach Post
For Andrew Wyatt, a fascination with snakes began when he was the son of an American serviceman stationed in India.
Crist checks out beach erosion in Destin
By Tom McLaughlin
Northwest Florida Daily News
Gov. Charlie Crist traveled to Destin Monday to survey damage done by Tropical Storm Claudette.
Gator hunters taunt protesters as season starts
By Jerome Burdi
South Florida Sun-Sentinel
"Gator meat tastes like chicken," and "Going to get a few of them right now" are some of the jeers tossed at a handful of alligator-hunt protesters holding signs that read: "If you respect them, protect them" and "Ban gator hunt."
Crist considers meeting with Ala., Ga. in water dispute
By Michael Peltier
News Service of Florida via FloridaEnvironments.com
Gov. Charlie Crist is mulling over dates to meet with his counterparts from Alabama and Georgia as leaders of the three neighboring states try to resolve a longstanding feud over how to divvy up water coming from Lake Lanier.
Regulators: FPL must reveal executives' salaries
By Mary Ellen Klas
Miami Herald/St. Petersburg Times Tallahassee Bureau
State regulators on Tuesday unanimously voted to force Florida Power & Light and Progress Energy to disclose how much they pay their top executives. FPL's response: We'll see you in court.
FPL says bills will go down
Staff Report
Sarasota Herald-Tribune
Florida Power and Light -- under attack for a proposed rate increase and with questions being raised about its executive compensation -- said that it expects its overall customer rates to drop about 8.3 percent in 2010.
Mercury In Fish Widespread
(audio story)

By Trimmel Gomes
WFSU Public Radio Tallahassee
A federal study out Wednesday shows that mercury in fish is widespread across the country, and some of the highest levels of contamination are found right here in Florida.
Polluted policy
Editorial
St. Petersburg Times
Taxpayers in Florida and across the nation are spending billions of dollars to restore the Everglades.
Back on Everglades track
Editorial
Palm Beach Post
When it comes to restoring the Everglades, an agreement on science may be only as good as an agreement on finances.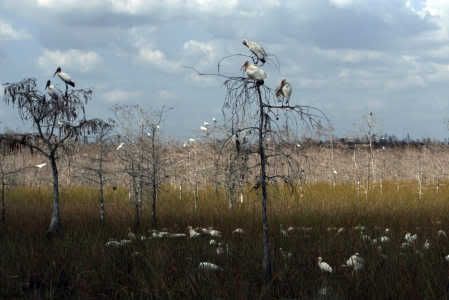 Endangered wood storks and others in Everglades National Park.

Wildwood Preservation Society is a non-profit 501(c)(4) project of the Advocacy Consortium for the Common Good. Click here to learn more.


"it's all connected"