FLORIDA ENVIRONMENTAL AND WILDLIFE ACTIONS APRIL 2009

Act Now to Protect Florida Forever
Attend Florida Forever Day April 6th in Tallahassee
Florida Forever Coalition




Don't Pave Florida
Support the Florida Clean Energy Trust Fund
Progress Florida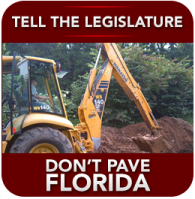 Urge Your Legislator to Add Money to the State Budget for Environmental Programs
Legislative Committee Approves Environmental Ponzi Scheme
Take A Stand On Climate Change: What Does Your Legislator Think?
Audubon of Florida

Calling all shutterbugs: Send us your photos of beautiful Florida
Tell House leaders: dirty energy will cost us
Tell Congress: Clean energy, green economy!
Environment Florida

Proposed Legislation Would Gut Florida's Growth Managment Process
Civic Concern

Please Help Safeguard Florida's Environment!
Save the Manatee Club

Ask Congress: Help Pass a Wildlife-friendly Budget
Florida Wildlife Federation

Act Now to Help Prevent Another Exxon Valdez Spill
Sierra Club

Tell Congress to keep limits on global warming pollution in the budget
Help put an end to pirate fishing
Greenpeace

Help get Hometown Democracy on the 2010 ballot
Florida Hometown Democracy

Oppose HB 189/SB 372 to stop breed-specific bills
American Humane Association

Help Stop Pro-Nuke Budget Amendments: Email Your Senator
Nuclear Information and Resource Service

Urge the EPA to Pave the Way for Cleaner Cars
Union of Concerned Scientists

MORE INFO AND WAYS TO HELP
Click here to find your state legislators.
Consider writing a letter to the editor of your local newspaper.
Contribute financially to your favorite organization(s) as many are in desperate need of funding.
Link to this post on your website, Facebook, MySpace, Twitter, etc.



Endangered wood stork in flight over Fred George Basin. Photo courtesy Richard Baas.
Wildwood Preservation Society is a non-profit 501(c)(4) project of the Advocacy Consortium for the Common Good. Click here to learn more.
"it's all connected"