Wildwood Preservation Society in the news

Fred George Basin Clean-Up
Reported by Kelsey Johnson
WCTV CBS News Tallahassee

Folks from around the capital city gathered to get a little dirty in order to pick up after litterbugs.

The Wildwood Preservation Society and Family Tree teamed up to grab a garbage bag in order to pick up trash that has collected around the Fred George basin.

About fifteen people showed up to lend a helping hand to their community.

"That's my favorite thing is the fact that you can have so much community come together and understand how everything is connected." says Founder of the Wildwood Preservation Society, Misty Penton.

Organizers say cleaning the basin of debris helps to prevent contamination in our drinking water, flooding, and helps protects endangered wildlife that live nearby.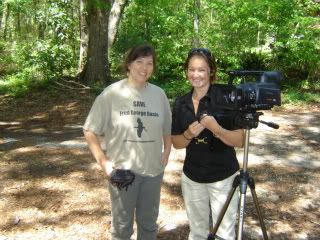 WPS founder Misty Penton with WCTV reporter Kelsey Johnson

FEATURED STORIES

Department of Community Affairs: What happens to Florida if this growth management gatekeeper goes away?
By Craig Pittman
St. Pete Times
Take action: Sign on to Progress Florida's letter to the legislature
Think of it as the Gatekeeper. When a developer wants to fill in an Everglades marsh, or a condo builder wants to toss up a couple thousand units on a flood-prone beach, local officials may say yes — but the Florida Department of Community Affairs steps in to say, "Whoa."

Neither Chamber Likely to Fund Florida Forever
By Bruce Ritchie
The News Service of Florida via Wakulla.com
Take action: Support Florida Forever
Gov. Charlie Crist and environmentalists said Wednesday they're not giving up on the state's land-buying program despite there being zero money for it so far in the House and Senate versions of the proposed 2009-10 state budget.

Smarten up naval sonar to save the whales
By Jean-Michel Cousteau and Joel R. Reynolds
Christian Science Monitor
The Bush administration may be gone, but whales and other marine life along our coasts will be hearing from it for years to come – literally.

New sugar deal: Crist announces 72,500 acres for $533 million
By Michael C. Bender, Paul Quinlan and Susan Salisbury
Palm Beach Post
Gov. Charlie Crist still proposes buying a huge swath of U.S. Sugar Corp.'s farmland to save the Everglades.

Nuclear, coal are "clean" energy in Senate bill
By Bruce Ritchie
FloridaEnvironments.com
A proposal to require Florida utilities by 2020 to produce at least 20 percent of their electricity from "clean energy" sources including nuclear and coal was approved by a Senate committee today.

Ample evidence Florida's feeling effects of climate change
By Georgia Tasker
Palm Beach Post via Miami Herald
Maybe the fish are on to something. Don Hammond, who catches, tags and releases dolphin-fish (also known as mahi-mahi), says those Florida natives are being hooked in some unusual places.

Florida should end Ponzi scheme based on growth, economist says
By Gimleteye
Eye On Miami
"It is now obvious that the reason we're experiencing a simultaneous meltdown in the financial system and the climate system is because we have been mispricing risk in both arenas-- producing a huge excess of both toxic assets and toxic air that now threatens the stability of the whole planet."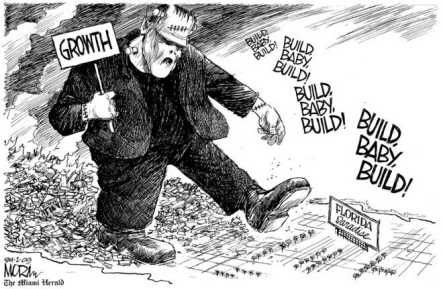 Editorial Cartoon by Jim Morin, Miami Herald

MORE GREEN NEWS

Advocates concerned for bay amidst budget cuts
By Laura Morales
Miami Herald
At least $10 million for water managers to buy endangered Biscayne Bay wetland is gone, and more than $140,000 has been slashed from the Coastal and Aquatic Managed Areas program.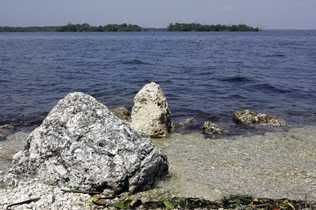 Shoreline at Biscayne Bay

Senate Passes Bill on Growth Management
By Bill Kaczor
Lakeland Ledger
Related Palm Beach Post editorial: Keep checks on bad growth
The sponsor of a growth management law intended to curtail urban sprawl apologized because in the real world it had the opposite result as the Senate on Thursday passed a new measure he filed to fix that mistake.

Uproar over Chinese drywall; Floridians say it's making them ill and hurting home values
By Paul Owers
South Florida Sun-sentinel
Homeowners in Florida and other states are mounting a charge against defective Chinese drywall, saying it's making them sick and damaging their homes built during the housing boom.

State urged to win race for energy
By Sara Kennedy
Bradenton Herald
At a time of tremendous urgency in energy policy, states with an "open for business" sign on the door have a chance to create the next generation of jobs and profits in renewable energy, expected to be among the largest new markets on the planet, environmentalists say.
Is energy reform fizzling?
By Zac Anderson
Sarasota Herald-Tribune
For two years Gov. Charlie Crist has championed energy reform, saying Florida must turn to alternative and renewable power sources and rely less on coal, gas and oil.

Florida renewable energy lobby opposes 'nuclear' in definition
By Staff Writer
St. Pete Times
The renewable energy lobby — including environmentalists, energy companies and even farmers — called on Florida legislators in a letter sent Friday to pass a strong renewable energy requirement.

Florida Forever? Not this year
By Aaron Deslatte
Orlando Sentinel
Florida's heralded land-conservation program that has preserved millions of acres of green space during the past two decades is going away — at least for a year.

Swiftmud agrees to swap bear habitat for developer's land
By Jodie Tillman
St. Pete Times
Water district officials Tuesday approved a controversial land swap that gives SunWest Harbourtowne developers 90 acres of bear habitat in exchange for a nearby 400-acre parcel.

Dry weather brings South Florida a bumper crop of wading birds
By Jennifer Sorentrue
Palm Beach Post
South Florida's wading birds are resilient. After a dismal nesting season last year, scientists have seen a surge in the number of great egrets, white ibises and endangered wood storks breeding in western Palm Beach County marshes and other parts of the Everglades.

Take Extra Care on Waterways as Manatees Migrate After a Rough Winter
FWC Press Release
Wakulla.com
The FWC urges boaters to follow the posted speed zones and watch for manatees as temperatures warm.

The 30 Year War on the Environment
By Gimleteye
Eye On Miami
Fifty years ago, Rachel Carson wrote the clarion call of the environmental movement, "Silent Spring", and was attacked by the chemical industry.
Don't take away the DCA
By Ernie Padgett
Pensacola News-Journal
Some interesting and negative things are happening in the Legislature relative to the best way to manage growth in Florida.

Don't destroy Florida's key watchdog on growth, land use
Editorial
TC Palm
The state of Florida's key growth management agency is under attack in the 2009 Legislature.

Out of the ground, bottled into profits
Editorial
Daytona Beach News-Journal
The fresh water beneath Florida is an ever more precious public resource as demand outstrips rainfall's ability to replenish the aquifers.

Endangered in Brevard: White House should rescind Bush-era rules that threaten many species
Editorial
Florida Today
The success of the Endangered Species Act can be seen in our own backyard, where it has helped save animals by protecting the lands and waters where they live.

From brink of extinction
Editorial
Daytona Beach News-Journal
If the Endangered Species Act were a polar bear, it would look eviscerated and bleeding on ice.



Fred George Pond, Leon County



Wildwood Preservation Society is a non-profit 501(c)(4) project of the Advocacy Consortium for the Common Good. Click here to learn more.


"it's all connected"