FEATURED STORIES

U.S. Sugar Corp. tells Florida negotiators: Take land deal or leave it
By Andy Reid
South Florida Sun-Sentinel
Lingering cost concerns about the state's scaled-down $533 million Everglades land deal prompted a take-it-or-leave-it message Thursday from U.S. Sugar Corp.

Florida's worsening drought sparks water fights
By Curtis Morgan
Miami Herald
Everglades marshes and Big Cypress swamps are drying up. Estuaries at the mouths of the St. Lucie and Caloosahatchee rivers are turning too salty.

U.S. reps ask administration for more Florida panther protection
By Craig Pittman
St. Pete Times
Although the Florida panther has been on the endangered species list for 40 years, the government has never officially designated what its "critical habitat" would be.

Rally urges support for Florida Forever
By Bruce Ritchie
FloridaEnvironments.com
With budget cuts threatening to end the nation's largest land conservation program, environmental groups on Monday released poll results they said showed support for the state's Florida Forever land-buying program.
A Solar-Powered Solution to Florida Sprawl
By Michael Grunwald
Time Magazine
An NFL lineman turned visionary developer today is unveiling startlingly ambitious plans for a solar-powered city of tomorrow in southwest Florida's outback, featuring the world's largest photovoltaic solar plant, a truly smart power grid, recharging stations for electric vehicles and a variety of other green innovations.

The hidden costs of nuclear power
By PlentyMag.com
Mother Nature News
As one of Florida's largest utilities prepared to unveil details about its nuclear plans in March 2008, its executives showed a noticeable wariness about one detail in particular: the price.

Young want a green future
By Lyndsey Scofield
Tampa Tribune
The next generation is ready. Will our leaders lead us?



Editorial Cartoon by Jim Morin, Miami Herald


MORE GREEN NEWS

Manatee deaths on the rise
By PlentyMag.com
Mother Nature Network
More than 100 newborn manatees were found dead in 2008, up from 59 in 2007, according to the Florida Fish and Wildlife Research Institute

Budget cuts end program to track endangered Florida panther
By Associated Press
TC Palm
Budget woes are forcing state wildlife officials to cut a program that tracks endangered Florida panthers with GPS-equipped collars.

Protect Florida panther habitat from development
By Andrew McElwaine
South Florida Sun-Sentinel
The Florida panther is one of the most endangered animals on Earth, with only 80 to 100 remaining.

Fish and Wildlife to review 13 Florida endangered species
Staff Report
Orlando Sentinel
The U.S. Fish and Wildlife Service will conduct status reviews of 13 plants on Florida's endangered species list.

Proposal would protect Florida springs
By Jim Saunders and Dinah Voyles Pulver
Daytona Beach News-Journal
State Sen. Lee Constantine describes springs as "one of the last and most-unique treasures" of Florida.

Proposed cuts to petroleum cleanup raise civic concerns
By Jim Ash
Tallahassee Democrat
Engineers and environmentalists warned Monday about proposed budget cuts to a $151.7 million program that pays for some 5,000 active cleanup projects where plumes of gasoline and other petroleum products threaten drinking-water supplies.

Ethanol producers, once riding high in Fla. and elsewhere, now struggle
By David Adams
St. Pete Times
A year ago, the ethanol industry was riding high on spiraling gas prices that made corn-based biofuel a highly attractive home-grown supplement to costly gasoline.

McKeel: Lift Moratorium On Offshore Oil Drilling
By Bill Rufty
Lakeland Ledger
Legislation by Rep. Seth McKeel, R-Lakeland, requesting Congress withdraw a moratorium barring drilling for oil and gas in the eastern Gulf of Mexico is one step away from being voted on by the Florida House.

Look for a change in Florida's growth law
By Howard Troxler
St. Pete Times
It's always risky to predict what the Legislature will do.

Relaxing growth rules could open floodgates to more sprawl
By Anthony Westbury
TC Palm
So, how did Florida get into such a bottomless financial pit?

Florida Forever: Keep it going
Editorial
Florida Times-Union
It would be a shame if the state's landmark Florida Forever environmental land-buying program does not last beyond this year.

Florida Forever
Editorial
Gainesville Sun
Alachua County residents have twice voted with their pocketbooks in favor of land preservation; once several years ago in creating Alachua County Forever, and again last year to provide a new funding source for it.

Developers, politicians reach deal on bear habitat, but nature loses
Editorial
St. Pete Times
Who looks out for Florida's wildlife in Aripeka?

No drilling in the Gulf
Editorial
Gainesville Sun
It isn't hard to be a voice of reason against a chorus chanting, "Drill, baby, drill." But credit goes to Ken Salazar, the new Interior Secretary, who is undertaking a serious review of U.S. energy policy.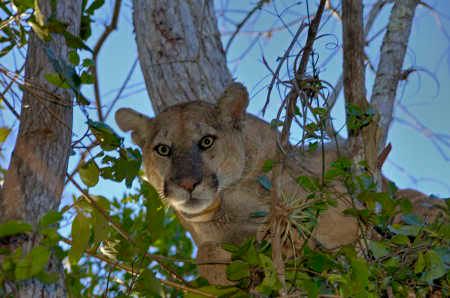 Critically endangered Florida panther

Wildwood Preservation Society is a non-profit 501(c)(4) project of the Advocacy Consortium for the Common Good. Click here to learn more.


"it's all connected"