Ed. Note: This post contains material from the past two weeks. We'll return to our regular posting schedule next week.

FEATURED STORIES

Hometown Democracy Proposal Goes to Voters
By Michael Peltier
The News Service of Florida via FloridaEnvironments.com
Related AP report: Fla. planning amendment makes 2010 ballot
Related story: Fla. Supreme Court grants "Hometown Democracy" motion
Take action: Support Florida Hometown Democracy.
Ballot casters going to the polls in November 2010 will be asked whether changes to local comprehensive plans must be approved by local voters, state election officials announced Monday.

Drilling backers see rare occasion
By Joe Follick
Gainesville Sun
Related Tallahassee Democrat story: Sen. Nelson hints at filibuster over bill on offshore drilling
Take action: Sign on to the Progress Florida letter to Sen. Nelson
Drilling for oil and natural gas within 10 miles of Florida's coast has suddenly become one of the chief objectives for Republican legislative leaders and industry backers, who see a rare convergence of political opportunity and public sentiment.

92-year-old crusader's latest cause is saving the St. Johns River
By Kevin Spear
Orlando Sentinel
Take action: Support St. Johns Riverkeeper.
Take action: Support The Stetson Kennedy Foundation.
Stetson Kennedy, legendary champion of civil rights and cultural preservation, has begun a legal battle at age 92 to keep thirsty Central Florida from draining the St. Johns River.

Officials defend eco-passage
By Bill Cotterell
Tallahassee Democrat
Related: Tax protesters plan 'tea party' over eco-passage
Related Palm Beach Post column: More to Florida turtle crossing than Oklahoma Sen. Coburn claims
Related Pensacola News Journal editorial: Wildlife corridors needed
Laugh if you will, but state transportation officials and wildlife researchers said Wednesday a $3.4 million pair of tunnels under a busy North Florida highway is a serious safety project - for people, too.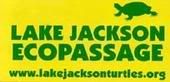 Florida manatee: Lessons to be learned from gentle giants
By John Christopher Fine
South Florida Sun-Sentinel
Related: Support Save The Manatee Club.
"They flipped us off and cursed us." The woman was distraught. An injured West Indian manatee was in distress near the Boynton Beach Municipal Boat Ramp.

Panel explores Corps of Engineers, wetlands loss
By Bruce Ritchie
FloridaEnvironments.com
Related reading: Paving Paradise: Florida's Vanishing Wetlands and the Failure of No Net Loss
Enigma. Paralyzed. Decentralized. Schizophrenic.

Frightful Florida global warming forecast for 2099: Will your grandkids be under water?
By Tony Doris
Palm Beach Post
More drought, more flooding.

All eyes are on sweeping water measure in governor's hands
By Kevin Spear
Orlando Sentinel
Environmentalists hold as one of their main strengths the ability to rally grass-roots supporters and raise a formidable protest at public hearings.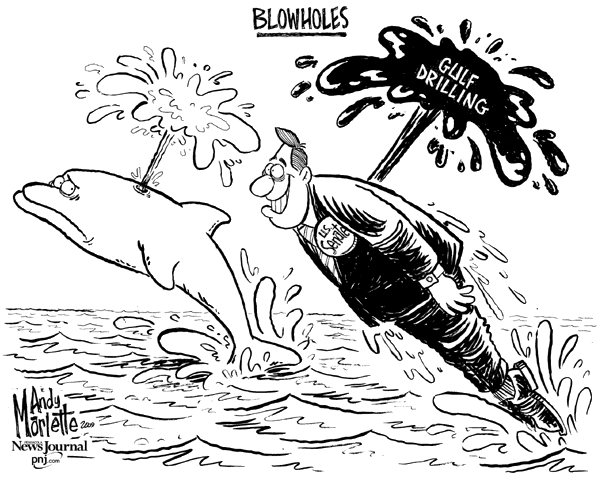 Editorial cartoon by Andy Marlette, Pensacola News Journal

MORE GREEN NEWS

Navy training zone expands off coast of Jacksonville
By Timothy J. Gibbons, Steve Patterson
Florida Times-Union
The Navy plans to ramp up training in a 66,000-square-mile swath of ocean off the coast of Jacksonville, bringing in more aircraft and ships to practice things like detecting mines and stopping smugglers.

Group warns it will sue over Panama City airport
By Bruce Ritchie
FloridaEnvironments.com
The Clean Water Network today announced it will sue the Panama City-Bay County Airport Authority for alleged stormwater permit violations in April at its new airport.

State removes falcon from endangered list
Staff report
Gainesville Sun
The world's fastest bird has flown off Florida's list of endangered species.

The South's deepening climate crisis
By Sue Sturgis
Facing South
A new federal report describes the impacts that man-made climate change is already having on the various regions of the United States, and it warns of dramatic disruptions on the way if we fail to reduce carbon pollution significantly and soon.

Crist: No position yet on federal drilling legislation
By Bruce Ritchie
FloridaEnvironments.com
Gov. Charlie Crist said this morning he hasn't taken a position on a federal energy bill that Sen. Bill Nelson says would allow drilling within 10 miles of Florida's Gulf of Mexico coastline.

Bradenton Man Works on Petition to Enable Drilling
By Dale White
Lakeland Ledger
Congressional and Florida legislative action are not the only attempts to open Florida's Gulf coast to oil drilling.

Offshore drilling: A current danger
By William E. Gibson
South Florida Sun-Sentinel
While Congress considers opening the eastern Gulf of Mexico to oil and gas drilling, experts on ocean currents warn of a potential environmental nightmare that could reach the coast of South Florida.

Report: Energy plans won't harm Florida economy
By John Dorschner
Miami Herald
A new economic report, commissioned by the Environmental Defense Fund, says the latest federal proposal to curtail greenhouse gases will have ''very modest or even negligible'' costs for the Florida economy over the next 15 years.

One year later, Everglades land deal shrinks to stay alive
By Andy Reid
South Florida Sun Sentinel
One year ago, Gov. Charlie Crist surprised the state with a blockbuster land deal aimed at restoring the Everglades' "missing link" through sugar cane country.

Federal, Florida dispute holds up Everglades money
By Curtis Morgan
Miami Herald
The Obama administration has pledged to spend nearly half a billion dollars on Everglades restoration over the next two years, a record amount, including $103 million set aside for stimulus projects picked because they are ``shovel-ready.''

Unwise pro-growth laws make Florida Hometown Democracy more likely to pass in 2010
By Howard Troxler
St. Petersburg Times
Our state is divided into two camps.

Growth law is stirring concern
By Dale White
Sarasota Herald Tribune
A new growth management law -- pushed by a Bradenton lawmaker -- is causing "great uncertainty and confusion," the head of Florida's planning agency said Friday.

Growth groups ready for fight
By Jim Saunders
Daytona Beach News-Journal
Gov. Charlie Crist sided with business groups and angered environmentalists when he signed a bill this month to revamp the state's growth management laws.

The unreality of Gary Schraut's push for Senate Bill 360
By Dan DeWitt
St. Petersburg Times
Sometimes, when I talk to Gary Schraut, I wonder if there's some sort of reality-bending tint on the windows of his SUV.

U.S. interior secretary wants to proceed with Everglades restoration
By William E. Gibson
South Florida Sun-Sentinel
After a decade of foot-dragging, it's time to get moving on Everglades restoration, Interior Secretary Ken Salazar said today.

Study: Apalachicola River flow could affect Gulf fisheries
By Bruce Ritchie
FloridaEnvironments.com
Reduced water flowing from Georgia and Alabama in the Apalachicola River in Florida could have wider effects than have been traditionally studied, according to Florida State University researchers.

The Majesty of Corkscrew
YouTube Video
Audubon of Florida blog
If this doesn't make you want to go to Corkscrew Swamp Sanctuary, I don't know what else would.

Hometown Democracy: The Eve of Destruction?
By Mike Thomas
Orlando Sentinel
St. Pete Beach is a throwback to Florida's pre-Disney beachfront tourism era.

High court goes with voters
Editorial
Palm Beach Post
The Florida Supreme Court ruled in favor of democracy last week by rejecting a state law designed to undercut petition drives for state constitutional amendments.

Drilling redux
Staff Editorial
Gainesville Sun
A Senate committee has approved a plan to open millions of acres of the eastern Gulf of Mexico to oil and gas drilling.

Blowing smoke at Obama plan
Editorial
Daytona Beach News-Journal
It started encouragingly: A federal energy bill that would require 20 percent greenhouse-gas emission reductions from 2005 levels by 2020, and 80 percent by 2050.

Playing The Same Old Tune
Editorial
Lakeland Ledger
It's sad, really. While most Americans are excited by the prospects of renewable energy and better fuel efficiency, many in Congress continue to be drawn to the oil companies' same old tune.

Drilling off Florida is a false promise
Staff Editorial
Tampa Tribune
The "drill, baby drill" crowd is at it again.

Plastic grocery bags get trashed, for good reason
Editorial
South Florida Sun-Sentinel
They're everywhere -- blowing in the wind, floating in the sea, piling up in your kitchen and in landfills.



Snowy egret chicks nesting in Fred George Basin, Leon County, Spring 2009. Photo Courtesy Richard Leighton, Florida Nature Photography.


Wildwood Preservation Society is a non-profit 501(c)(4) project of the Advocacy Consortium for the Common Good. Click here to learn more.


"it's all connected"