Ed. Note: Below are two important news stories regarding Florida's turtle population from the past day. Thank you to everyone that sent emails and letters to Gov. Crist and the Florida Fish and Wildlife Commission urging that the freshwater turtle harvest ban be implemented!
State bans harvesting of most freshwater turtles
By Logan Neill
St. Petersburg Times
Related link:
Support the
Florida Turtle Conservation Trust
In what one commissioner called "a legacy vote," Florida on Wednesday approved the toughest measures in the United States to protect freshwater turtles.
The Florida Fish and Wildlife Conservation Commission voted unanimously to outlaw the commercial taking of the state's freshwater turtles and eggs.
"This decision may be one of Florida's greatest conservation stories," Commissioner Brian Yablonski said. "This is a legacy vote."
The reptiles are popular in China, where they are considered a delicacy and are used in medicine. However, wildlife officials fear that continued capture of the wild creatures from lakes, ponds and other waterways would endanger some turtle species.
Bowing to public outcry over the practice, Gov. Charlie Crist urged the agency last year to move toward a complete ban on the harvesting of wild turtles.
The FWC heard from 24 people Wednesday, including environmental groups and wildlife experts who supported the ban.
"We need to protect the resource before it's too late. Good regulations will help that," said Peter Meylan of Eckerd College.
Douglas Traywick, 51, traveled from Gotha in Orange County to oppose the new rules. A lifelong fisherman, he said he has the required state licenses to fish for and transport turtles, but he worries about his industry's future. "Imperiled species? We're one of them," he told the panel.
"I can't go on unemployment," he said, "I'm the lowest man on the totem pole."
Sharon Groene, whose family owns a business near Eagle Lake in Polk County that deals in everything from farm-raised tilapia to alligator meat, said the new rule unfairly targets people of limited means.
"Nobody gets rich catching turtles," she said. "These are people who need that money so they can feed their kids."
Commissioner Dwight Stephenson addressed the concerns of the fishermen. "I want to say that your voice has been heard, but we're charged with protecting these species and this rule is necessary at this time."
The new rules allow turtle farms to collect turtles to reproduce in captivity and thus become self-sustaining without taking turtles from the wild.
Ron Bergeron of the FWC urged opponents to look at the big picture. "When you're over-fishing, you're not only hurting the species, you're hurting the food chain as well," he said. "Florida needs to be a leader on this."
The new rules ban the taking of turtles that are on the imperiled species list, including alligator snapping turtles, Bar­bour's map turtles and Suwannee cooters. Also, the taking of cooters, Escambia map turtles and snapping turtles is prohibited.
The new rules do allow for limited taking of softshell turtles, one per day for personal use, if taken by hand, baited hook or minnow seine. Fishing for softshells is prohibited during the breeding season, from May 1 to July 31. For more details, see www.MyFWC.com.
According to the FWC, about 50 people are involved in largely unregulated business of catching freshwater turtles around the state. Fishermen are paid between 75 cents and $1.40 per pound for the turtles, which are shipped live overseas, according to an FWC staff report. Exporters can net $30,000 to $60,000 for a single shipment.
Wildlife underpass skewered; Founder fires back
By Bruce Ritchie
FloridaEnvironments.com
Related Palm Beach Post column:
More to Florida turtle crossing than Oklahoma Sen. Coburn claims
Related link:
Support the
Lake Jackson Ecopassage
Supporters of a proposed wildlife underpass along U.S. Highway 27 north of Tallahassee received unwelcome attention in national media to their project on Tuesday when a Republican U.S. senator identified it as wasteful spending.
Sen. Tom Coburn, R-Okla., included the "Lake Jackson Ecopassage" as one the top 10 of 100 examples of wasteful spending that he had identified in the federal stimulus package. The project would include building a 4-1/2 foot retaining wall to direct wildlife to three culverts going under the road, which is on a berm built across an arm of Lake Jackson.
State transportation officials say the project is needed to prevent motorists from running over some of the 100 or more turtles, alligators and other wildlife that attempt to cross the divided four-lane highway on some days. But Coburn's report said existing efforts to protect turtles along U.S. 27 already are working pretty well.
"To borrow money that we don't have to spend on things we don't need in the name of economic stimulus when there are things we could spend it on that we do need," Coburn told ABC News.
ABC opened its report by saying, "Why did the turtle cross the road? Because $3.4 million in stimulus money had not been spent to build him a tunnel. That's about to change. "
But Matt Aresco, a biologist who founded the Lake Jackson Ecopassage effort, said the Coburn report completely misrepresented the project by failing to state that the project is not just one culvert but three culverts. And he said ABC News and other reports just parroted the Coburn report without emphasizing that the project is not new and that the turtles and alligators crossing the highway pose a serious safety threat to motorists.
"Another thing they don't talk about is the highway built across the lake bottom four decades created the problem," Aresco said. "All we are trying to do is fix the problem for a highway that is already built."
The ABC News report and some others mentioned the safety issue, but only after highlighting the project as wasteful spending. They didn't point out that Aresco and his supporters have been working nearly 10 years to get the project built.
In that time, Aresco and supporters say they have saved more than 8,800 turtles by creating a temporary fabric fence and carrying turtles across the road. Hundreds of schoolchildren have taken up the cause of building the Lake Jackson Ecopassage and local officials have supported the project.
But Aresco said the fabric fence is only a temporary solution. The temporary device must be monitored three times a day, alligators and some wildlife still can cross over it and the fence falls down, is knocked down or is chewed up by critters trying to get across the road, Aresco said.
"They're saying the temporary fabric fence and wooden stakes that's working just fine?" Aresco said. "The minute (we) couldn't do it any more those fences would fall down and that would be the end of it."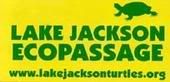 Wildwood Preservation Society is a non-profit 501(c)(4) project of the Advocacy Consortium for the Common Good. Click here to learn more.
"it's all connected"