FEATURED STORIES
New Airport Impact: A closer Look Pt. 1
(video)
Reported by Mark Vaughn
WJHG NBC 7
Follow-up report:
New Airport Impact: A closer Look Pt. 2
The initial plan, to extend the current airport's runway into North Bay, was shot down for environmental reasons.
Millions in road fixes, once promised by developers, could be jeopardized by new law
By Michael Van Sickler
St. Petersburg Times
Related column:
Crist signs bad growth law, is 'punished' with $4.3 million in campaign contributions
As mammoth subdivisions got approved amid worsening traffic congestion during the housing boom, residents were continually assured by local officials that future road improvements were covered by developers.
State of the Everglades Report
Audubon Everglades Team
Audubon of Florida
This report recaps Audubon of Florida's progress on Everglades restoration over the past six months.
Wood storks have their best nesting season since the 1930s
By Eric Staats
Naples Daily News
Related Ft. Myers News-Press story:
Wood storks breeding season finally a success
A frenzy of wood stork nesting in the Everglades this year has been one for the books.
NW development moves forward
By Will Brown
Tallahassee Democrat
Leon County commissioners unanimously moved to consider plans for the first phase of the Summerfield property in compliance with the county's comprehensive code Tuesday night.
City, county continue discussion on merging growth departments
By Will Brown
Tallahassee Democrat
The nuances of moving forward with the consolidation of the Growth and Environmental Management Department was the crux of Wednesday's conversation between Tallahassee Mayor John Marks and Leon County Commission chairman Bryan Desloge.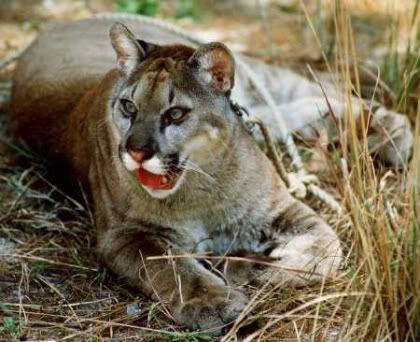 Endangered Florida Panther.

MORE GREEN NEWS
Attack Survivors Stand Up for Saving Shark Species
(includes audio)
By Gina Presson
Public News Service of Florida
The shark literally bit the hand that fed it - or at least the leg - but now its victim, Miami Beach dive boat owner Michael Beach, is working to conserve and protect sharks like the one that bit him.
Advocate on challenge to proposed nuclear plant
(audio interview)

By Mitch E. Perry
WMNF Community Radio Tampa
Progress Energy's plans for a nuclear power plant in Levy County became a little bumpier this week.
Power Giants Seek Big Rate Hikes
By Mike Vasilinda
Capitol News Service
Florida's two biggest power companies want to dig deeper into your pocket.
Hunters get go-ahead to kill pythons in Big Cypress
By Curtis Morgan
Miami Herald
The federal government on Thursday said it would open up Big Cypress National Wildlife Refuge, which borders Everglades National Park, to a pilot program allowing licensed hunters to ''terminate'' any python they encounter.
Humane Society urges state agency to reconsider python decision
Staff Report
Naples Daily News
The Humane Society of the United States is urging the state Fish and Wildlife Conservation Commission to reconsider its decision to allow python hunting in Florida.
Delays, price hikes make a muck of $800 million Everglades project
By Paul Quinlan
Palm Beach Post
Deep in the cane fields south of Lake Okeechobee, a massive construction site sits abandoned along U.S. 27, its dreams for the Everglades unfulfilled.
Everglades land swap may be key to FPL plans to expand in West Miami-Dade
By Tania Valdemoro and Curtis Morgan
Miami Herald
Florida Power & Light bought a ribbon of Everglades marl prairie 40 years ago, envisioning it as an isolated place to some day run power lines.
Sides argue pros and cons of U.S. Sugar deal
By Andy Reid
South Florida Sun-Sentinel
Opponents to an Everglades land deal have stepped up their attacks on a plan they say costs taxpayers too much and threatens to set back environmental restoration.
Outlaw swimming with manatees, environmental group demands
By Barbara Behrendt
St. Petersburg Times
A national environmental organization has asked the federal government to prohibit all swimming with manatees, citing increasing harassment of the endangered species.
Rare ghost orchid blooms again near Naples
By Penny Carnathan
Tampa Tribune
Corkscrew Swamp is happy to be haunted for an unusual three years in a row: Its rare ghost orchid is in bloom again, and again drawing visitors from around the country to the sanctuary northeast of Naples.
Water managers shaking up staff, reducing number of senior employees
By Paul Quinlan
Palm Beach Post
South Florida's largest and most powerful environmental agency is thinning its management ranks in its largest staff shake-up in years.
Halting wildlife trade
By Jennifer Hobgood
Miami Herald
The 2-year-old Sumter County girl killed last week by an eight-foot pet Burmese python underscores the threat posed when wild animals are kept as pets.
Plan would open Big Cypress to hunting, vehicles
By David Fleshler
South Florida Sun Sentinel
A federal proposal would open up a vast sweep of forest and swamp on both sides of Alligator Alley to hunting and off-road vehicles, ending a 20-year stretch in which the only serious predator on the local deer and hogs was the Florida panther.
Turtle harvest ban takes effect July 20
The Associated Press
Miami Herald
A ban on commercial harvesting of Florida's freshwater turtles takes effect July 20.
FWC Requests Comments on First Draft of Imperiled Species Listing Changes
FWC Press Release
Wakulla.com
The Florida Fish and Wildlife Conservation Commission (FWC) seeks public input on the first draft of rules to revise Florida's imperiled species listing process.
Supporters say Amendment 4 won't kill jobs
By Bill Cotterell
Tallahassee Democrat
Letting voters decide on changes in comprehensive land-use plans will not kill jobs or force a referendum on every new growth opportunity, supporters of a "hometown democracy" amendment said Wednesday.
Amendment 4 corrects power failure
By John Hedrick
Daytona Beach News-Journal
The News-Journal editorial Sunday conceded that the Florida Hometown Democracy amendment would give voters direct veto power over every major land use change approved by local governments.
Vote 'yes' on Amendment 4 to improve your community
By Pedro Monteiro
South Florida Sun-Sentinel
Amendment 4, Florida Hometown Democracy, gives the people of a community the right to vote on whether to approve amendments to their local land use plans.
Amendment would please Jefferson
By Rebecca Eagan
Daytona Beach News-Journal
Thomas Jefferson sold me on Florida Hometown Democracy.
SB 360 must be nullified
Editorial
Ft. Myers News-Press
Kudos to Lee County for joining the lawsuit against the state of Florida over a new growth-management law that compromises state and local government's ability to regulate growth and pay for infrastructure.
Move to protect sharks, panthers in South Florida
Editorial
South Florida Sun-Sentinel
Two threatened species of predators, panthers and sharks, deserve an assist from South Floridians.
Endangered whale shark.
Wildwood Preservation Society is a non-profit 501(c)(4) project of the Advocacy Consortium for the Common Good. Click here to learn more.
"it's all connected"