FEATURED STORIES

Report ranks Florida 9th in U.S. beachwater quality
By Kevin Barnard
Tampa Tribune
Click here to see how the NRDC report rates your beach.
Water quality at nine beaches in Hillsborough County failed to meet Florida's daily maximum bacterial standards during sampling in 2008, the Natural Resources Defense Council says in a national report released Wednesday.

Opposition squares off on growth amendment
By Bill Cotterell
Tallahassee Democrat
Click here to visit Florida Hometown Democracy and learn more about Amendment 4.
City and county governments have treated growth-management plan changes "like Halloween candy" for developers and voters need a "veto," the head of a controversial constitutional-amendment campaign said Thursday.

Florida Cabinet thwarts plan to alter Miami-Dade development boundary
By Mary Ellen Klas
Miami Herald/St. Petersburg Times Tallahassee Bureau
Click here for the National Parks Conservation Association/Clean Water Action press release.
Gov. Charlie Crist and Cabinet members sent Miami-Dade and other urban counties a message Tuesday when they rejected the county's attempt to move the development line west to accommodate a Lowe's Superstore.

Pollution still feeding Gulf dead zone
By Kate Spinner
Sarasota Herald Tribune
The vast oxygen-starved dead zone in the northern Gulf of Mexico shrunk by more than half its typical size this year, but scientists see nothing to celebrate.

An Advocate's Guide to Growth Management Advocacy After SB 360
Audubon of Florida
The Florida Legislature passed SB 360 in 2009, despite objections from environmental and growth management advocates.

An Advocate's Guide to Navigating Permit Program Changes at Water Management Districts
Audubon of Florida
The Florida Legislature passed SB 2080 in 2009, changing the water management district (WMD) permit approval process, despite objections expressed by Audubon and the conservation community.

DEP requests approval of Levy Co. nuke plan
By Bruce Ritchie
FloridaEnvironments.com
The Florida Department of Environmental Protection is asking the governor and Cabinet to approve Progress Energy's site application to build a nuclear power plant on 3,105 acres in Levy County.

Supporters of drilling eyeing area off coast
By Lesley Clark
Miami Herald
Two senators from oil-producing states have introduced legislation that would bring oil drilling to within 45 miles of Florida's Gulf coast.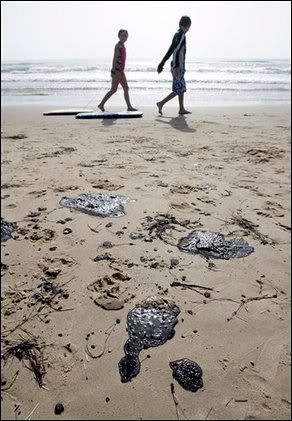 Coming to a beach near you? Gooey blobs of oil washed ashore on Texas beaches last week. The source has yet to be identified.

MORE GREEN NEWS

Ala. Governor Warns Utility on 3-State Water Feud
By Ben Evans
The Associated Press
Alabama Gov. Bob Riley is warning utility giant Southern Co. to stay out of the region's tri-state water war.

Postcard from The Everglades
By Tim Padgett
Time Magazine
This is the everglades that they put in brochures.

Study points to carbon-capture benefits of Florida public lands
By Bruce Ritchie
FloridaEnvironments.com
Florida's state parks, forests and other public lands some day could pay millions of dollars to the state annually for the carbon dioxide and other greenhouse gases that are captured and stored in plants and soils, according to a recent study.
Powerful sides face off over Florida's power-saving plan
By Steve Patterson
Florida Times-Union
An energy conservation plan affecting millions of Floridians' electric bills is sparking a fight between big power companies and environmental activists.

FPL: State's growth calls for new gas pipeline
By Bill Cotterell
Tallahassee Democrat
Florida's population growth and economic prosperity will require a gas pipeline, angling down the peninsula from near the state line to south of the Space Coast, a Florida Power & Light Co. executive testified Monday.

Would Florida recycling plan raise local trash pickup costs?
By Steve Patterson
Florida Times-Union
For people to buy into recycling, maybe they need meters on their trash cans, a Florida agency says.

Cabinet to consider first "rural lands" purchase
By Bruce Ritchie
FloridaEnvironments.com
Gov. Charlie Crist and the Cabinet on Tuesday will consider approving the purchase of a 690-acre conservation easement in Flagler County, the first purchase under a state program aimed at preserving agricultural lands.

Everglades restoration in danger from inland-port plan, groups say
By Andy Reid
South Florida Sun-Sentinel
The fight over where to build Florida's proposed "inland port" has Palm Beach County considering allowing more industrial development on former Everglades land, even if the coveted distribution center goes elsewhere.

Army Corps begins dumping Lake O water as drought turns to fears of a glut
By Paul Quinlan
Palm Beach Post
The drought just ended last month, and already, fresh water is being emptied to sea.

Navy gets OK for Florida sonar range, but faces obstacles to use it
By Steve Patterson
Florida Times-Union
The Navy is finalizing plans to build a $100 million training range off Jacksonville's coast - but may be years from getting permission to use it.

Saving the sawfish
By Cindy Swirko
Gainesville Sun
George Burgess is so associated with sharks that he often can be seen explaining the beauty of the fearsome creatures during the Discovery Channel's annual Shark Week programming, the summertime favorite that begins Sunday.

At biofuel summit, Bronson says oil drilling is needed
By Keith Laing
News Service of Florida via FloridaEnvironments.com
Drilling for old-fashioned oil in near shore Florida waters should be part of the nation's energy diet, Florida Agriculture Commissioner Charlie Bronson said today at a conference about increasing the use of newer fuel types.

Crist declines to say how close is too close for oil drilling
By Bruce Ritchie
FloridaEnvironments.com
Gov. Charlie Crist this morning declined to say how close is too close for oil drilling off the Florida coastline.

Eric Draper on off-shore drilling (audio story)
By Mitch E. Perry
WMNF Community Radio Tampa
Eric Draper from the Florida Audubon Society is a candidate for the Democratic nomination for Agriculture Secretary next year.

Oil Fight Rages
By Whitney Ray
Capitol News Service
Legislation allowing oil drilling 45 miles off the coast of Florida is making waves in congress.

Area legislators, business owners oppose drilling
By Lee Logan
Bradenton Herald
Local legislators and business owners are worried the latest push to open Florida's Gulf Coast to oil drilling might harm the environment and tourism industry.

Is the python hunt all hype? Scientists try to squeeze some truth into snake search
By Paul Quinlan
Palm Beach Post
One week after a pet python escaped its terrarium and strangled a 2-year-old girl in Sumter County, U.S. Sen. Bill Nelson unfurled a 16-foot python skin at a congressional hearing and warned, "It's just a matter of time before one of these things gets to a visitor in the Florida Everglades."
Supporter, opponent of growth amendment sling mud in debate
By Bruce Ritchie
FloridaEnvironments.com
A founder of a proposed state constitutional amendment on growth said during a debate today that supporters face "greedy" opponents, while a spokesman for an opposition group said the founder has shown people they can have any opinion "as long as it's her's."

People need veto power of Hometown Democracy
By John Hedrick
Tallahassee Democrat
Architect Steve Jernigan opposes the Hometown Democracy Amendment No. 4 to the Florida constitution, which will be on the Nov. 2, 2010, ballot.

There is no need to drill off Florida's Gulf Coast
Editorial
Pensacola News Journal
Why would senators from Alaska and Louisiana lead the latest congressional effort to end legislative protection for Florida's coastline from offshore drilling?

Time for Obama to squelch offshore drilling
Editorial
Bradenton Herald
Once again, we're engulfed in a battle over drilling off Florida's Gulf coast.



Endangered wood storks nesting in Fred George Basin, June 2009.



Wildwood Preservation Society is a non-profit 501(c)(4) project of the Advocacy Consortium for the Common Good. Click here to learn more.


"it's all connected"