FEATURED STORIES
Florida Chamber, environmental groups will lobby to revive Florida Forever
By Jim Ash
Tallahassee Democrat
Sometimes the lions and the lambs lie down together.
EPA delays controversial water regs
By Alex Leary
St. Petersburg Times Buzz Blog
The Environmental Protection Agency today agreed to a extend the public comment period on proposed new water rules that have been blasted by Florida politicians.
By Paul Quinlan
Sarasota Herald-Tribune
To stanch pollution flows into the headwaters of the Everglades, Obama administration officials are considering designating a new national wildlife refuge north of Lake Okeechobee.
IWC Compromise Would Allow Commercial Whaling
By Kate Bradshaw
WMNF Community Radio Tampa
The International Whaling Commission is meeting in St. Pete Beach this week to discuss a possible lift of its 1986 ban on commercial whaling.
DEP holding back on cap-and-trade -- for now
By Bruce Ritchie
FloridaEnvironments.com
The Florida Department of Environmental Protection won't ask the Legislature to approve a proposed carbon cap-and-trade rule in the legislative session that began yesterday, according to DEP Secretary Michael Sole.
Ban proposed on dangerous reptiles
By Paul Flemming
Tallahassee Democrat
Florida lawmakers ratcheted up the war on exotic reptiles Tuesday with a proposal to ban ownership of the animals outright.
To protect vital land, restore Forever
Editorial
Daytona Beach News-Journal
Last year, Floridians found out that calling something "forever" doesn't guarantee its funding will never run out. That's when the Legislature stopped paying for the popular Florida Forever program. The decision broke with a 20-year tradition of supporting the state's nationally known land-buying program, which originated as "Preservation 2000."
Critically endangered North Atlantic Right Whales.
THE BIG OIL ROUNDUP
The Big Oil roundup: news and information about Big Oil's push to rig Florida's coastline for the week ending 3-5-10:
Drilling push continues despite findings
By Keith Laing
News Service of Florida via Sarasota Herald-Tribune
Despite the Senate's seeming reluctance to lift a 20-year ban on offshore oil drilling in Florida waters, the first legislation on the subject was filed in the upper chamber.
Lawmaker: Any drilling bill would ban 'visual blight'
By Jim Ash
Tallahassee Democrat
Floridians won't have to worry about oil platforms spoiling their view if the Legislature opens Florida waters to offshore drilling this year, the chief House proponent said Monday.
Pledge to keep oil rigs out of sight from coast falls flat
By Laura Ruane
Ft. Myers News-Press
Southwest Florida's tourism industry took no apparent cheer from a Florida legislator's remarks Monday that any bill permitting offshore oil drilling also would require that platforms be kept out of sight from shore.
Oil drilling backer drops lobbying corps
By Bruce Ritchie
FloridaEnvironments.com
Florida Energy Associates, one of the primary backers of the push to open Florida waters to oil drilling last year, recently trimmed its lobbying force to zero after having more than 30 last year.
Offshore Florida oil: Not much there, there
By Michael Peltier and Kathleen Haughney
News Service of Florida via Orlando Sentinel
A new report says drilling in Florida waters would "have no discernible impact" on gas prices or the nation's dependence on foreign oil, but could pump millions into state coffers.
Report says oil supplies in Fla. waters negligible
By Bill Kaczor
The Associated Press
Estimated reserves in Florida waters would provide the United States with less than a week's worth of oil and have no discernible effect on prices at the pump or U.S. reliance on foreign oil, says a report released Friday as part of a state Senate review of whether a ban on offshore drilling should be lifted.
In Florida, support for offshore drilling depends on where you live
By Craig Pittman
St. Petersburg Times
When it comes to drilling for oil in the Gulf of Mexico, it's as if there are two Floridas.
State lawmakers expected to discuss oil drilling, but little action expected
By Michael Peltier
Palm Beach Post
Expect a lot of talk but possibly little action as lawmakers continue the debate on offshore drilling when they return Tuesday to begin the 2010 legislative session.
Offshore oil bill is viewed as risky
Staff Report
Florida Today
Despite the backing of two heavy-hitting Republicans, Senate President-designate Mike Haridopolos of Merritt Island and House Speaker-designate Dean Cannon of Winter Park, the push for offshore drilling has slowed to a crawl.
Florida's offshore drilling panel convenes today
By Jim Ash
Ft. Myers News-Press
The House panel looking into oil and gas drilling in Florida waters convenes this morning, a day before the start of the legislative session and after the release of an academic report that proponents are already criticizing.
Senate 2622: Relating to Regulation of State Lands & Oil and Gas Resources
General Bill by Haridopolos
The Florida Senate
Regulation of State Lands & Oil and Gas Resources; Provides for the

Board of Trustees of the Internal Improvement Trust Fund to accept and

award bids for oil and gas leases on submerged lands underlying the

territorial waters of the state.
Area lawmakers still opposed to offshore drilling
By Matt Dixon
Panama City News Herald
A predictable sequence of events played out over the past few days.
State House hopeful Barker comes out against offshore drilling
By Tom McLaughlin
Northwest Florida Daily News
Craig Barker, who is running for the District 4 state House seat, took a bold step Tuesday when he declared his unequivocal opposition to offshore drilling close to Florida's coast.
Another push for offshore oil drilling looms
Editorial
Bradenton Herald
When the state Legislature opens its annual 60-day regular session on Tuesday, the primary issue will be grappling with yet another multibillion budget shortfall.
Sticking with the drill: What do proponents of coastal oil exploration really want?
Editorial
Sarasota Herald-Tribune
The Legislature's chief proponents of drilling for oil near Florida's coastline are nothing if not determined.
Editorial
Orlando Sentinel
Despite a new study that concludes drilling in Florida waters would produce less than a week's worth of oil for the U.S., no noticeable effect on domestic gasoline prices and nothing to lower the nation's dependency on foreign oil, Sen. Mike Haridopolos filed his bill Friday lifting the state's offshore drilling ban.
Love tourists, not drilling.
TAKE ACTION NOW
Write Your State Senator: Big Oil's Promises Are "Empty"
Big Oil and their hired hands in Tallahassee have sworn that drilling Florida's coast would be "invisible" – that there would be no unsightly rigs just a few miles off our coast. We know different – and a recent eye opening story in the
Sarasota Herald-Tribune
has proven Big Oil's promises completely "empty."
Click the picture above – keeping the pressure on by letting our State Senators know people like you are paying attention is how we'll beat Big Oil.

MORE ONLINE ACTIONS
Pass a Resolution To Protect Florida's Beaches Now, via Audubon of Florida.
Urge President Obama's Ocean Policy Task Force to recommend against offshore drilling within any previously protected coastal waters, via Defenders of Wildlife.
Tell Obama: Offshore Drilling is NOT the Answer to Energy Crisis, via Oceana.
Help Drill for Solutions Not for Oil, via Southern Alliance for Clean Energy.
Let us decide! Petition to Governor Charlie Crist, Senate President Jeff Atwater, and House Speaker Larry Cretul, via Civic Concern.
Contact Your Officials About New Drilling Off Florida's Coasts, via Civic Concern.
Ask your state legislators to keep the rigs out, via Save the Manatee Club.
Write a letter to the editor, via Audubon of Florida.
Write your state legislators, via Audubon of Florida.
Urge Senate President Jeff Atwater to oppose offshore oil drilling, via Progress Florida.
Tell Sen. Atwater Not To Allow Oil Drilling In Special Session, via Audubon of Florida.
Sign the petition against oil drilling, via Protect Florida's Beaches.
Tell Salazar: No drilling off Florida's Coast, via Environment Florida.
Tell new Senator LeMieux to Repower America, via Environment Florida.
Related action: Don't go drill crazy in the Everglades, via Center for Biological Diversity.
Related action: Keep oil drilling out of climate change legislation, via Oceana.

ADDITIONAL RESOURCES OF NOTE
Hands Across The Sand website; their Twitter page is here.
Protect Florida's Beaches, recently launched coalition website.
Protect Florida's Beaches on Facebook.
Think, Baby, Think blog via Protect Florida's Beaches.
Don't Drill Florida website.
Don't Drill Florida Facebook page.
Save Our Shores Florida website; their Twitter page is here.
Floridians Against Big Oil social network.
Save Our Shores Florida Facebook page.
Florida Coastal and Ocean Coalition website.
Environment Florida offshore drilling page.
Southern Alliance for Clean Energy offshore drilling page.
Skytruth blog, an excellent source of info.
Not the Answer blog, courtesy Surfrider Foundation.
Eye-opening map of oil and gas leases and infrastructure in Gulf of Mexico, via MMS.
EnergyFLA.com, online hub of drilling proponents; their Twitter page is here.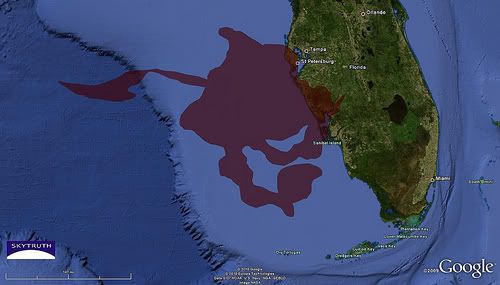 Cumulative oil slick "footprint" resulting from the 10-week Montara oil platform blowout and spill that occurred in the Timor Sea off Western Australia in 2009; superimposed on the Gulf coast of Florida for scale. More info here.
MORE GREEN NEWS
Quote of the week: "Wacko environmental group ... Earthjustice"
By Bruce Richie
FloridaEnvironments.com
Murzin was referring to proposed nitrogen and phosphorus limits in waterways offered in response to a federal lawsuit filed by Earthjustice.
Airplanes and alligators mix at remote Everglades airport
By Ken Kaye
South Florida Sun-Sentinel
The runway is long enough to handle the biggest airliners, even a space shuttle. But at this airport, blue herons swoop in far more frequently than JetBlue.
PSC ethics reforms sail through Senate, bog down in House
By Mary Ellen Klas and Steve Bousquet
St. Petersburg Times/Miami Herald Tallahassee Bureau
A bill aimed at tightening the ethics rules at the Public Service Commission flew through the Florida Senate Wednesday and then became snagged by a House committee, which raised red flags about some parts of the measure.
Fight could be looming over recycling bill
By Bruce Ritchie
Florida Tribune
Industry groups may be fine with her recycling bill for now, but they may not be as supportive of Rep. Michelle Rehwinkel Vasilinda's HB 1559 if she makes the changes she says she wants to make.
Florida legislature: Bill would speed up alternative energy projects
By Sara Kennedy
Bradenton Herald
Sen. Mike Bennett hopes one of his bills will speed up construction of a proposed Florida Power & Light solar thermal plant near Parrish.
Don't Trash the Florida Black Bear
By Glen Gardner
Public News Service Florida
When Florida's black bears come in contact with humans it often results in a death sentence for the bear involved, but it doesn't have to be that way.
Protect Peace River from strip-mining
Editorial
St. Petersburg Times
A dramatic new phase of phosphate mining along the Peace River in Southwest Florida is in the works, raising concerns about whether government will effectively protect the source of drinking water for 700,000 Floridians.
Critically endangered North Atlantic Right Whales

.
Wildwood Preservation Society is a non-profit 501(c)(4) project of the Advocacy Consortium for the Common Good. Click here to learn more.
"it's all connected"